Once, Facebook was one of the most desirable workplaces in the world—even the single best employer in Silicon Valley, as Glassdoor declared back in 2016. At that time, it was easy to see what prospective employees liked: You got to work at a company used by billions; you got incredible perks, including ample paid leave, free lunches, and in-office barbers and arcades; you probably earned a whopping salary during a boom cycle for your industry.
How things change.
This February, CEO Mark Zuckerberg announced a "Year of Efficiency" for his once perpetually growing company, making clear his intent to snip out "layers of middle management" and "cut projects that aren't performing or may no longer be crucial." The message was that more layoffs were to come in 2023 for the company now called Meta—following the 11,000 employees axed in November, the first mass job losses to ever hit the once insurmountable social media giant. On March 14, the company confirmed there would be 10,000 new position cuts, which entailed "reduc[ing] the size of our recruiting team" as well as "restructurings and layoffs in our tech groups in late April, and then our business groups in late May," according to a memo from Zuckerberg.
Meta is not alone; there were hundreds of thousands of layoffs across the tech industry last year, while 2023 has brought "rolling layoffs" at companies like Amazon and Wayfair. To hear it from Zuckerberg, the official story is that Meta overstretched during the pandemic, hiring aggressively as the world suddenly found itself trapped inside with lots of extra time. Now, that boom has passed, and it's clear user and revenue numbers have been shellacked by durable competitive threats: young users' attachment to TikTok, lack of interest in its huge metaverse investment, and a new Apple privacy setting for iOS that throttled key targeted-advertising business revenue for Meta. So the tech monolith has been forced into a strategic retreat for leaner times. (And all this follows a period in which Facebook earned robust revenue while facing down more scandals than a season of Succession, from Cambridge Analytica to the Facebook Papers.)
That's how it looked from the outside, anyway. What about the inside, especially in the months leading up to the first November layoffs?
"They didn't have anything for us to do," former Meta employee Brit Levy told me.
"We were there collecting a paycheck, essentially, which felt like a bummer," said one former Meta recruiter who wished to remain anonymous.
"None of our higher-ups had real information for us, as they were just as in the dark as we were," a former contract recruiting coordinator said, also on condition of anonymity.
I recently spoke with three people who worked in recruitment and training at Meta in 2021 and 2022, as hiring slowed to a trickle and the company braced for huge layoffs. They described internal processes for task delegation and employee management that had been breaking down for months—and layoffs that, in their view, were so cold, sloppy, and draining that the whole thing has since made "a lot of people angry at the company," they said. Their stories shine a revealing light on a workplace they once loved—a company that's now reducing its famed job perks however it can, whether by lowering bonuses, evaluating workers through a harsher review process, or reducing remote-work flexibility. And, of course, slashing the snacks budget.
In April 2022, Brit Levy, a 35-year-old Latina, landed a spot with Meta's Sourcer Development Program, a paid, yearlong course that trains tech-interested workers from underrepresented backgrounds to become effective recruiters. That was the pitch, anyway: Six months into the program, Levy was laid off, despite being told that her employment was secured for a full year.
Even during that truncated period, the training hardly played out as she'd anticipated. After Levy was assigned to the Sourcer Development Program's diversity, equity, and inclusion group, she found out that fellow participants "had been told that the roles they were hiring for were paused," she told me. So her team, to hear her tell it, did nothing—even though "there was work that needed to be done," Levy said. "There was internal documentation and policies that had not been updated or touched since 2019." Still, her team's efforts to take on that work were stymied. "Every time we came together as a group to try and propose a project, to try and look at what else we could be working on, someone in higher-up leadership—it would trickle down, these communications—would say, 'We expect to get you guys going, possibly next week,' " Levy said. "They kept just kicking the can down the road." (Meta did not respond to Slate's request for comment on this story.)
The road ran out. "In July, we received a message confirming that one of the groups in the program, their last day would be Dec. 15. Then they told the rest of us that we'd be good until April," Levy said. That reassurance wouldn't last: "In September, a bunch of meetings that had been placed on our calendars through February, March, and April of 2023—they all got canceled, and we were told not worry about it." The following month, Levy mentioned, the recruiting program that was intended to grant the Sourcer Development participants more hands-on experience was shuttered. What then? "We were told by our program manager that our positions were safe, don't worry about layoffs, and 'enjoy the pause'—basically, enjoy being paid to do nothing," Levy explained. "But if you're looking for something to do, help out with some self-managed projects." She'd taken on a self-propelled project highlighting Meta's biases when it came to recruiting veterans—something she felt passionate about on both a personal level as a military spouse and on a professional level in light of the stressful company culture. "I knew I was going to be rated against my other peers that did have stuff to do, so I wanted to find something."
Ultimately, Levy and the rest of her program got axed in November. In frustration, she began posting publicly on TikTok about her layoff and the DEI program. After she garnered more than 800,000 views on a late-January post explaining why she refused to sign Meta's severance deal, Levy began to share even more explicit details, including pages from that very severance package—and also publicly feuded with Meta employees like Kristen Castellanos, a recruiting executive who disputed Levy's characterization of her employment with Meta.
TikTok, Zuckerberg's nemesis, happens to be the outlet through which other ex-Facebookers have shared their own experiences at Meta, many of which resemble Levy's accounts. Former Meta recruiter Maddie Machado infamously described her five-month stint at the company in 2021 as "getting paid $190k to do nothing"—meaning, she wasn't "expected to hire anybody for the first six months, even the first year," as Machado explained in a video. (Machado was fired from Meta long before the layoffs because of other videos she'd shared about the company during her time there; however, she posted the "do nothing" video on March 17, just after Zuckerberg announced the new layoffs.)
Another ex–Meta recruiter laid off in November told me that when she joined in December 2021, she actually had a pretty steady, reliable workflow—at least, for a bit. "I joined with a class of 100 people and got thrown into recruiting for product managers," she told me. But as 2022 progressed, "around June and July, things started slowing down, in that there were fewer positions available." And nobody seemed to know what was really even happening. "They weren't really talking about why we were slowing down," she added. "Our bosses sent out so many messages on Workplace, like, We understand that this time is confusing, but everything's fine."
Everything didn't really seem fine. For one, product managers recruited by her team were usually put through a two-week "bootcamp" that matched their skills and capabilities to open job listings. But with the summer 2022 slowdown, some product managers seemed to be going through the whole process for nothing: "We weren't extending offers to any bootcampers, and offers that had been in process were getting held up." Still, going into August, the recruiter felt OK about her work and status at Meta, until everything flipped in October. "They stopped product management recruitment and moved us to data centers, which made it clear our earlier work was no longer considered important," she said. "We still had team meetings, which was strange since we weren't working on product management recruiting anymore."
What was work like during this time? "We pivoted to doing projects within the company, basically streamlining efficiencies or looking at different processes. Just busywork, really—none of us were working on projects that were considered mission-critical," the product management recruiter told me, noting also that the sudden changes depressed morale significantly. "A lot of people were not as motivated. Cameras stayed off during meetings, which was super uncommon before—and sometimes, a lot of people would not show up to meetings."
When November's layoffs came, they hit her unit especially hard. "Our team went from 119 people down to 55. So it got cut in half," the ex-recruiter said. And even though Meta "basically cut everything off" right then and there in November ("I had to return my laptop and portal quickly"), she was kept around until Jan. 13; the layoff email stated that "we need to cut access to most internal systems immediately for legal and security reasons." Those weeks of limbo, she decided, were best spent elsewhere: "We were literally paid, from November, to do nothing. So I took time off and went to my home country for six weeks."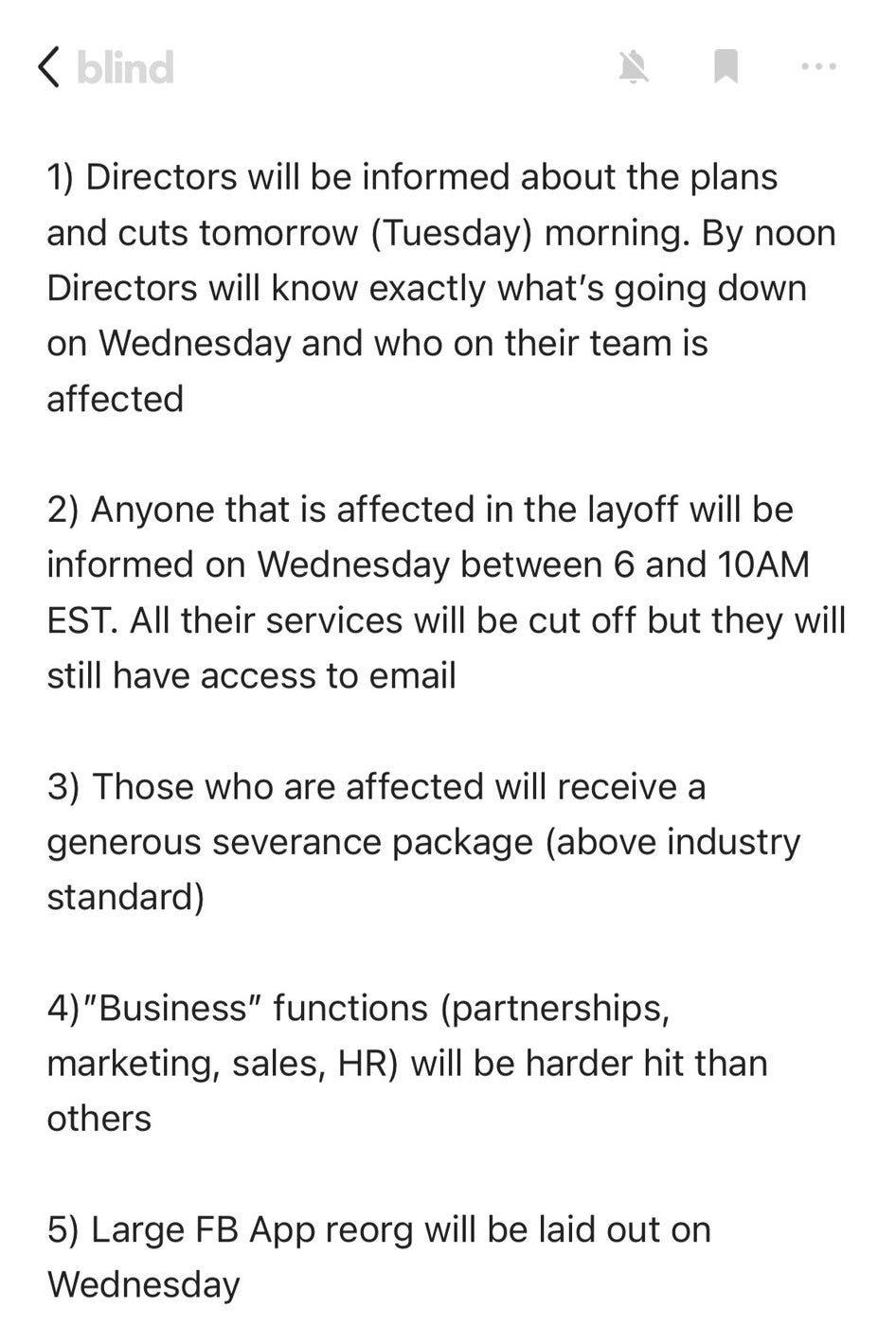 When March came around, it was recruiters, again, who faced the immediate brunt of the announced layoffs; the former product management recruiter told me that from what she's heard, her former team has now been whittled down to merely 14 people. When I reached out to a contract recruiting coordinator for Meta who'd joined in May 2021 and was laid off in March, she responded in a Twitter DM that "recruiting pipelines had it the worst" in November, as 75 percent of her agency's Meta team was gutted that month. The worst part of it all, per the contractor's account, was the uncertainty and trepidation: "We'd all heard and seen rumors about [the November layoffs] a week prior through Blind," the anonymous forum for tech-industry insiders. She and her colleagues spent the days afterward "mentally preparing" for the day layoffs were made official, which ended up being Nov. 9. Even though she survived that round, the experience was "frightening," leaving her and many of her remaining co-workers "sleepless and anxious." It had hurt especially because "the relationship I had with my coworkers went further than just work. We made genuine friendships."
After Zuckerberg's "Year of Efficiency" announcement in February, job-cut rumors once again circulated among Meta employees on Blind, and recruitment teams plunged into a dour mood.
"Morale has definitely been low," former software engineering recruiter Mary Prescott told Insider this month after getting laid off. "It's hard to dedicate yourself, especially to long-term projects, and to be all-in if you're fearful you could lose your job without much notice." For the contract recruiting coordinator I spoke with, the only small mercy was that she and her team had already been "conditioned" for the layoff process, making the official announcement this month "a bit easier to fathom and face." On March 14, "I got an email at 3 a.m. PST from my agency notifying me about Meta prioritizing 'efficiency,' and my access to my laptop and work phone was immediately shut off," she told me. As she found out when meeting her agency about next steps, even more contractors in her field had their positions eliminated, though not all of them.
Even though all three of the ex–Meta workers I spoke with had been excited to join the company at first, they now feel much more sour toward their former employer after witnessing firsthand how it handled layoffs and work-distribution issues. "I still pinch myself today that I made it to Meta," the product management recruiter said. "But I think people are losing faith in the company. The fact that we got hired on six months before things started taking a turn, that we were staffing up so much in product management—that really sucks. It's kind of shitty."
Levy suspects that the reason some Meta units were given less work throughout 2022 was so that it would be easier for the company to justify those employees' dismissal. "Going up to November, some people felt they were for sure going to be laid off eventually because of the constant lack of work," she noted. "We'd just had our reviews in late September and early October, and if you have managers that are purposely influencing that data to make groups of employees look like they are not valuable, that's a problem."
Remaining Meta employees, who've now seen their company shed one-quarter of their total workforce since the fall, may be losing trust in and patience with their executives, especially Mark Zuckerberg. As Insider reported during the week of the March layoffs, workers asked Zuckerberg in a virtual town hall whether they could "trust leadership decisions after two rounds of layoffs."
"Does all this make me question their leadership? Absolutely," said the product management recruiter. To have your assigned duties at your hard-earned job cast aside with little notice, to receive no clarity from your bosses or their superiors, to know you're being graded for the very work your management is undermining, to witness your co-workers lose either their jobs or their motivation, and to realize you could be next up under the "efficiency" axe, even though you joined the company not even a year ago—at a certain point, workers may decide that they'd be much happier doing nothing someplace else.
Got a tip about jobs and layoffs in the tech industry? Email me.