This article is from Big Technology, a newsletter by Alex Kantrowitz.
Bluesky, a Jack Dorsey–funded, currently invite-only Twitter clone, has been brimming with frenetic energy this week. Shitposters, sex workers, technologists, journalists, and others have flooded the new service, all of them trying to reimagine Twitter from scratch. With a looseness not seen since Twitter's early days, they've been tweeting (or "skeeting") on the timeline ("skyline"), demonstrating this new app may indeed be the Twitter alternative some have been waiting for. The early excitement has turned it into the hottest tech app on the planet.
"This place feels like a class with a substitute teacher who is totally fucked," wrote one user amid the chaos.
Bluesky's fun, loose culture is emerging as its users rebuild their social graphs from scratch. With basically no cost to post into the void, a wide universe of weird and loose behavior has emerged. Jokes fly freely, nudes sometimes cross the "What's hot" trending tab, and nothing is too serious. Without feeling like the world is watching, and without the pressure to perform in the "world's town square," people are acting like themselves.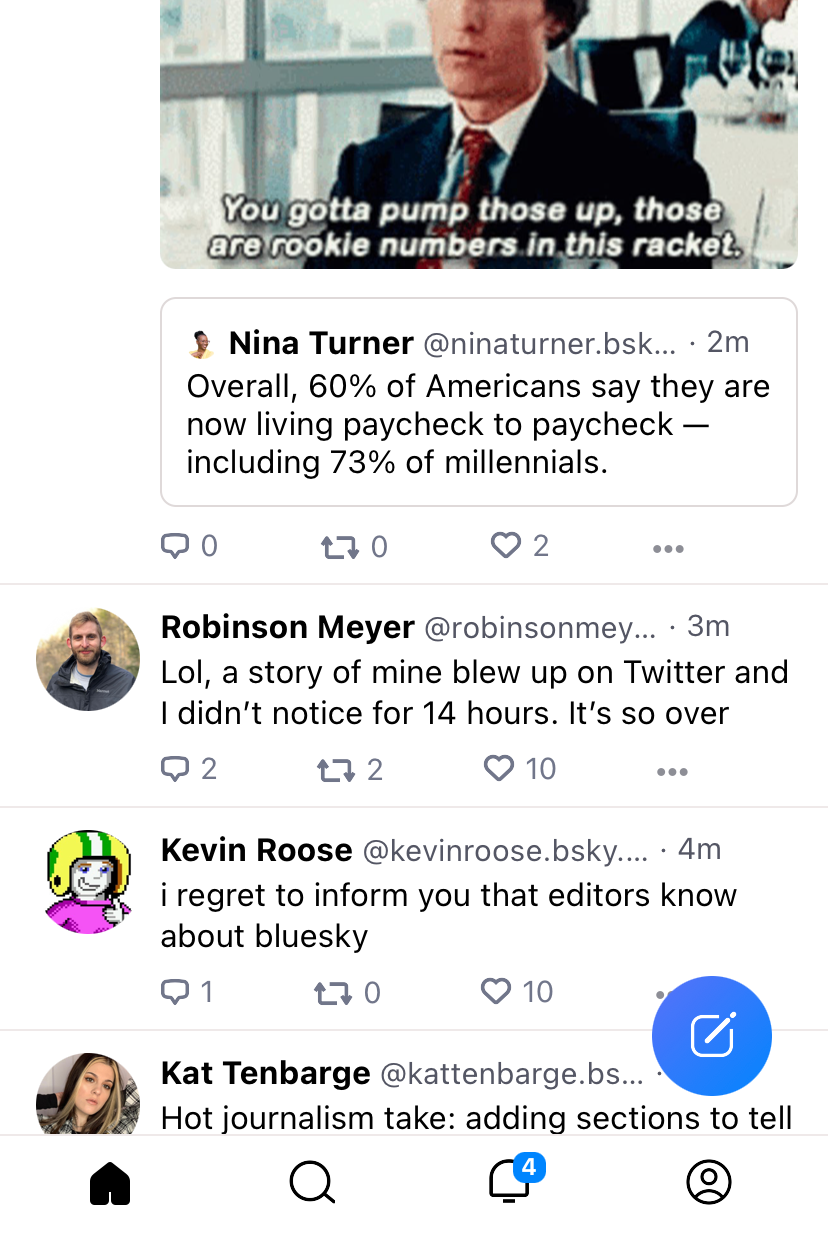 On Thursday, Bluesky crossed into the mainstream. New users doubled over the previous day. Bluesky trended on Twitter. Chrissy Teigen joined. The servers went offline (briefly) to handle the usage surge. By sunset, there seemed to be enough newsmakers, news gatherers, and amateur online comedians that it felt like this thing—unlike other would-be Twitter challengers like Mastodon, Post, T2, Hive, and others— might actually have a chance.
Elon Musk's struggles at Twitter are helping Bluesky along. In just a few months, he's degraded the experience meaningfully. He has made Twitter's main tab less relevant by leaning heavily on algorithmic recommendations that pull from outside of the accounts users have chosen to follow. He's diminished Twitter's utility as a news app by removing verification from news sources. He's alienated celebrities by forcing the blue check onto their profiles when they've said they don't want one anymore. And after his takeover, the app's grown nastier. People are open to something new.
To work, Bluesky must avoid some of the pitfalls of its fellow Twitter challengers. Mastodon is confusing and frustrating to use. Substack's Notes is tied too closely to the company's email-newsletter experience. T2 has rolled out invites a bit too slowly. When trying to unseat an incumbent, any friction can be fatal.
Eventually, Bluesky will be distributed, meaning developers will be able to build their own apps and experiences on top of its protocol. But to start, the team behind it (wisely) created a centralized app to demonstrate its capabilities. As the underlying network infrastructure becomes available to the public, some cool products may follow.
You might, for instance, see a calendar app that lets you view skeets posted on certain days, a maps app that lets you view skeets from certain locations, or different clients with different moderation rules. You could see features built on some instances and then adopted by others. It's also possible that this centralized version of Bluesky carries forward on momentum alone and no other clients take hold.
As Bluesky caught fire on Thursday, some users already mourned its small community dynamic. They pointed out that social apps tend to start like this—niche, wild, and fun—until the masses join and they're eventually ruined. That's what happened to Twitter, which transformed from something raw, and even somewhat magical, into a place where 100 million people yell at each other each day, or at least sign in to watch the yelling.
So while Bluesky may challenge Twitter, and perhaps replace it entirely, its success shouldn't be measured in numbers alone. Instead of replicating Twitter one-for-one, simply building a challenger that's big enough to be lively but small enough to disincentivize the toxicity would be a real accomplishment. It's a lofty hope, and unlikely to materialize, but just anticipating that possibility is what makes the early days of a new social network so darn enjoyable.