Two weeks ago, Google parent company Alphabet laid off 12,000 employees. On a call with investors last Thursday, CEO Sundar Pichai breezed past the unprecedented cuts, briefly thanking "the Googlers leaving us" before moving on to business as usual, like the company's plan to compete with TikTok.
"I'm excited for what's next," Pichai said. Outside a Google Store in Manhattan on the same day, 50 or so Googlers were less excited than incensed. "OK Google, where's our team? Fired by a Sundar scheme," they chanted. "OK Google, who is next? We should fire the execs!" The demonstration was one of three coordinated last week by the Alphabet Workers Union-CWA.
The AWU-CWA, which counts a tiny fraction of Alphabet's giant workforce as members, does not have the power to negotiate with Alphabet. When it formed in 2021, it was something of a curio—the rare union in Big Tech, and one far too tiny to demand recognition from Google management.
The union has served as a venue for some Google workers to critique corporate policies and business activities they feel run afoul the company's ethos (or just basic decency). Its membership also includes Google subcontractors, like YouTube Music Content Operations workers who went on strike on Friday to protest return-to-office plans that they say constitute an unfair labor practice.
Thursday's gathering in New York was symbolic, a chance to make some noise for laid-off Googlers. It was also a good time to ask: Now that Google has shown itself to be a corporation as impersonal as any other, does labor activism within it have a real shot?
Standing on the sidewalk outside displays of sleek Pixel phones, Googlers took turns reading testimonials from laid-off workers into a megaphone. Alberta Devor, a software engineer and AWU-CWA member, led chants. "The vibe is incredibly gloomy," she told me after.
Even Googlers who remained at the company, Devor said, felt betrayed by the way the layoffs were executed: a swift lockout from company systems with no time for personal closure. Fearing more cuts, she said, "My co-workers feel more like this is just a job. This is not something that they need to be giving 110 percent for." (Google did not respond to questions for this article.)
As the event wrapped up, Googlers huddled in clumps, chatting in the cold. Kate, a software engineer, told me she joined AWU-CWA to support the company's contract workers—but January's layoffs changed the stakes. "I don't want to be laid off!" she said. "I've got a very cushy setup." While it was not her main goal, Kate told me later, she hoped that a stronger union might give Googlers more say in how future layoffs play out.
Ted, a software engineer at Google, was talking with an AWU-CWA member about why he had never bothered to join. "I get that the only way things tend to change is through collective action," he said. "But I just had trouble understanding what I would contribute."
Now he was reconsidering. "Google seems to like to think of itself as a slime mold," Ted told me, using a metaphor for the benefits and challenges of emergent decision-making that came from a former Googler. The layoffs, he said, exposed a more hierarchical reality.
As Google has evolved away from its imagined origins as an intuitive, anarchist goo, some Googlers seem more willing to see their leaders as, well, slimeballs. Since 2018, a vocal minority of Googlers has pushed back internally on military contracts, sexual harassment incidents, and equity issues. When the AWU-CWA launched in January 2021, it followed years of internal unrest.
Google, once the tech company that swore to the saying "don't be evil," has long attracted the utopians of the tech world. A number of Googlers I spoke with framed January's job cuts—which took place via email—as a wake-up call for Googlers who still idealize their employer. "I'm actually surprised by how much anger I've seen," Ted said.
In that sense, another union member told me, the vibes were actually pretty good. "We feel fired up and energized by Google's mistake," said Hai, a site reliability engineer. Since the layoffs, more Googlers have been reaching out to AWU-CWA for information. "Prior," Hai said, "we had to cold-call." (Most of the prospective and current AWU-CWA members I interviewed requested that I not publish their last names because they feared retaliation from Google.)
After January's cuts, an AWU-CWA spokesperson told me, the union hosted goodbye-card write-a-thons. It also created a Discord channel for laid-off workers that now boasts 18,000 members. Union membership is up in the past few weeks, from 1,200 to 1,300. At Thursday's event, new member sign-up clipboards were full of names.
But an even larger union, Devor told Thursday's crowd, could do much more. It could, for example, push Alphabet to offer voluntary buyouts before making other cuts, or to offer laid-off workers priority when new jobs open up, she said. White-collar workers often feel that they don't need union protections. January's layoffs demonstrated to the well-compensated, perk-enjoying ones at Google why they might.
AWU-CWA is small in numbers, but big in a different way: It takes a big-tent view of who counts as a Googler. The union is open not just to software engineers, but also to the company's thousands of subcontractors and temporary workers. While January's layoffs generated outrage, they at least came with severance packages. Many subcontractors and temporary workers simply don't have their contracts renewed.
On Wednesday, five content raters—the people who inform and clean up after Google's algorithms for search content and related ads—flew in to the company's Mountain View, California, headquarters to deliver a petition signed by 600 raters demanding more parity with employees around wages and benefits. Around 50 union members and other Googlers attended the event, which began in a park and made its way to a company vice president's office.
I spoke with Toni, who traveled from Oklahoma and works for a content-rating vendor called Telus International. (She requested I not publish her last name because of a personal safety concern unrelated to her work with Google.) Toni is one of an estimated 5,000 U.S.-based raters improving Google Search, according to the AWU-CWA. Raters like Toni make sure content is accurate ("Nobody wants a picture of a horse when you're looking for Nikes," Toni said); they also weed out particularly scammy results.
For any contractors with Google systems or badge access, Toni told me, Google's nationwide minimum wage is $15 an hour*. Contractors can earn less. Raters at a Google content-rating partner called RaterLabs worked with AWU-CWA earlier this year to win a raise to $14.50 an hour. "It's a slap in the face," Toni said of the pay.
Raters hired by third parties also don't have company-sponsored health care or mental health benefits—even though many review less-than-savory content. Toni, who works at home with her kids, works for a vendor that gave her the option to opt out of the worst of it. Every once in a while, though, something slips through, and Google sends a supportive email. For raters who review graphic and violent content regularly, Toni said, "I feel they should have access to an actual therapist."
For Toni, this job is a side hustle. But when her husband joined an electrical workers union, she told me, "We were able to buy a nice house instead of living in crappy, run-down trailer parks." Joining AWU-CWA meant "being able to fight for that, so other people can have that as well."
AWU-CWA's employees-and-contractors approach sets it apart from many other tech organizing efforts, which have tended to be more siloed. The Amazon Labor Union represents warehouse workers but not engineers; the New York Times' Tech Guild represents staff but not freelancers. The AWU-CWA, which is affiliated with Communications Workers of America, is betting that organizing across these lines can strengthen its hand.
On Friday, when 40 YouTube Music subcontractors announced a strike at Google's Austin campus, it was AWU-CWA's first strike. Workers were protesting return-to-office plans that would force many to relocate—which, at $19 an hour, they were not prepared to do.
In October, these workers decided they wanted to vote to unionize as a bargaining unit with both Cognizant, the Alphabet contractor that cuts their checks, and with Alphabet itself. To do that, though, they first needed to file a petition with the National Labor Relations Board to name Alphabet as a joint employer.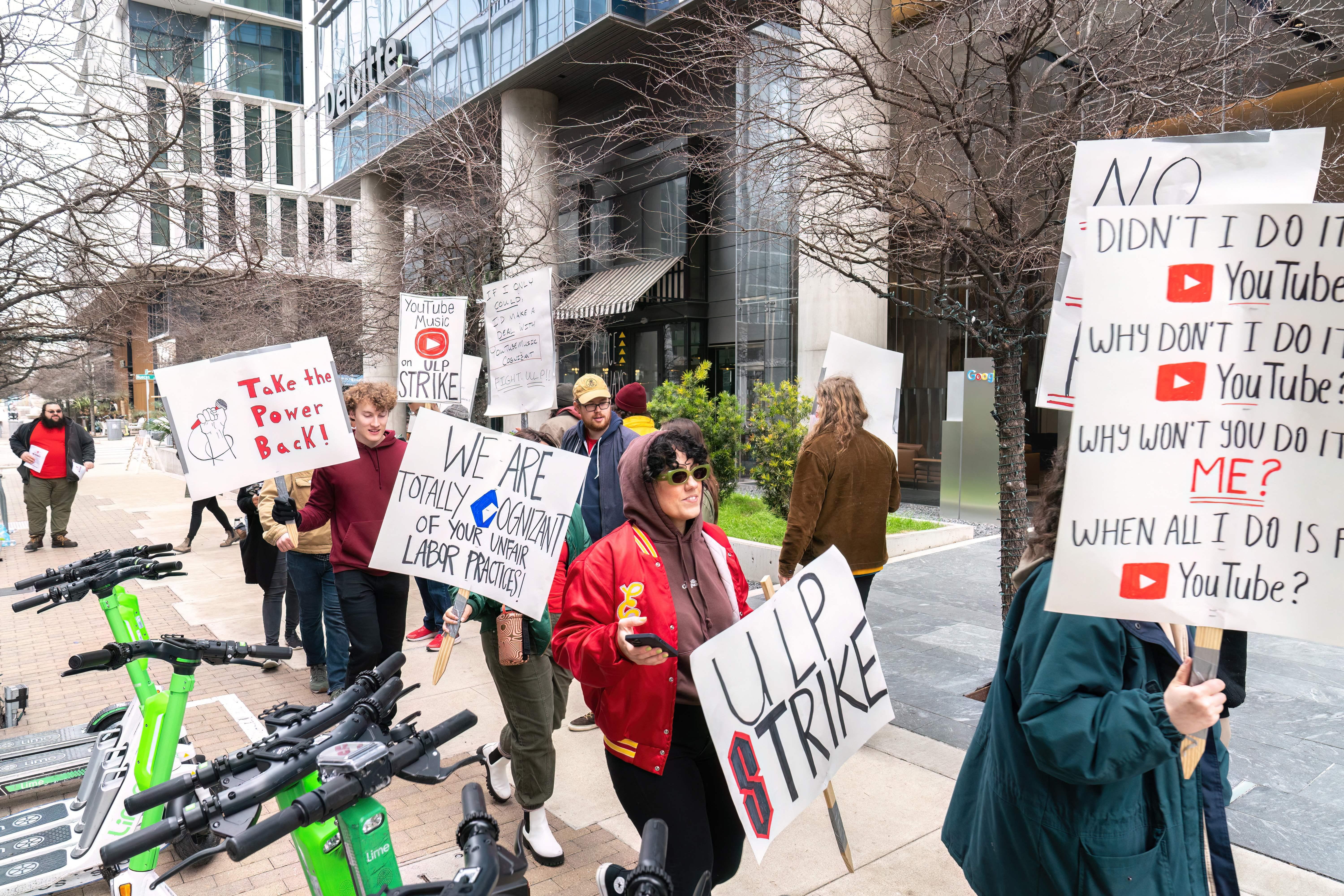 As knowledge work becomes more precarious and as the number of independent contractors grows, this fight is one of many fronts in an ongoing battle over who counts as an employee. California's 2019 AB5 law, for example, created a stricter definition for independent contractors; an Uber-backed ballot initiative that passed later loosened the rules.
Similarly, said Puja Datta, an AWU-CWA organizer in New York, "Under Trump's NLRB, they made it more difficult for employers to be held as joint employers." The National Labor Relations Board chair under Biden, Jennifer Abruzzo, "has indicated that she's trying to roll back some of that. So that's part of our strategy," Datta said.
The petition is still pending; NLRB approval would affirm that Google has significant control over how these contractors do their work. If a subsequent union vote does go through, the YouTube contractors would become AWU-CWA's second official bargaining unit (after a 10 person Google Fiber unit)*.
Organizers hope that this momentum could carry over and lead to more bargaining units. If it does, a union contract could eventually benefit Google's staff engineers as well. With a union contract, Datta said, "You can't just lay people off willy-nilly. You have to negotiate any change."
That ideal is a long way off for a union that currently counts less than .01 percent of Google's workers as members. Most Googlers have not joined AWU-CWA and are not convinced that they want or need such protections. After all, said Hai, "Why would I join a union when I'm well compensated and have all these amenities?"
While it is too soon to tell if a vibe shift is afoot, Datta is optimistic. "Just because you're a white-collar worker, doesn't mean you don't deserve job security," she said.
Plus, the AWU-CWA may have another appeal for Google's idealists. "At Google, one of the internal things we say is that you need to have a healthy disregard for the impossible," Ted told me. The layoffs, he said, indicated that "our leadership team was not held to that same standard of imagination."
Union members hope that a stronger AWU-CWA will one day provide accountability that other internal channels have not. If it does, that might be just the thing to help Google recapture its slime-mold soul.
Correction, Feb. 9, 2:25: This article originally misstated that YouTube Music workers would be the first AWU-CWA bargaining unit. They would be the second. It also misstated that a Google minimum wage is for employees. The wage in question is for any subcontractors with systems or badge access.