You wouldn't expect liberal politicians and environmentalists to align with Tucker Carlson on just about anything these days. But all three players have lately found a common cause: dead whales found off of the New Jersey shore.
Back in December, Tucker Carlson Tonight kicked off a still-ongoing endangered-species crusade with a segment titled "The Biden Whale Extinction," for which the host brought on geoscientist (and part-time model?) Rosie Moore to explain how an "entire species" of whales—specifically, the North Atlantic right whale—was dying off, and why Biden administration plans for offshore-wind development could potentially harm them further. Things got weirder a month later when Carlson remarked, on a Jan. 13 broadcast, that "the government's offshore wind projects—which are enriching their donors—are killing a huge number of whales, right now," citing "seven dead whales that washed up in the Jersey Shore in the past month," along with a humpback whose corpse surfaced in the Garden State that very day. Carlson's newfound wildlife grief escalated this week following another handful of whale deaths, with the anchor screaming that "the people who care least about the natural world are self-proclaimed environmentalists! They're happy to wreck it for profit! They make the oil companies seem like deep environmentalists!"
It's a bit wild to see Carlson—the same man who gleefully attacks documentarians who've exposed the polluting effects of fracking—get so heated about marine ecosystems. It's even wilder that his talking points have caught on more broadly, including among a cross-partisan segment of politicians and activists. The wind projects to which Carlson refers, located off the New York and Jersey coasts, aren't even operational yet; they're in the pre-construction phase. (Overall, the United States has only two fully operational offshore wind systems, with a total of seven sea-based turbines; the first Jersey-based turbine is scheduled to begin power generation by next year.) Yet the simultaneous timing of that buildup and the indeed-troubling spate of recent whale deaths has caused Republicans to sound like environmentalists, and Democrats to sound a touch more like Fox News. Democratic New Jersey state Sen. Vin Gopal stated that he's "very concerned" about potential links between turbines and the whale deaths. A group of 12 New Jersey mayors wrote a letter to the federal government requesting a moratorium on wind development off the state's coasts in order to "prevent future deaths from needlessly occurring on our shorelines." Republican U.S. Rep. Chris Smith penned his own requests to the Biden administration that wind development be halted until "ecological safety can be assured," following in the steps of his House GOP colleague Jeff Van Drew. The environmental nonprofit Clean Ocean Action told Politico that while the organization has "no evidence to tie the whale deaths to offshore wind," it nevertheless opposes the turbines, a stance that's pitting the group against other New Jersey environmentalists who support the proposed wind farms.
What's really going on here? Since when does the right wing care about marine biodiversity so much, and will this alliance of convenience actually save any whales? Just why are all those whales dying, anyway, and what do incomplete turbines have to do with it, if anything? It turns out—it will shock you—that this is a slightly more complicated issue than these staunch wind-energy opponents have made it out to be.
Let's look, first, at the whales themselves. Remarkably, humpback numbers in New York and Jersey waters have grown over the past decade, as the organization Gotham Whale informed Asbury Park Press, thanks to a cleaner Hudson River. But, since both states are key regions for port trading and shipping, that heightened population density has also exposed such whales to danger. The National Oceanic and Atmospheric Administration later told Asbury Park Press that it started noticing an unusually high number of humpback whale deaths in January 2016—before any offshore wind development even began stateside. Since that year, at least 23 humpbacks have washed up on the Jersey coasts, with three of them surfacing last month. Other species, including sperm and pilot whales, have surfaced across the Atlantic Coasts, including in states like Florida, North Carolina, and Massachusetts.
When NOAA performed necropsies on several of the dead humpbacks, it found that 40 percent of the whales "showed signs of entanglements with fishing gear or ship strikes," according to an agency spokesperson. The agency also found that no whale deaths have ever been tied to noise from offshore-wind siting and use. It may seem convenient that the very government trying to ramp up renewable energy on the Atlantic also says its efforts probably aren't hurting the whales. But years of independent research and real-life findings also back this up.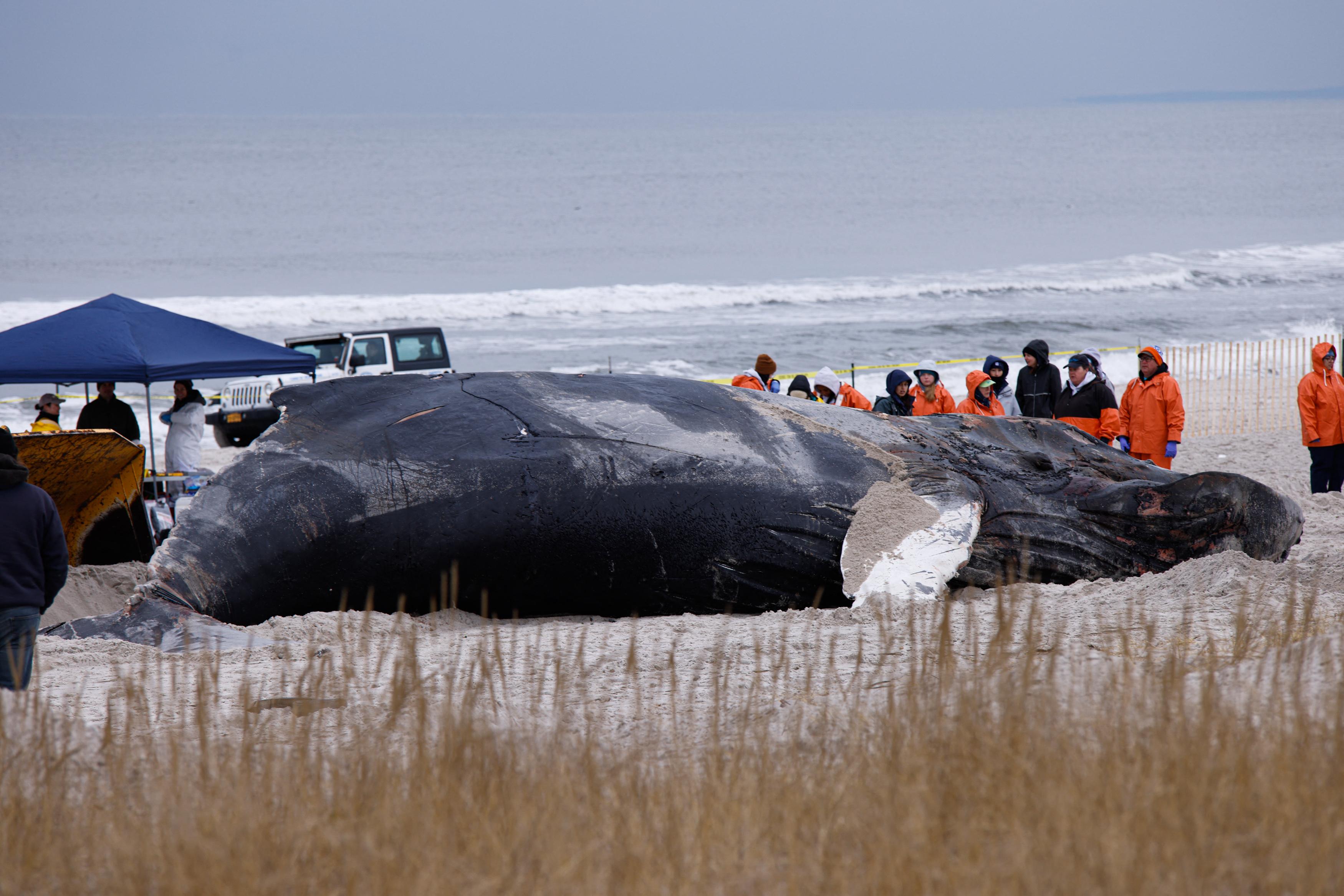 While there's no universal consensus on the exact causes of whale deaths around the U.S., academic researchers have found that climate change itself is a likely factor. Oceanic fossil fuel drilling plus oil spills are known to have killed large quantities of whales within the Gulf of Mexico. And of course, thanks to greenhouse gases released from the burning of such energy sources, the seas in which these whales reside have gotten much hotter. According to a 2021 study published in Oceanography, these warmer seas have killed off food sources that North Atlantic right whales depend on. As a result, they've abandoned traditional feeding grounds to migrate to other waters—some of which are used for large fishing expeditions. There, whales die from encounters with netting traps and large shipping vessels. (Jersey-area marine scientists determined that ship collisions were directly responsible for at least two of the recent whale killings.) This has a knock-on effect in which shrinking whale populations also reduce their breeding rate, thus slowing the rate of population replacement. Carlson packaged his demonization of wind farms with outrage on behalf of longtime coastal fishers, whom he claims are unfairly villified when it comes to marine die-offs. Yet it's worth noting that such fishers have tended to reject protective measures imposed by various governments to stanch whale deaths, like speed limits for boating or measures requiring the use of ropeless fishing gear.
There's also good reason to believe wind systems don't pose a mortal threat to sea creatures. After the United States' first offshore turbines were built off the Virginia Beach coast in 2020, local media reported that the wind towers' metal foundations provided a source of "artificial reefs" for schools of fish, algae, sea turtles, and more. Other wind apparatuses off the coasts of Taiwan serve as safe habitats for coral species, allowing the embattled oceanic plant a chance to repopulate. Meanwhile, 2006 surveys in Germany and Denmark found that noise involved in turbine development—including echolocation for initial ocean-population surveying, pile-driving for turbine establishment, and the actual spinning of rotor blades—did not harm any marine mammals' auditory organs. (However, the countries did find that sound from the construction process could affect whales' general behavior, in that they avoid swimming near noisier areas.) Seabirds also didn't appear to be affected very much, despite the noted risk of midair collision. European researchers have employed artificial intelligence–powered sensory technology to automatically curtail blade rotations if birds are flying in their path, although more work needs to be done to scale that tech and save birds and bats who face potential danger from onshore turbines, as well.
Overall data is still limited across species, and developers and authorities need to exercise care to reduce the risk of wildlife disruption. After all, just because wind power has no ties to whale deaths doesn't mean there are zero harmful impacts, especially from features like long-term turbine clamor. "Any type of ocean industry like offshore wind is going to pose some risks to the environment, and ocean life is already struggling thanks to climate change," said Alison Chase, a senior policy analyst for the Natural Resources Defense Council. "It is going to change the marine environment in some way, and we're unsure what the implications are for wider ecosystems." One area that especially needs examination, she mentioned, involves the underwater transmission cables used for floating offshore projects, which can also pose an entanglement threat to mammals of all sizes.
Thanks to prior findings from environmental and energy groups, we do know of solutions that will mitigate potential wind-turbine impacts, whether from construction or operational noise or their mere presence. A collection of wildlife, ocean, and bird advocacy groups submitted public comments last year about New Jersey's offshore ventures, stressing the importance both of offshore wind and the need to make it safe, including by: deploying available collision-detection tech, carefully tracing cable routes so as not to disturb underseas vegetation, utilizing turbine parts like "quiet foundations" that depend on gravity and suction as opposed to pile-driving—and, if pile-driving is still required, not doing it on a 24/7 basis during construction, in order to reduce noise. The NRDC has also pinpointed successful solutions currently in use for wind development: speed limits for construction ships, deployment of species-monitoring technology, and establishing maximum-sound thresholds. As wind farms adjust, fisheries should be required to do so as well, Chase told me: "Investment in transitioning fisheries to ropeless fishing systems would be huge. That would both reduce economic burden on fishermen and eliminate entanglement risk."
In fairness, the Biden administration has been conscious about the need to protect biodiversity while expanding offshore wind. About a year ago, as the government prepared to construct 200 turbines off the Jersey Shore, the Bureau of Ocean Energy Management announced plans to work with wind developers and whale experts to ensure that its chosen turbine sites wouldn't affect the dwindling right whale population, dedicating millions of dollars to right whale monitoring and research—which can be a difficult task, thanks to species unpredictability and the low visibility inherent to some watery areas. The NRDC considered this a good start that still didn't go far enough, because the plans did not require wind developers to adopt the recommended safety measures.
So, contra Tucker Carlson and the environmentalists echoing his rhetoric, the climate scientists are indeed trying to make sure wind tech isn't further harming our whales, who were dying off from climate change before a turbine blade ever graced the Jersey Shore. Perhaps, if they are serious about their concern for the whales, these critics could take a look at solutions already in use and promote them. (It never strikes them that climate-mitigation tools like clean energy help to preserve a healthier environment and, thus, can allow endangered whales to thrive.) But, considering that Carlson's previous "environmentalist" crusades seem to have been performative at best, no one should expect that. We should, however, expect elected officials not to fall for his whale-sized crocodile tears.