The Wikipedia editors are waiting to hear you scream. On Wednesday, Wikipedia is set to make its new skin the default on English Wikipedia—its first new skin since 2010—and the team of designers and volunteer editors are waiting with some mix of excitement and trepidation.
On Sunday, several dozen Wikipedia editors nursed cocktails in midtown Manhattan at the afterparty for Wikipedia Day, the annual celebration of Wikipedia's Jan. 14, 2001, founding. The group—a nerdy crowd of librarians, students, software engineers, and others who spend their free time creating an encyclopedia—usually meets in quiet libraries instead of ritzy open bars, but this was a special occasion: Wikipedia's 22nd birthday (as well as its 21st and 20th, which the group had only commemorated online). Plus, someone had offered the space as a donation.
Gathered on a leather couch, speaking loudly over the DJ's groovy music, their conversation meandered from class-action lawsuits against a water park to bird photography to Vector 2022, Wikipedia's first big redesign in 12 years, set to debut as the default on English Wikipedia on Wednesday. Eyes lit up. People leaned in. Anticipation was palpable. "We're going to be able to hear screams from space," joked a Wikimedian who goes by the username Enterprisey, who has spent months contributing to the redesign. Pharos, a longtime contributor, mentioned that Swahili Wikipedia had unanimously voted to reject the new skin and curtly demanded a return to the old skin. "I had never seen Swahili Wikipedia so outspoken about something. Pretty exciting," he said.
For all the hype, Vector 2022 isn't dramatically different—that's why it shares a name with the previous skin, Vector 2010. All the scaffolding is the same: Wikipedia is still Wikipedia, just with more whitespace, a more prominent search bar and language switcher, and a sticky table of contents. There's also a collapsible sidebar and maximum line width, which make the site more clean and less cluttered. But those changes have been scrupulously discussed and debated (over and over and over).
Wikipedia is not the scrappy web experiment it once was. In Wikipedia's 22 years online, its content has exploded to more than 300 languages (more than twice as many as Google Translate). The Wikimedia Foundation, which was formed in 2003 to oversee Wikipedia and its sister projects like Wikimedia Commons, has an endowment that's $100 million and growing. But it doesn't look all that different than it did 23 years ago, when it was run by a few guys in an office in Florida. The text-heavy website resembles an email inbox, or Craigslist, or Old Reddit. It's a barrage of straightforward white and blue text, a rather unsightly assemblage of lines and squares. It's not trendy.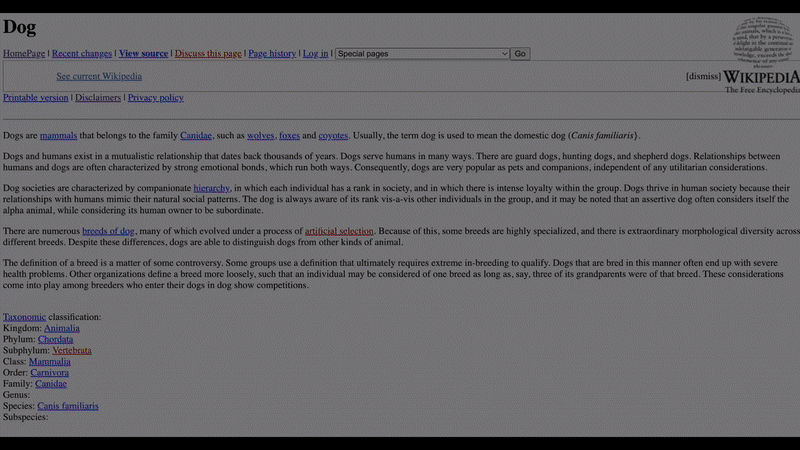 "When I say I'm a designer for Wikipedia, some people are surprised that a job like that exists," Wikimedia Foundation staff member Alex Hollender told me over the phone. He's one of 23 people on Wikimedia's design team. But there are far, far more unpaid designers. Practically everyone who uses Wikipedia has opinions about how it looks, and unlike other internet titans like Facebook and Amazon, Wikipedia invites users to share their feedback and really listens to their points. The paid design team regularly meets for office-hour video calls with interested volunteers, and since the skin was proposed in 2019, Wikipedians have spilled more than 200,000 words on the page for Vector 2022 feedback, offering suggestions and criticism—meaning that there's a corpus longer than Jane Eyre (and almost as long as Moby-Dick) about button positioning and table formatting. A page-turner!
That's not even counting the 90,000-word-long discussion on whether the new skin should be default, which went down in autumn of 2022. It was a bloodbath: Crotchety Wikipedia veterans practically yelled "too much white space!" in unison while starry-eyed progressives condemned the kneejerk resistance to change. A few clever thinkers crafted a compromise plan. In the end, the 165 people who voted to oppose the redesign outnumbered the 153 supporters. Nevertheless, it's happening. (The vote in a request for comment is not binding; the closing remarks reflect the consensus, and in this case, the closing remarks were in favor of the redesign.) The design team took some of the advice, adding a toggle to appease the whitespace-haters, and set a launch date for Wednesday.
Wikipedians, characteristically skeptical, aren't the only online community that has put forth a big fat resistance to redesign. When Reddit got a sleek makeover in 2018, 1.2 million users signed a petition to revert to its old design.
Some Wikipedia contributors have a hard time trusting Wikimedia Foundation designers. No one on the paid design team was around 12 years ago when the last skin was made, and only some of them were involved with the wiki communities before they were hired.
Wikimedia Foundation "often hires designers who aren't familiar with the community, and they come in and try to make all these changes—running head-first into a buzz saw—and the community understandably resists," said Brandon Harris, who was a senior designer at Wikipedia from 2010 to 2014. As we talked on a video call, I realized where I'd seen his long brown ponytail before—he was featured on a donation banner a decade ago.
No one has to use the default skin. Many people don't. Harris, who also goes by the username Jorm, has been tinkering with the Wikipedia layout for more than a decade. At Wikimania in 2012, the same year that founder Jimmy Wales named him staff member of the year, he presented a few ideas for a more user-friendly layout called Athena, which he eventually turned into a working prototype named Winter. The project stagnated until 2015, when a volunteer who goes by Isarra wrote "Hi. I'm considering making a new skin for the Wikimedia projects. Yes, I know this is a terrible idea. I don't really care." She took Jorm's principles and built a skin called Timeless, which you can choose by navigating to "Preferences" and then "Appearance." True to its name, Timeless has been a cult favorite among Wikipedia users who appreciate its color, prominent display of editing tools, and mobile formatting. An indie hit, if you will.
Timeless isn't the only non-default layout you can choose. You can manually choose to use Monobook, the default skin from 2004 to 2010, which British comedian Stephen Fry appears to have done, based on his tweet of a screenshot of a "2022 United Kingdom government crisis" Wikipedia article outfitted in the Monobook skin. There's also Minerva, a skin for mobile devices.
If you want a real trip down memory lane, you can check out Nostalgia Wikipedia, a preserved copy of Wikipedia as it appeared in December 2001. The site is instantly recognizable: the white minimalist background, the globe logo in the corner, the blue links. But it's from a different era, and there isn't even a search bar. A few other aughts skins, such as "Cologne Blue," reek of early 2000s design trends (check it out here). "Modern" now feels very dated, despite its name.
Not into the new look? Not into any of the old looks, either? Wikipedia doesn't just allow users to contribute encyclopedia content. It also allows you to make some kooky CSS customizations. Neon background! Blinking links! Even more, you can also inject your own arbitrary Javascript into the site to change it according to your preferences, however odd they may be. Wikipedians have made scripts to display IP addresses as emoji, show dark mode, and highlight questionable sources. If you want to make a more drastic customization, you're invited to create your own skin or choose from the 101 that already exist—including a flower-themed design and a layout that resembles a messy desk.
To an outsider, the meticulous, sometimes combative arguments about, say, moving a button five pixels to the left seem pointless. I beg of thee, please, touch grass! But to many, Wikipedia is sort of a home on the internet. And people want to live somewhere nice.
"Maybe all I'll be remembered for is making the already-visited links a little bit more purple," design team member Hollender told me. "Or the guy who made the table of contents stay on the screen as you're reading. It sounds small. But maybe, if I'm doing my job, people will be able to find information a tiny bit faster."
Update, Jan. 19, 2023: This article was updated to clarify that a vote in a request for comment is not binding; what is important is the closing remarks, which reflect the consensus.
Future Tense is a partnership of Slate, New America, and Arizona State University that examines emerging technologies, public policy, and society.