On a list of most bizarre Australian mammals, echidna's rank near the top. Besides the duck-billed platypus, echidnas are the only other surviving monotreme: an ancient type of mammal that lays eggs. Echidnas keep their young (technical term: "puggles") in pouches like kangaroos, kicking them out when they start to grow long, sharp spines. They are one of just three known mammals with a sixth sense for the electrical currents of their prey.
If all that's not bizarre enough, a new paper in the journal Biology Letters measured another way in which echidnas are unique: they blow snot bubbles over their noses to keep cool.
On behalf of toddlers everywhere, I spoke with co-author Christine Cooper, a senior lecturer in the School of Molecular and Life Sciences at Curtin University, to learn whether this could work for us, too. Our conversation has been condensed, and lightly edited for clarity.
Meg Duff: Talk to me about the snot bubbles.
Christine Cooper: So, echidnas have a tiny little mouth, a long, sticky tongue—no teeth—and a long, pointy snout with the nostrils right at the tip. And the tip has electroreceptors. When ants and termites are moving around in the soil, echidnas can detect those electrical currents. That's how they find their prey.
For the electroreceptors to work well they need to have moisture, so echidnas keep the tip of their beak moist. They do that by blowing mucus bubbles that burst over the tip of the snout.
So they use snot-covered noses in order to detect electricity. Sounds like a two-year-old Marvel hero! But your team found that echidna snot does something else, too.
When those bubbles burst over the beak tip, it's a way of dumping heat. They might be primitive mammals, but they're mammals, and they produce heat through their metabolism; they have to lose that heat or they would get too hot.
So they wet the skin that overlies this big balloon of blood right behind their nostrils. If they can keep that surface evaporating, that's going to cool the underlying blood. By cooling blood that then circulates back to the body, they can dump a lot of their metabolic heat to the environment.
Can humans blow snot bubbles to cool off? Is this a climate resiliency strategy we can learn from?
Well, we don't have that big blood sinus in our nose, so it doesn't work as well. But running your wrist under water is a really good trick! That works because we've got lots of blood vessels close to the surface in our wrist.
And if you don't have water, presumably snot works fine.
If you don't have an external source of water, you can use nasal mucus, you can use saliva, you can use urine. Kangaroos lick their forearms. Vultures and storks urinate on their legs.
Really anywhere you've got blood vessels close to the surface, if you can wet that and allow that moisture to evaporate, you can dissipate heat.
Snot-powered cooling is weird, but also…we sweat. Are we the weird ones?
There are other mammals that sweat, so we're not really special. But we are really good at it. We're one of the most efficient sweaters.
Other animals pant and lick to dissipate an environmental heat load. Echidnas, well…their tongue almost looks like a worm, it's really long and thin. It's not broad and flat like a dog, so it's not going to be very useful for licking themselves. Instead, they blow bubbles.
In your paper it says that echidnas surpassed expectations in terms of their ability to cool off. I'm curious why the low expectations.

Monotremes branched off really early from the other two groups of mammals. They have some really weird anatomy that's quite primitive, and they share some traits with reptiles. The normal body temperature in echidna is 29 to 30 degrees Celsius [84.2 to 86 degrees Fahrenheit], which is really low We're 37 degrees Celsius [98.6 degrees Fahrenheit]. Generally once their body temperature gets to about 38 degrees, that's it. They die.
Because of this, people once thought that if you got an echidna exposed to an ambient temperature of 35 degrees Celsius [95 degrees Fahrenheit], he would die. But we saw wilder echidnas doing their thing, happily foraging up to 37.5 degrees Celsius. Not only were they not dying, but they were active and happy. So they're obviously more tolerant to higher temperatures than what they've been given credit for. Now we have a mechanism.
What was the hypothesis was that you actually tested?

In the lab they blew bubbles and their noses looked wet and probably cool, but we couldn't measure how cool. So when we were in the field, we went out and filmed them with a thermal camera.
Thermal images assign a temperature to every pixel; we overlaid the standard "red is hot, blue is cold" color scheme. And so yeah, their nose was really quite dark blue. Obviously much cooler than the rest of their body.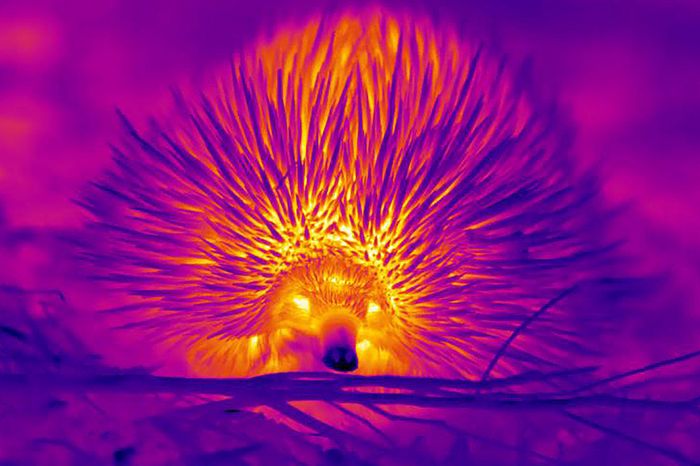 You've also studied some other ways that echidnas keep cool—like "splooting."

Yes. If they're getting a bit hot, they can go and press their underneath against cool ground and that lets heat move from the animal to the ground. If they're cold, they can just curl up in a ball and then they're reinsulating that area.
Then, if conditions are bad—so everything's burnt and there's no food or cover—they drop their body temperature down and go to sleep for a few days. Short-term hibernation is probably a really good way of getting through really bad times.
There have been some bad times in Australia—in particular, there have been some bad fires. What are echidnas up against?

The good news is, the echidna is among the least likely to be a species we lose from climate change—they have the broadest geographical distribution of any Australian mammal. But we might lose them from particular environments. That is a real problem because echidnas provide an important ecosystem service.
When they're foraging, they're digging in the soil and they're turning that soil over—they bury leaf litter and stuff—which is really important for plant growth. So if you're lost an echidna from a particular habitat, that would have bad flow-on effects for that environment.
The next step we need for echidnas is heat balance models. Now that we know their surface temperatures, we can start to do some complicated mathematical modeling to work out exactly how much heat they are dissipating and how that relates to the environmental temperature.
Then we can predict, "Well, if it gets to a certain temperature an echidna can only forage for 10 minutes before it overheats," or, "It can forage for two hours before it overheats." And, "If the climate warms up by two degrees, is this going to shorten their foraging period? Can they just go nocturnal? Are they going to run out of time?"
The good news is, the technology that allows us to study this is advancing. to the point where we can study animals in the wild undisturbed and get a good idea of what they're actually doing out there.