A version of this article was originally published by the Atlantic Council's Digital Forensic Research Lab on Medium.
On March 1, Inna Afinogenova, arguably the most visible face of Russian state media for Spanish-speaking audiences, was angry. That day, in response to Russia's invasion of Ukraine, YouTube and other social media platforms had suspended access to channels connected to Russian state-owned media outlets across Europe. Afinogenova, a host on the RT-affiliated channel Ahí les Va, posted a message in perfect Spanish condemning YouTube's restrictions in Europe and inviting viewers in banned regions to download the video and share it through messaging apps. Afinogenova—whose show Ahí les Va gained popularity by branding itself as an alternative voice to Western media—also blamed Brussels and other governments for pressuring YouTube to "vanish" RT in Europe.
YouTube later expanded the ban to other regions, including Latin America. By March 11, YouTube had blocked access globally to more than 1,000 channels connected to state-funded outlets RT and Sputnik. According to the platform, those channels and their more than 15,000 videos spread misinformation and hate speech, among other actions prohibited by YouTube policies.
The ban put a dent in Russia's larger influence operation in Latin America, characterized by well-produced and carefully targeted content like the video series formerly hosted by Afinogenova. (In May, Afinogenova announced she had resigned from RT because she does not support any war. She initially posted the video on her newly created YouTube channel, which gathered almost 388,000 views and 60,000 subscribers between May 2 and May 17. "I'll be here, if they don't sanction me, block me because of my nationality or former employer," she concluded, after arguing propaganda comes from all sides and "isn't a question of good and bad guys.")
Spanish speakers are among the main targets of Kremlin-backed media internationally through its Spanish outlets RT en Español and Sputnik Mundo, and Spanish-language social media has become an important space for conversations and public opinion surrounding Russia's invasion of Ukraine. On Twitter, for example, Spanish is the second most prevalent language discussing the war.
RT started broadcasting to Latin America in 2009 from its Moscow headquarters, and the outlet has since garnered a significant audience, particularly in Argentina, Colombia, Mexico, and Venezuela. On social media, RT en Español is one of RT's most popular language editions, more than doubling the number of Facebook followers of RT in English. To build their audience in Latin America, the outlets have focused on regional political issues that align with local governments—for example, bolstering anti-U.S. sentiment in Venezuela, in alignment with President Nicolás Maduro's messaging. The outlets have also received support from Latin American governments. For instance, in 2014, former Argentine President Cristina Fernández de Kirchner held a videoconference with Vladimir Putin to announce RT en Español would be incorporated into Argentina's public TV offering, where it still broadcasts today. In 2018, former Ecuadorian President Rafael Correa launched a RT en Español TV program in which he interviewed different Latin American politicians.
So, by the time the March YouTube ban came along, Kremlin-backed media had a strong foothold in Latin America. In response to the ban, outlets began promoting their Spanish-language accounts on VKontakte and Odysee, two alternative platforms to Facebook and YouTube, respectively. (VKontakte has been called "Russia's Facebook" and has close ties to the Kremlin, while blockchain-based Odysee has been called a "YouTube for the far-right.") Meanwhile, nearly 50 YouTube channels reuploaded videos from RT en Español and Ahí les Va between March 1 and April 5. Among these are seven new channels utilizing RT branding, which have garnered thousands of subscribers in a matter of weeks.
Those numbers, however, pale in comparison with the banned accounts. According to social media listening tool Social Blade, by the time they were deplatformed by YouTube, RT en Español had accumulated 5.97 million subscribers and almost 4.5 billion views, while Ahí les Va had gathered 1.11 million subscribers and 108 million views. As shown below, both channels experienced increases in the number of views and subscribers during January and February—meaning we can assume this growth would have continued through March and beyond if the channels had not been banned.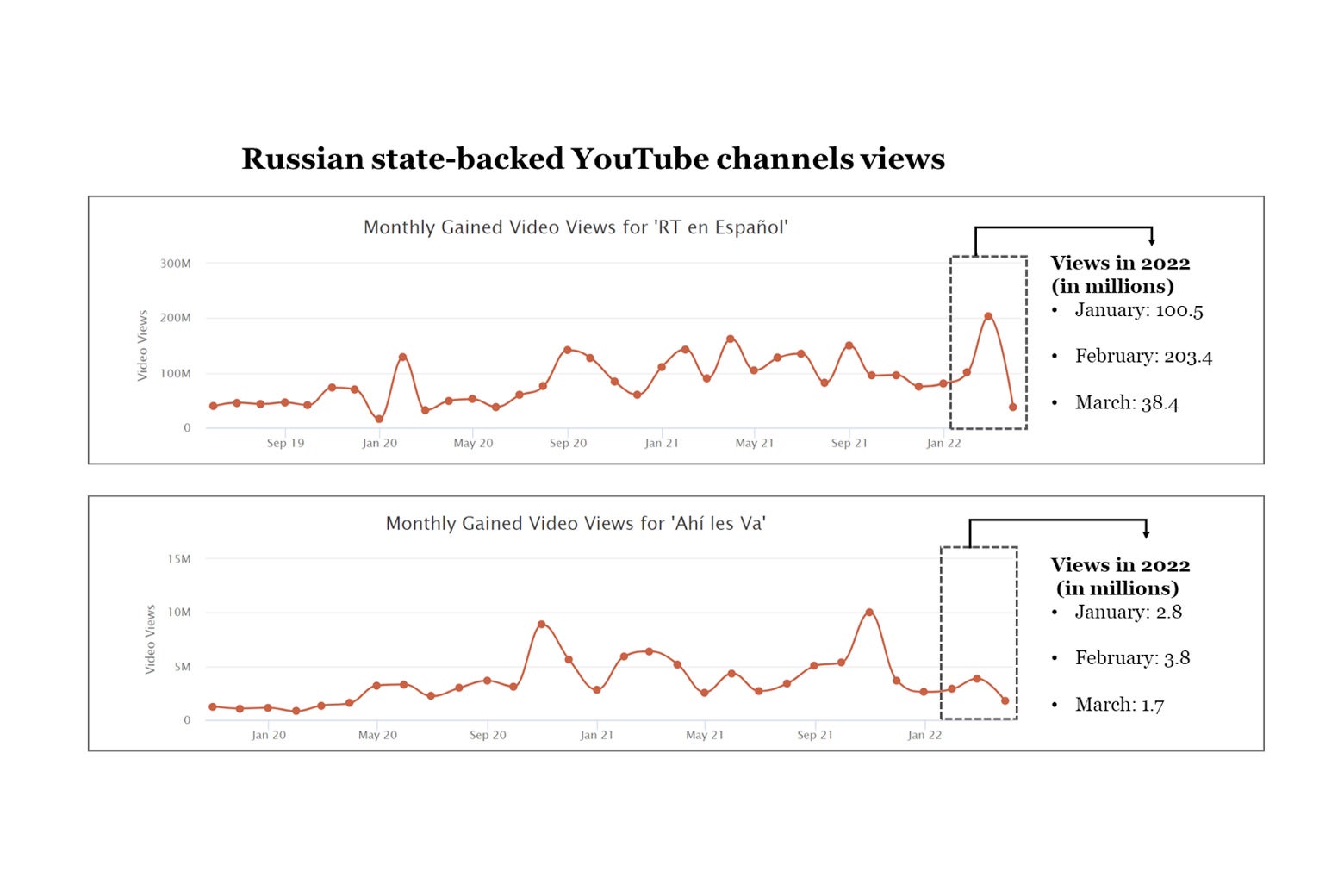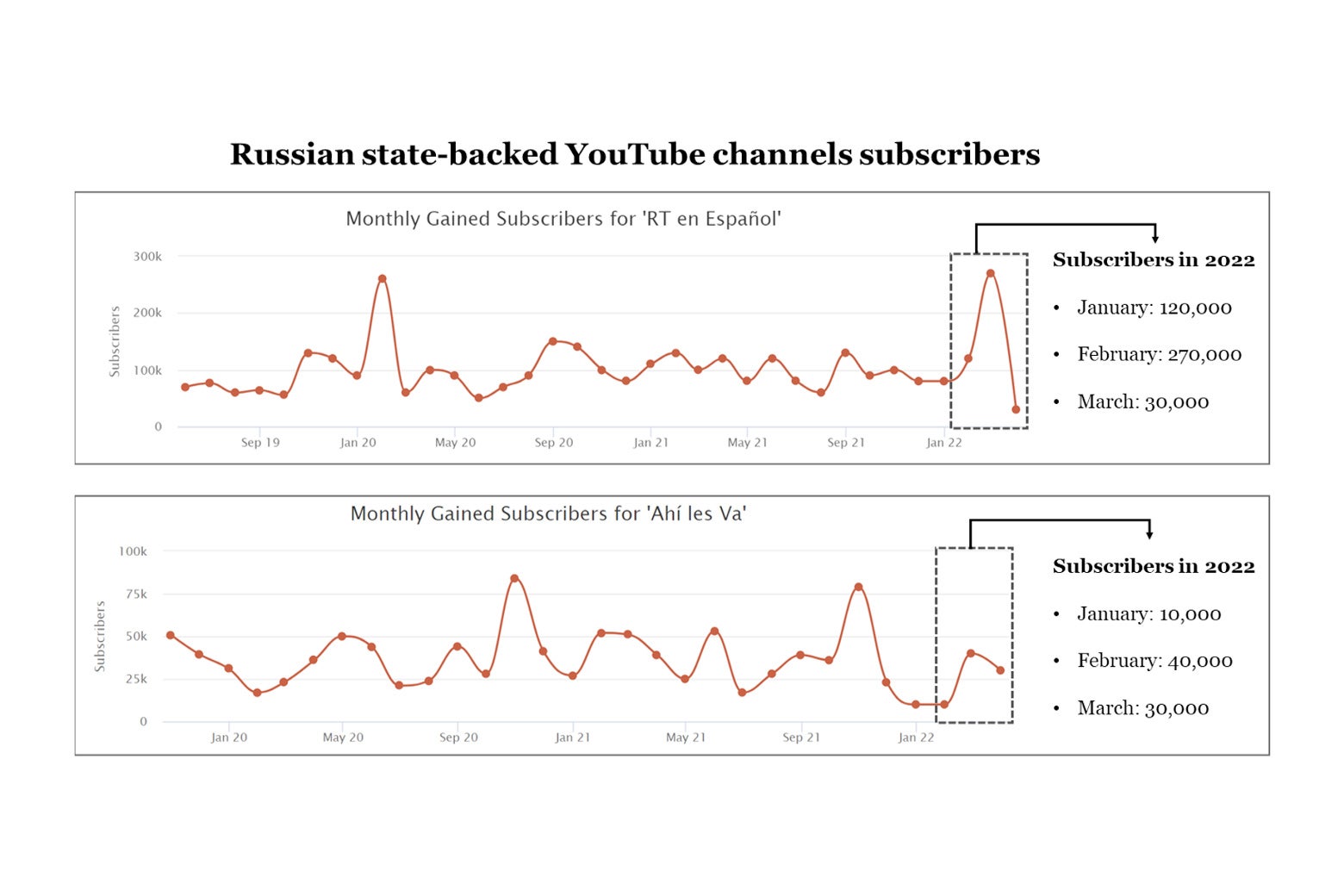 While the YouTube channels re-uploading state media content—which include newly created accounts and existing channels linked to Latin American fringe media—don't have the same reach and interactions that RT en Español and Ahí les Va once did, their rise is still notable.
Of the seven new YouTube channels, Ahí les Va… RT! amassed the most views—more than 101,000 before being suspended by YouTube—while the similarly named Ahí Les Va has gained around 18,900 subscribers as of May 26. Four of the seven new channels belonged to Google accounts that joined YouTube between March 12 and March 29.
In terms of content, the channels reuploaded videos criticizing U.S. and European sanctions and "censorship" against pro-Kremlin outlets and characterizing invasion as a "denazification" effort—in other words, using propaganda to justify the invasion while portraying Kremlin as a victim.
Another group of 39 channels existed before the ban, but previously focused on content related to video games, music, travel, news, Latin American governments, and political organizations. After the ban, they changed their content, reuploading at least one RT en Español or Ahí les Va video.
Of these existing channels, SFP-ASP had the most subscribers—nearly 55,000 at the time of publishing. The channel describes itself as focusing on "Photography, Video & Journalism Production" and belongs to an Ecuadorian photojournalist based in Berlin. SFP-ASP's reupload of the Ahí les Va video of Afinogenova asking viewers to share banned content garnered over 57,000 views in two months.
Six of the existing channels were dedicated to spreading content supporting Latin American governments, political organizations, and partisan media. Most of the channels posted press releases and propaganda before reuploading pro-Kremlin media videos in March. The channels promoted Cuban regime-backed medical missions; Bolivian President Luís Arce; broadcasts by the Maduro regime in Venezuela; the pro-Argentine government party Frente de Todos; Peruvian President Pedro Castillo; and a communist movement supporting Mexican President Andrés Manuel López Obrador.
While the group of existing channels that shifted their content to share banned messages is fairly limited in reach, it demonstrates how Russian propaganda has fueled the content of other YouTube channels, thus broadening the audiences who can be exposed to these messages.
As of June 6, two out of the 39 channels reuploading RT en Español and Ahí les Va videos had been suspended.
Meanwhile, RT en Español, Ahí les Va, and Sputnik News have started rebuilding their audiences on Odysee, the blockchain-driven video site. For instance, RT en Español doubled the number of subscribers in one day, following RT's recommendation in state media to follow their accounts on this new platform. RT en Español had nearly 20,000 followers on Odysee as of early June, while Ahí les Va! Had almost 10,000 on the platform.
Given that YouTube's deplatforming decision remains in place, channels reuploading RT content are likely in violation of YouTube guidelines. The channels we identified have successfully amplified the deplatformed videos to grow their audiences, but they have yet to recover the same engagement levels that the main Kremlin-backed YouTube channels amassed before the ban went into effect. Even so, our research shows that with the backdrop of the war in Ukraine, users of platforms on which Russian state outlets have been blocked are still exposed to—or even seeking out—Kremlin propaganda. The next question is: How do the recommendation algorithms on platforms like YouTube help it spread?
Future Tense is a partnership of Slate, New America, and Arizona State University that examines emerging technologies, public policy, and society.