Uber has long been notorious for its hard-knuckled business practices, but these days the company is trying to sound like the reasonable compromiser. On Monday, for example, the New York Times published an op-ed from Uber CEO Dara Khosrowshahi responding to criticisms that gig-economy companies fail the workers on their platforms. While maintaining Uber's usual argument—that turning independent contractors into employees would deprive them of the freedom to work however much they want—Khosrowshahi offers what he frames as a third way: new state laws that would require companies like Uber to establish benefit funds for workers, but not formalize their employment.
Uber isn't just fighting to maintain its business model on op-ed pages, however. The magnanimous, levelheaded tone of Khosrowshahi's piece belies the combativeness of the campaign Uber has funded to resist a landmark California law that would require the company to grant employee benefits and protections to its drivers. That was underscored in an incident last week. A group formed by Uber and several of its industry peers has recently taken to targeting a law professor on Twitter over her efforts to get their workers classified as employees. The Twitter account for Yes on 22, a committee dedicated to promoting the California Proposition 22 ballot measure that would keep some gig workers as independent contractors, encouraged users to post screenshots of notifications that they had been blocked by University of California–Hastings law professor Veena Dubal. The account subsequently retweeted screenshots from users who purported to be gig drivers.
Yes on 22 has about $110 million in funding—$90 million from Uber, Lyft, and DoorDash, and $20 million from Postmates and Instacart. The committee has gathered signatures, bought ads, and filed a lawsuit in order to get the proposition passed in November. Prop 22 would partially overturn AB5, the California law signed in 2019 that requires companies to reclassify independent contractors as employees, entitling them to health insurance, worker's compensation, and other benefits. So far Uber and Lyft have resisted the law, which could cost them hundreds of millions of dollars a year if they complied. The San Francisco Superior Court ruled on Monday, though, that the companies must start complying with it. Prop 22 could be one of their last chances to escape AB5. That might explain, though not excuse, the pique of Yes on 22's social media strategy, which evokes an image Uber has worked to shed since the ousting of pugnacious CEO Travis Kalanick in 2017. The company was often aggressive toward its critics under Kalanick, threatening to dig up dirt on journalists and hiring intelligence firms to investigate plaintiffs who've sued the company.
Dubal has been a prominent advocate for AB5 and critic of Prop 22, which she argues will "codify the inability of drivers to predict their income." She drafted a letter in 2019 urging the U.S. Senate to support AB5 and has been vocal in the media calling for more protections for gig workers (including in Slate). In February, around the time when Yes on 22 formed, a number of Twitter accounts became fixated on framing her as the secret ghostwriter of AB5. While Dubal has been supportive of the legislation, she did not draft it. On Twitter, she was buffeted with threats and vulgar harassment, often denigrating her identity as a woman of color. Other accounts circulated false rumors about her, alleging that she was harassing independent contractors on Twitter. In an interview, Dubal told me she noticed that some of these accounts had a minimal presence outside of the harassment and were registered recently. (She shared several screenshots; Slate blurred the usernames of the individuals who tweeted at Dubal.)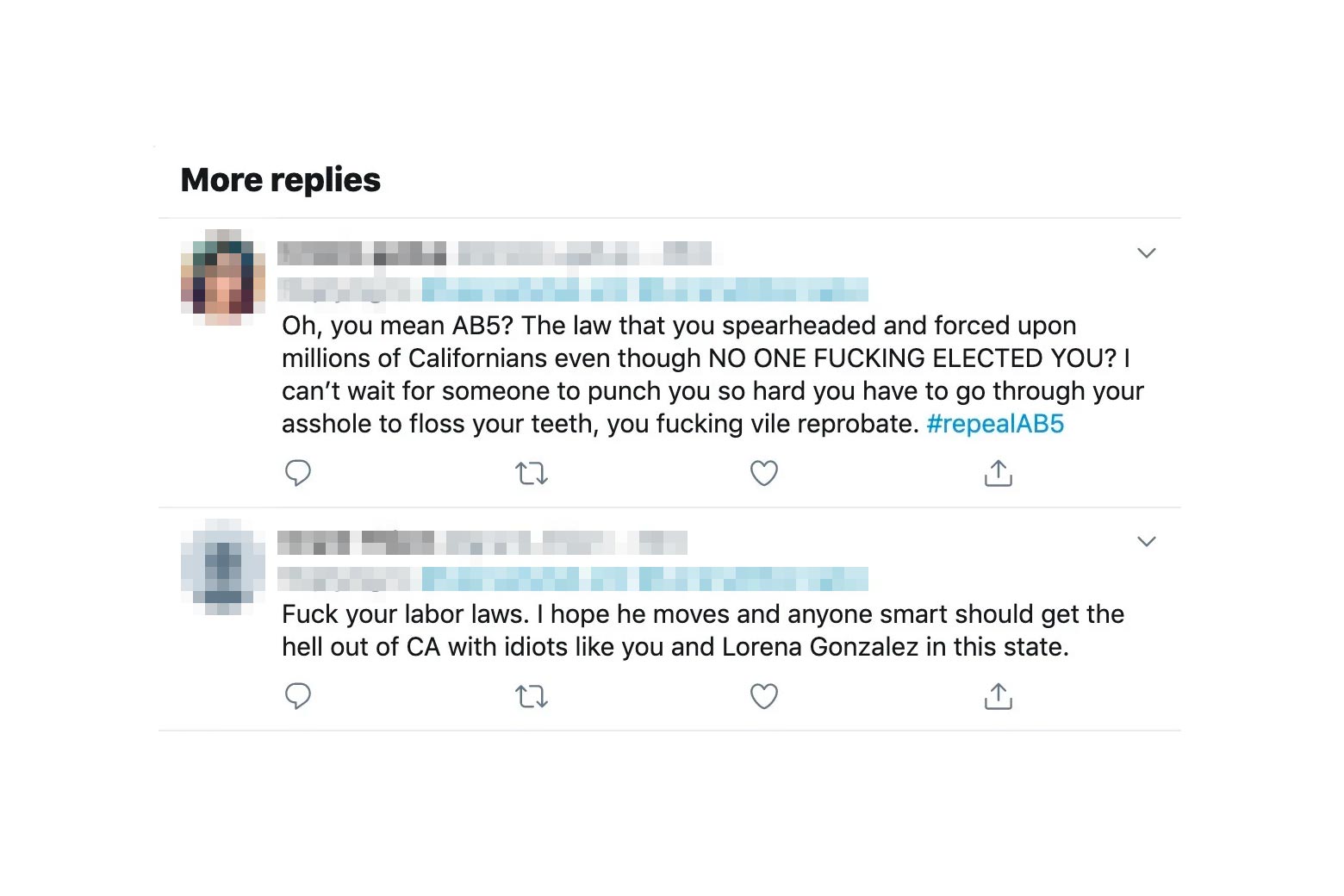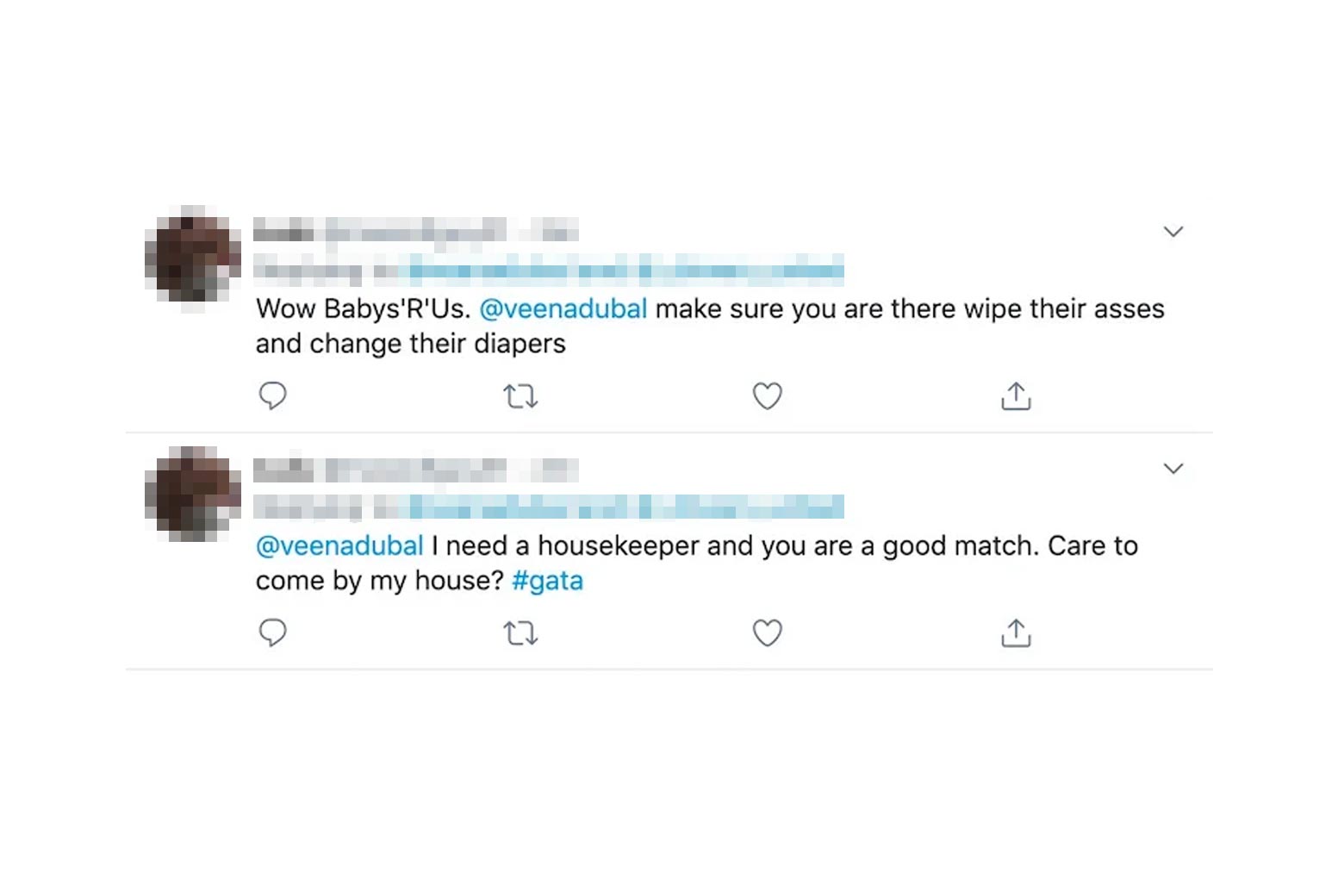 After someone posted her home address on Twitter in March, Dubal hired a digital security consultant in order to mitigate potential threats to her family. "That was really scary, because it was in the middle of the lockdown. People knew that I was at home, and I have three small children," she said. "It was very easy to find us and potentially hurt us." Beyond scrubbing her personal info from the web, the consultant also advised her to more aggressively block accounts that were harassing her or getting aggressive in her mentions. She says that she's been harassed offline as well.
When contacted about the tweet asking for blocking screenshots, Yes on 22 spokesperson Geoff Vetter provided a statement: "We may disagree on policy, but we should be able to do so without being disagreeable. The campaign's post simply asked why an advocate for drivers is silencing the very drivers who disagree. We condemn anyone who is harassing Professor Dubal and ask that it stop immediately." (Uber, Lyft, and DoorDash did not reply to requests for comment.) "That's a really disingenuous response. The account has seen all the harassment that's been going on," Dubal said of Yes on 22's statement. "This particular tweet was intended to incite harassment." Here's one reply to that tweet: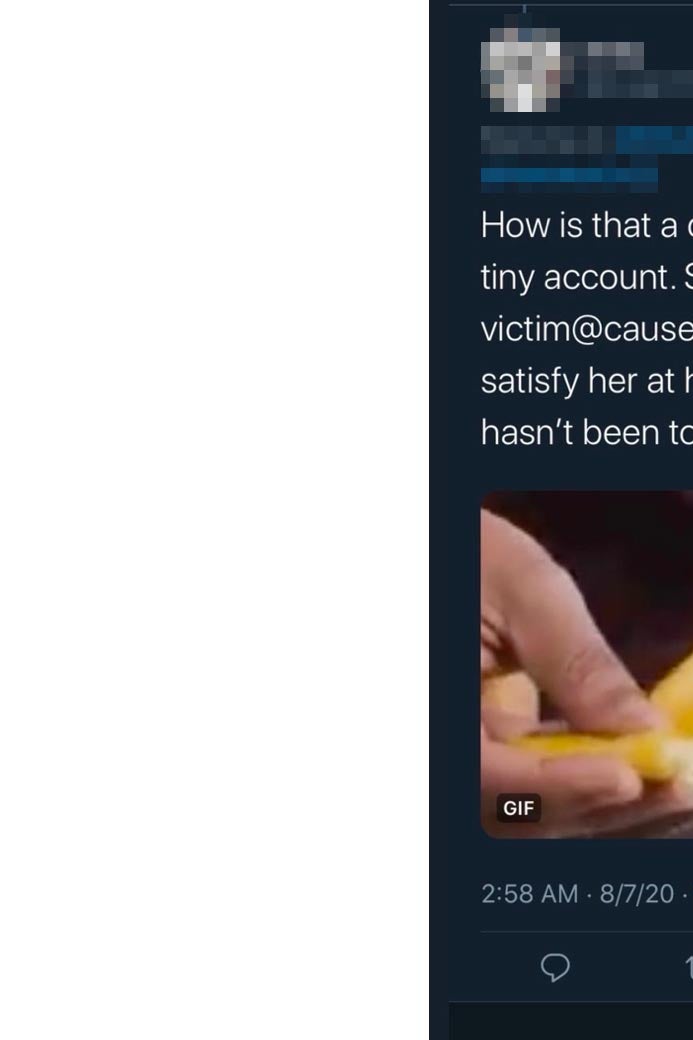 Dubal pointed out that she is not a public official and has no way of knowing whether the people behind the accounts she blocked are actually drivers. She generally does not engage with drivers on social media but talks with them as part of her ethnographic research into how shifting technologies affect the lives of ride-hail drivers in San Francisco. Dubal had never interacted with Yes on 22 prior to the committee singling her out on Twitter. Shortly before Yes on 22's account began soliciting the screenshots, she had been tweeting about the San Francisco Superior Court case, which could explain why she became a target at that moment. "This idea that I'm not listening to drivers is really insidious," she said. "If [Yes on 22] bothered to read my research, they would see how deeply I grapple with how drivers feel about employment status in particular, and how carefully and critically I take their life experiences into consideration."