About 350,000 acres in Northern and central California have burned as of Thursday, in the state's latest round of wildfires. The lightning from that weird thunderstorm on Sunday caused 367 of the fires, officials say. All of the active fires have been difficult to get under control because of record high temperatures, low humidity, and high winds. The heat has also caused power outages for hundreds of thousands of residents.
Interviewed by the MIT Technology Review on Thursday, climate scientists concurred: The heat wave and the lightning strikes can absolutely be attributed to global warming, meaning that the severity of these wildfires is a function of climate change. Sitting in front of his RV in a Walmart parking lot Wednesday, Vacaville rancher Taylor Craig told the Santa Cruz Sentinel, "I'm a climate refugee."
We are living through multiple crises at once. Remember way back in May, when we all realized the coronavirus was not going to be under control any time soon, and we wondered how an uncontrolled COVID-19 pandemic might hamper the emergency response to any other natural disasters we might experience? It's happening now, in California.
Here are all the ways COVID is making this particular climate disaster harder to face.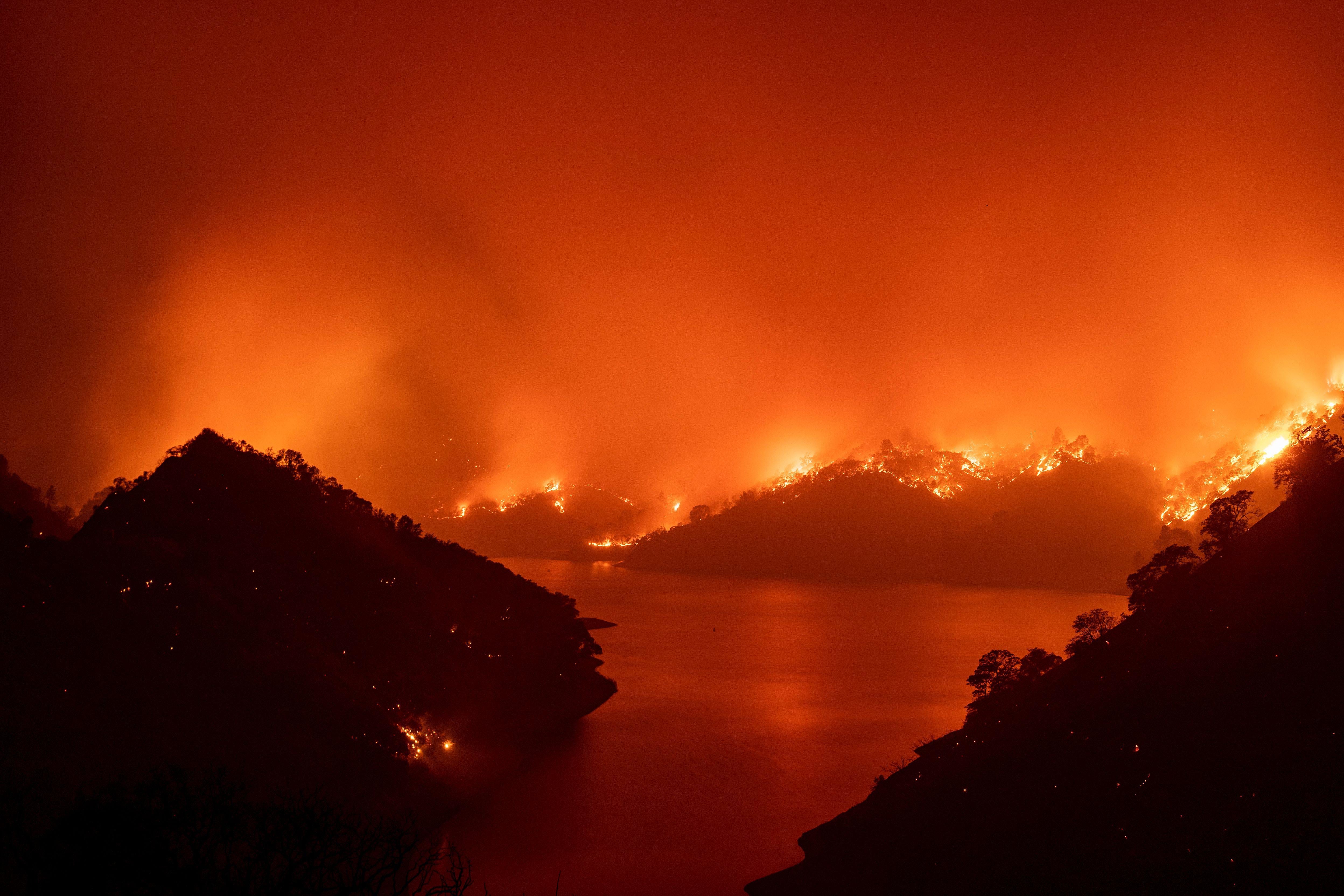 Where can people go if they have to leave their homes?
Sonoma County's director of emergency management, Chris Godley, told KQED earlier this week that preparing shelters that would work with social distancing was a huge lift—his staff was getting 10 shelters ready, rather than just one: "That's 10 times the amount of work and logistics and staffing levels and training for staffing. It's a significant cost. It's not just buying two bottles of hand sanitizer and calling it good." At congregant shelters, the Red Cross told KQED that it is planning to offer health screenings, require masks, and add spacing between cots and chairs.
Shelters are bad places for infectious diseases—as the Sacramento Bee pointed out, hundreds of Camp Fire evacuees got norovirus in evacuation centers in 2018. Because of that, the Red Cross is trying to house people in "non-congregant accommodations," meaning motels and hotels, officials told the Bee on Wednesday.
Evacuees are being told to go to "temporary evacuation points" first, where they're supposed to be screened for symptoms and given temperature checks before being redirected and set up with motel and hotel rooms if they have no other option. But one evacuee the Bee interviewed at a temporary evacuation point said he didn't get a temperature check—though "they did clean the pen before I signed in, which was nice."
In some places, officials may be directing people to try find shelter themselves first. An official with the California Department of Forestry and Fire Protection told the Los Angeles Times on Thursday, "The recommendation … is try to find family and friends that you are comfortable with before you go into these large environments with multiple people where they may be [at] an additional risk for exposure."
Shelter is a problem not just for fire evacuees but also for people trying to escape air filled with wildfire smoke. As SFGate pointed out, the recommendation for those without access to adequately ventilated and sealed-up shelter when air quality is bad is often to seek out public places with filtered air systems, like libraries, community centers, and government buildings. But with many of those places closed due to the coronavirus, that will be much more difficult to follow this year.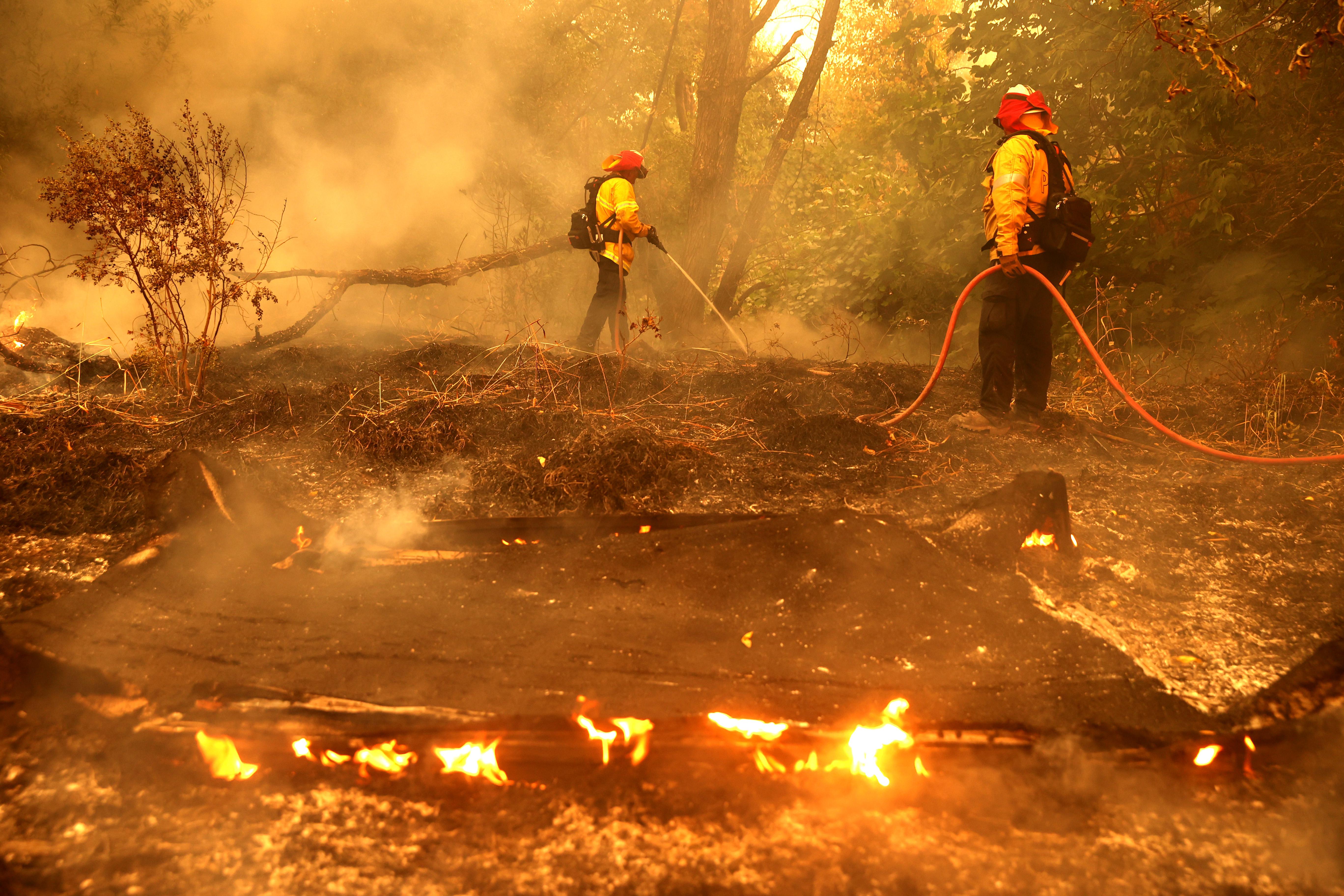 Who will fight it?
The confluence of crises is causing unforeseen logistical problems for a state that relies on prison populations to fight fires. Earlier this summer, a huge COVID-19 outbreak at a prison in Lassen County prompted officials to put 12 of 43 inmate fire camps on lockdown, and many worried that without access to incarcerated firefighters, the state's firefighting capacity would be severely diminished. This week, only 90 of the 192 inmate fire teams are currently available to work, with the rest infected, quarantined, or released from prison under initiatives meant to reduce overcrowding.
How will the firefighters stay safe?
Firefighters usually transform county fairgrounds into base camps while fighting wildfires, and these can be sprawling, crowded places. On Wednesday, the Sacramento Bee reported, there were about 6,900 firefighters deployed, and the state was trying to bring in more from out of state—every one of those a COVID risk. This year, organizers of these camps are trying to keep firefighters from congregating by using pod arrangements, offering hand-washing stations, and providing ready-to-eat meals rather than buffet-style lines.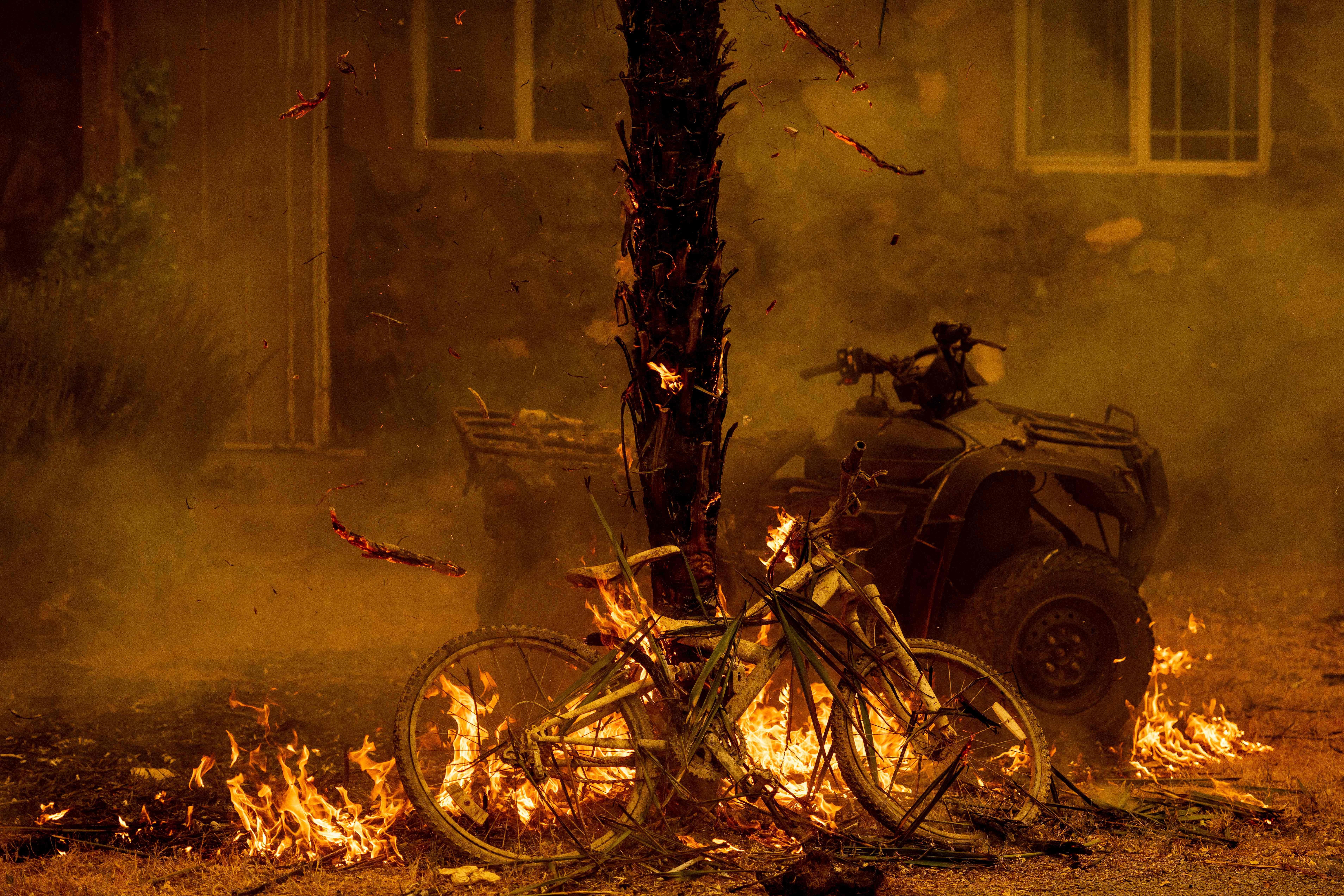 Are homes prepared?
In non-COVID years, KQED reported, Cal Fire, the state agency that handles wildfire preparedness, inspects households to see if their "defensible space"—the buffer zone between buildings and the branches, woodpiles, flammable plants, and vegetation that fires like to burn—passes muster. This year, Cal Fire inspectors have had to curtail these inspections in order to maintain social distance, asking homeowners to do self-assessments instead.
How will people breathe?
The fires mean the air quality is bad, especially in the Bay Area, and that might make COVID risk worse. Air pollution from wildfire smoke, the CDC advised in early June, "can irritate the lungs, cause inflammation, alter immune function, and increase susceptibility to respiratory infections, likely including COVID-19."
Dr. Afif El-Hasan, a lung health specialist interviewed by the New York Times, said, "Anything that weakens the lungs, like really bad air, which causes the lungs to lose some of their ability to fight infection, is going to be an issue." Another doctor the Times spoke with, Dr. Seth Kaufman, pointed out that people exposed to wildfire smoke will cough, and that will make it harder for people to assess whether they're coughing because of bad air or because they have the coronavirus. He advised anyone coughing to presume they have the coronavirus, and to self-isolate.
Also, the cloth face coverings that reduce spread of the coronavirus don't work for wildfire smoke, reported SFGate. N95 masks do, but they are (still!) hard to find. Further, the ones with exhalation valves that many people used in previous wildfire seasons let virus particles out, so officials recommend that people tape the valve or wear a cloth mask on top.