A lot was at stake for the tech CEOs called to testify before Congress on Wednesday. Jeff Bezos of Amazon, Tim Cook of Apple, Sundar Pichai of Google, and Mark Zuckerberg of Facebook were no less than defending their companies' right to exist against lawmakers who would just as soon bust and dismantle them for antitrust violations (or, as was the case with about half the room, for purportedly being anti-conservative jerks). But the CEOs also knew that everyone watching, in Congress and at home, would be picking apart not just their every word but their every anything. Nowhere is that more clear than in the sparse home office setups they chose for their teleconference testimony.
Room criticism is a genre that's bloomed and evolved in the months since the pandemic started keeping many of us indoors. Let no houseplant go unnoticed, no bookshelf un-commented-upon. But the crisis has also heightened the preexisting enmity between the rich and powerful and everyone else. Tech execs, or more likely their comms teams, have gotten hip to this and now know their backdrops shouldn't appear to be flaunting, or even really hinting at, their vast wealth. A honcho in another industry said as much last month when he told the New York Times that he "issued specific instruction to his executives to be careful about what gets into the Zoom frame: no pool, no ocean, no nanny."
So when it came time to appear before Congress for this week's hearing, Bezos, Cook, Pichai, and Zuckerberg were ready. They didn't want their offices to make them look like hostages, or effect false modesty, but they also didn't want their offices to look like an Architectural Digest spread or a vacation home. How did they do? A quick ranking, from worst to best:
Tim Cook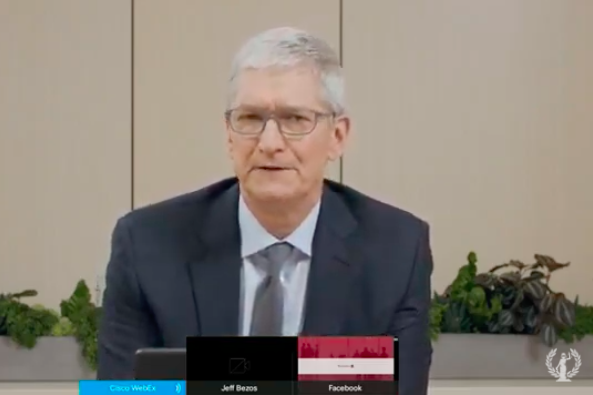 Cook has shown a bit more of his setup elsewhere, but here he opted for total blankness. This room is actually successful in the sense that it has no personality whatsoever and there's nothing about it that tells you anything about Cook. But it's really lacking in the warmth or humanity that might help Cook's case. Gets a token point for decent lighting and the plants, which are sad-looking but better than nothing. Overall, looks more like a conference room at a hotel or convention center than a room in anyone's house. But I guess we can't put it past Cook to have a conference room in his house.
Reveal Factor: 1/5
Aesthetics: 1/5
Chances That's Really His Primary Residence: 1/5
Overall Ranking: Fourth place, aka last
Mark Zuckerberg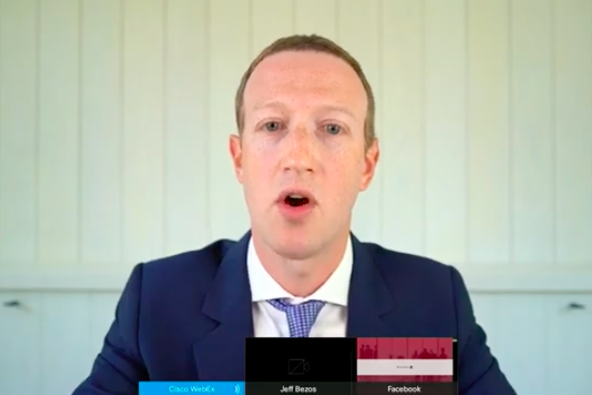 This backdrop also reveals very little, but where Cook's room felt offensively bland, this one just seems plain. The space definitely suggests a room in a home (or a wall outside? What are those panels?), which at least indicates that Zuck's abiding by pandemic rules like a good citizen. Also, is this at the Hawaii house? He's been holing up there for at least some of the past few months.
Reveal Factor: 1/5
Aesthetics: 2/5
Chances That's Really His Primary Residence: 2/5
Overall Ranking: Third place—better than last!
Jeff Bezos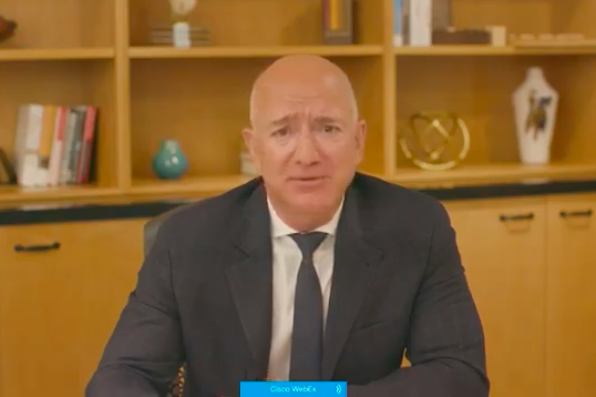 Bravo for a bold embrace of a non-neutral background. A bookcase seems like a pleasant backdrop, but it actually comes with a lot of drawbacks: First of all, it reminds you that Jeff Bezos is crushing the book business. But beyond that, you can really read into what's on it. If you're close enough to see the book titles, forget it, you can basically psychoanalyze the person in front of it. Unless you really know your book spines, you can't do that here. However, a shelf with so much room on it does intimate a shelf that is mostly for show, which sounds like the kind of thing only a rich person could have. Yup, Bezos OUTED as a rich guy: disgusting. I'd still rather be stuck in this room than in the first two, though.
Reveal Factor: 3/5
Aesthetics: 3/5
Chances That's Really His Primary Residence: 2/5
Overall Score: Second place
Sundar Pichai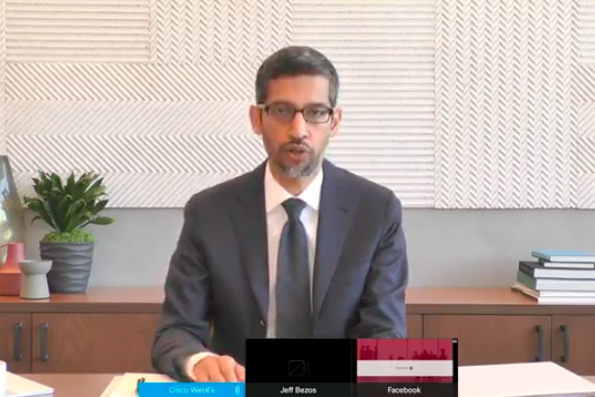 This is very well appointed, professional but not showy, with wall décor that manages to read as neutral while also being pleasant and distinctive. Sitting at a desk was a nice choice, and this room looks neat but not completely staged. As the writer Nicola Fumo pointed out on Twitter, note that the book's spines have been turned away from the camera, the better to be unidentifiable to prying eyes: a pro move. Chances that this room is in a house where Pichai actually lives? Could be, though it does look pretty different from the setup seen elsewhere. Still, if I were trying to stop the government from breaking up my company (while working from home because of a pandemic), this is the room I'd choose.
Reveal Factor: 2/5
Aesthetics: 4/5
Chances That's Really His Primary Residence: 2/5
Overall Score: First place—just like Google's dominance of the global mobile operating system market