On Thursday, the liberal journalist Matthew Yglesias tweeted what appeared to be a defense of a Wednesday evening antifa protest that targeted the family home of conservative Fox News host Tucker Carlson. Yglesias said via Twitter that he couldn't empathize with Carlson's wife, who was home at the time of the protest and locked herself in the pantry, thinking it was a home invasion. (Tucker Carlson and his four children were not home.)
Yglesias, who co-founded Vox and is a senior correspondent there, was widely criticized for his tweets, including by me. (Disclosure: Yglesias was my colleague at Slate from 2011 to 2014.) By Thursday night he had deleted them.
Before he did, however, at least one Twitter user responded by posting Yglesias' own home address in a reply thread. The implied threat was clear: Yglesias had failed to denounce the harassment by left-wingers of a conservative media personality at his home, so now he and his family deserved the same treatment.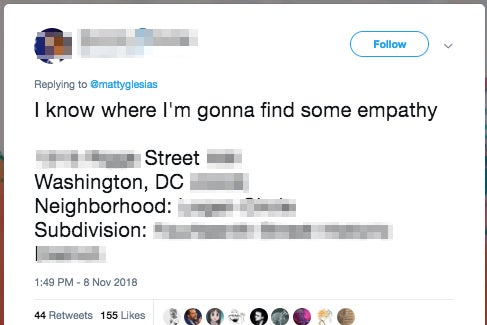 That Yglesias would get doxed was perhaps predictable, even though it's a direct violation of Twitter's policies. (It shouldn't matter whether Yglesias' address is potentially findable elsewhere online; posting it on Twitter contravenes the platform's stated rules, and the context makes it clear that the intent is to intimidate him.) What's galling—and, by now, familiar—is Twitter's response.
At least two users, one of them Yglesias himself, said they reported the tweet to Twitter. Twitter responded to both by saying that the tweet didn't violate its rules, and took no action. In an email that was forwarded to Slate, Twitter wrote: "Thank you for your recent report. We have reviewed your report carefully and found that there was no violation of the Twitter Rules regarding the posting of private information."
And so Yglesias' private information remained on Twitter, endorsed by Twitter, throughout Thursday afternoon, overnight, and well into Friday morning. One of the users who had reported the doxing tweeted about it and tagged CEO Jack Dorsey. Still nothing happened.
At 11:20 a.m. Friday, I emailed Twitter's public relations department to ask for comment on the decision to allow Yglesias' doxing. By noon, a Twitter official responded that the company was looking into it. When I checked minutes later, the tweet was no longer online.
Twitter confirmed to me later Friday afternoon that it had removed the tweet. It also confirmed that the tweet did in fact violate its policies, and that its earlier rejection of the reports from Yglesias and others had been a mistake.
The case is noteworthy not as an instance of an injustice against Yglesias, specifically, but as yet another striking example of Twitter's penchant for failing to enforce its own policies to protect its users, even in response to multiple reports of obvious violations. Yglesias is just the latest in a long line of Twitter users who have reported clear-cut cases of threats, harassment, and hate speech, only to be told by Twitter firmly that the behavior did not violate its rules.
Twitter is often accused of giving preferential treatment to one group or another, and there are times when that does seem to be the case. It took a famous actress, Leslie Jones, leaving Twitter over harassment led by alt-right troll Milo Yiannapoulos for Twitter to finally ban him after countless complaints. Among the groups it is sometimes said to favor are men, the media, liberals, high-profile figures, users with blue verification checkmarks. But Yglesias is all of those things. And Twitter still decided against him.
If even the co-founder of Vox can't get a fair shake from Twitter's moderators, one can only imagine the scores of less powerful or privileged people whose reports it routinely ignores. Indeed, you don't have to imagine them, because there have been numerous documented examples.
In September, when Christine Blasey Ford came forward with sexual assault allegations against Supreme Court nominee Brett Kavanaugh, she was doxed on Twitter too. Twitter blocked some tweets and suspended some accounts, but its enforcement appeared halfhearted: The information remained easily findable on its platform, as my colleague April Glaser reported at the time.
Sometimes they're just threats. But other times they're a precursor to real-world violence. One of the more egregious recent cases was Twitter's refusal to take action against a user who made death threats against a woman named Rochelle Ritchie in October. That user, it was revealed two weeks later, was pipe-bombing suspect Cesar Sayoc.
There's an ominous similarity here: The user who posted Yglesias' address also has a feed filled with menacingly misogynistic comments and musings, including hints that he has considered crimes ranging from rape to kidnapping to serial murder. Sample tweets include "Jesus was an incel," "I'll fuck you till you love me, faggot," "I will kill myself if I don't get coochie," "Don't girls find serial killers interesting and handsome?", and "I hate women."
As of 1:40 p.m. on Friday, the tweeter's account remained active, and all of the tweets mentioned above remained viewable except for the one that showed Yglesias' address. Following this article's publication, however, the user appeared to have changed his handle and taken his account private.
The point here is not whether you think the people being doxed on Twitter deserve it. (For the record, I don't think Yglesias deserved it any more than Carlson did.) It's that the company continually proves itself utterly incapable of consistently enforcing its own policies, even when it's obviously being exploited to threaten the physical safety of its users. Three years after then–Twitter CEO Dick Costolo admitted, "We suck at dealing with abuse," the company still clearly sucks at dealing with abuse. And the consequence is to make us all less safe.
This post was updated at 4:35 p.m. to incorporate Twitter's response.