Every major media outlet that covers politics is gearing up to cover Tuesday's U.S. midterm elections. And so is Apple.
While Facebook's "election war room" attempts to stand athwart the inevitable flood of misinformation on the social network, performing triage, Apple will have a news room of professional journalists engaged in a much more familiar task. Their mandate, editor-in-chief Lauren Kern said in a June blog post, is to handpick "the most important, rigorously reported news" stories from a variety of mainstream media outlets and highlight them for Apple News users in the app's special Midterm Elections section.
It's a noteworthy editorial project from a 3-year-old platform that is rapidly gaining readership and influence in the news industry amid the well-publicized struggles of its Silicon Valley rivals. Apple doesn't disclose audience numbers for Apple News, but some major news publishers say it has lately vaulted past other platforms to become one of their top traffic sources. Slate's Apple News readership has tripled in the past year.
Apple says the goal of its election-night hub is to be a one-stop destination for all the latest results, stories, and videos. (The company has briefed reporters on the plans in recent weeks.) In addition to live video from ABC News and NBC News and articles from around the web, it will prominently feature the New York Times' somewhat controversial "election needle," which continually updates its predictions of which party will take the House and Senate. That decision, like all the others, was one made not by an algorithm, but by veteran journalists like Kern, based on their news judgment.
Launched in June, Apple's Midterm Elections project is already in full swing. But starting at 8 p.m. EST on Tuesday, the company will launch a redesigned, election-night version. Midterms news will take over the top of both the app's main "Today" feed and its "Digest" tab, while also being featured in the widget that appears when you swipe right from the home screen of an iOS device. The section will lead with the latest results based on data from the Associated Press, which will update once a minute without making you refresh the page. And it will pipe in live TV coverage from at least two major networks, along with clips from CNN, Fox News, and others, without requiring users to log in as pay-TV subscribers.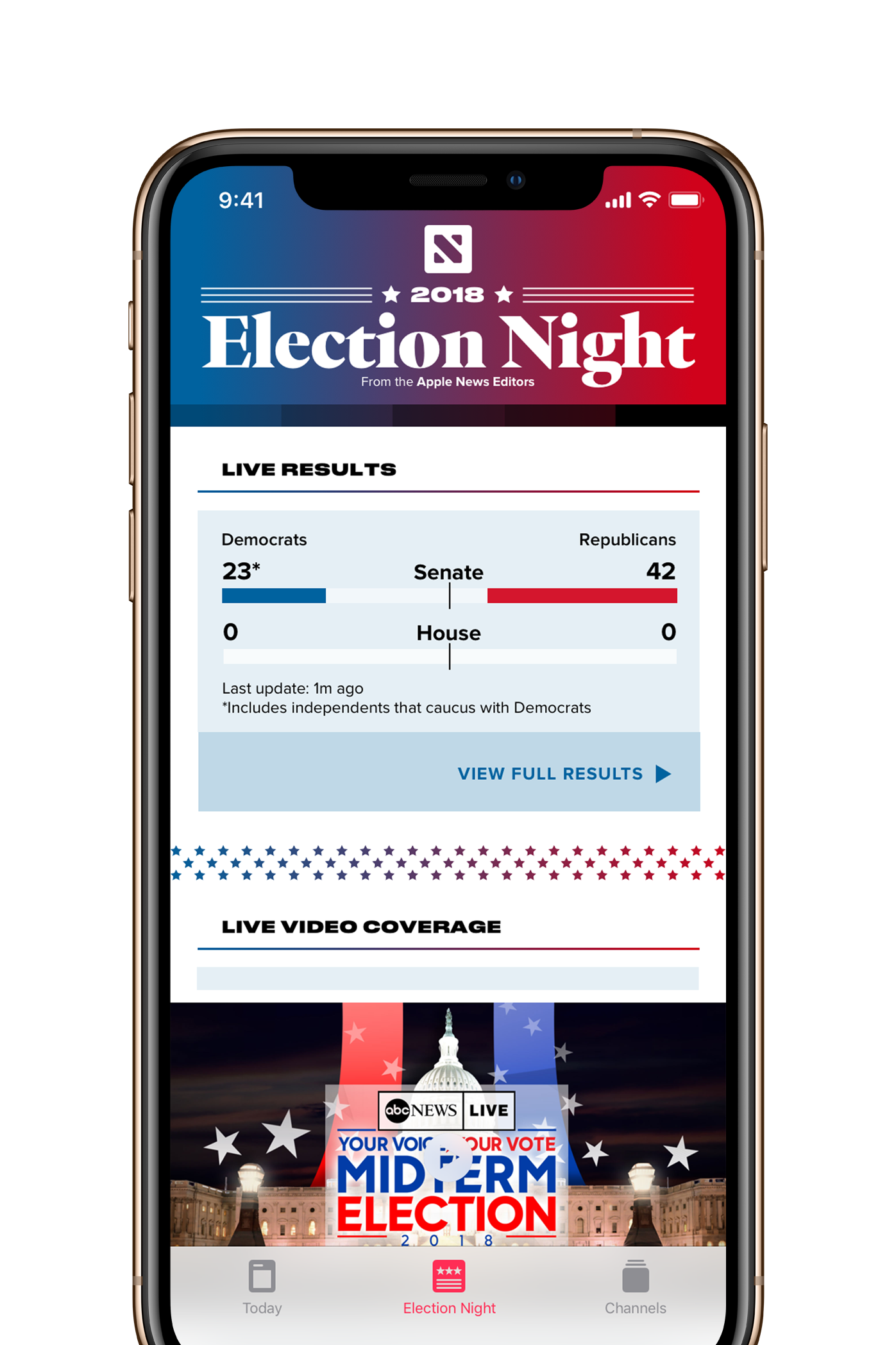 Top Apple executives have publicly advocated for the company's decidedly editorial approach to picking news stories. "We are responsible for what's in there," its chief of apps, Roger Rosner, told the New York Times recently. That's a responsibility from which Facebook and other internet companies have shied away, professing to be mere tools for their users to communicate with one another.
Kern, formerly a well-regarded editor of New York magazine, talks about Apple News' mission in terms like "informed public," "functioning democracy," and "thriving free press." Her team corresponds regularly with editors at major publications, who pitch stories each day that they hope to see featured in the app. Kern has said her editors seek stories not just on a range of topics, but from a range of viewpoints, including different sides of the political spectrum.
It sounds almost quaintly high-minded, especially compared with the anything-goes content agnosticism that Facebook and other social networks evinced until the backlash from the 2016 election compelled them to reconsider. Apple's effort feels like a vision of an alternate reality in which Silicon Valley tech companies reshaped the news industry thoughtfully and deliberately, rather than rapidly and unintentionally. One in which the prevailing ethos was "move slow and improve things" rather than move fast and break them.
There are also pitfalls. Apple has so far played it safe with regard to the publishers whose work it features, preferring established national outlets to upstarts or local media. That crimps the range of perspectives it offers. If there's a great, widely shared post from a little-known blog, or an important scoop from a local newspaper about a Senate race, you're unlikely to find it on Apple News. And there are areas where its curation is evident in its omissions: Apple News regularly features conservative outlets such as the Weekly Standard and National Review, but seems to rarely highlight stories from pro-Trump sites. Far-left sites also rarely crop up among its top picks.
Apple has also held back from featuring stories whose claims are particularly controversial. That has served it well in some cases, such as when it steered clear of an ABC News report about the Mueller investigation that turned out to be false. More recently, it has given Apple News cover to avoid featuring a hotly debated Bloomberg story about a Chinese espionage effort that allegedly involved Apple itself.
That, in turn, raises the question of Apple's editors' human biases creeping into their story selection. The 2016 claim that humans at Facebook were molding that platform's trending news section according to their (mostly liberal) values triggered a nasty backlash from leading conservatives. So far, Apple has not become the same kind of target. It probably helps that the company has been open about its reliance on human value judgments from the start. But if Apple News keeps growing in stature as a news source, it seems likely that it will eventually run afoul of some loud voices on the right.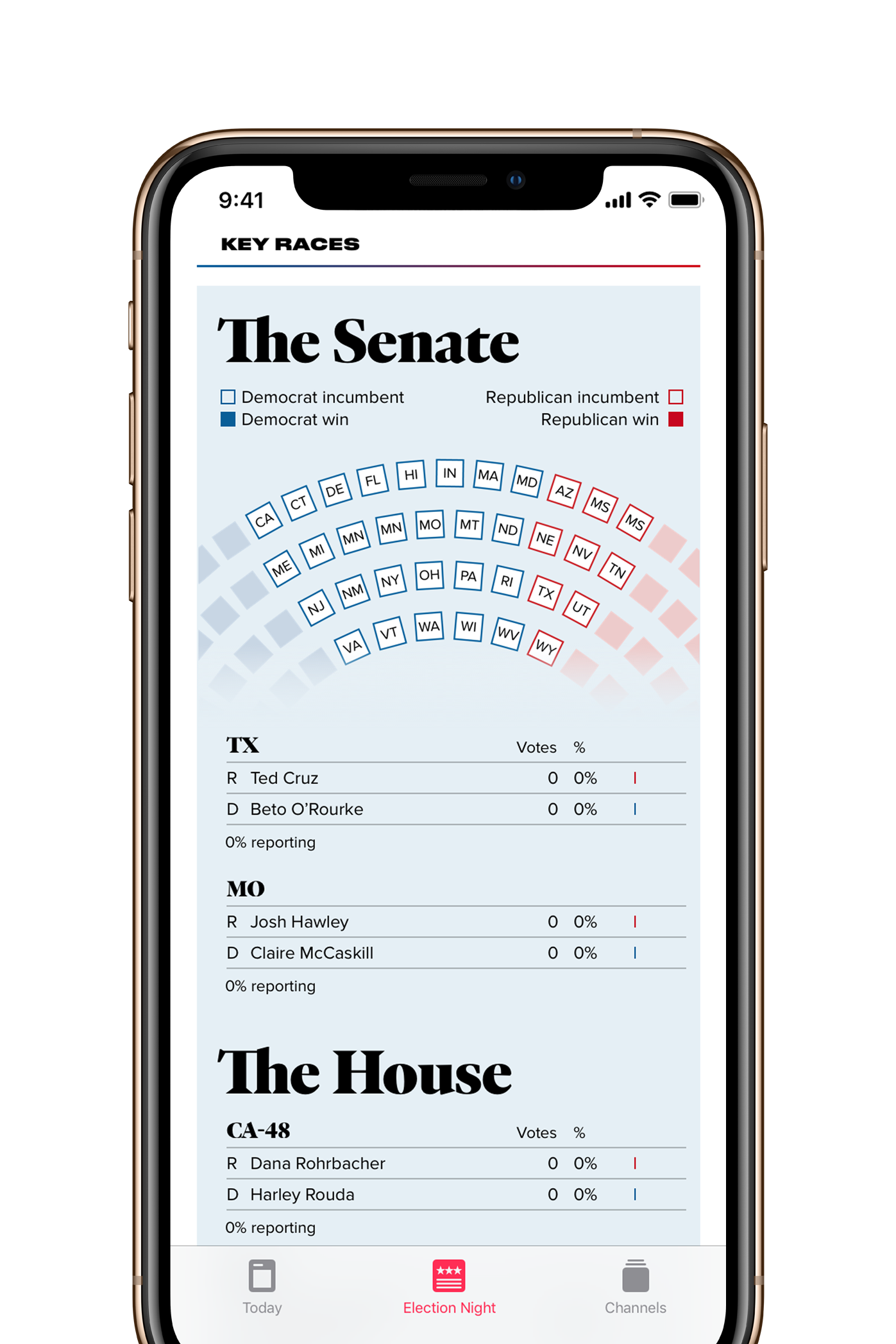 Perhaps more relevant to Apple's midterm election coverage is the question of whether readers really want or need it. Apple is betting that there's value in bringing together news from multiple sources in a single, easily accessible spot on users' phones. But many people who care about the election results will presumably be watching the returns on TV, not swiping around their iOS device. And hardcore news junkies might still prefer the raw, real-time nature of Twitter.
That said, Apple is well-positioned to reach huge numbers of people when it wants to. The company says it will send out a breaking news push notification the moment the balance of power in Congress is decided. That should bring in a lot of people who weren't necessarily planning to follow their elections on Apple News.
Without exclusive content, an editorial ethos, or a distinctive brand, Apple News seems unlikely to dramatically reshape election coverage in this cycle. Still, its effort is worth watching, because there may be no company in the world with more resources or more direct access to an audience of 1 billion-plus people. If it succeeds, Big Tech's influence on journalism could begin to look very different than it has up to this point.