When a third-year Ohio State psychology student fell off a Bird electric scooter and fractured her ankle in September, she was using the scooter the same way many college students do: to get to and from grocery stores, pharmacies, or in her case, Target. She was a block away from her dorm when she hit a pothole and was thrown off balance. "When I fell to the ground, I heard a sickening crunch," the student told me via private message on Reddit, where she goes by the name Nerdylullaby (she preferred not to have her full name associated with her account). I found her after seeing a post she wrote on the Ohio State University subreddit titled: "Y'all don't fuck with the scooters."
An ambulance ride later, Nerdylullaby received surgery to place screws and plates into her ankle. When we spoke in October, she was still using a (nonelectric) knee scooter to get around. Even though insurance covered most of her medical bills, she still has to pay more than $800 for surgery, X-rays, and a two-night hospital stay. Legally, the full responsibility for the accident (and the medical bills) falls on the student: By consenting to Bird's user agreement, she accepted all the risks entailed in riding the scooters.
This story is not unique. Lately, there has been almost unrelenting attention to the risks of riding electric scooters. Emergency departments have decried the rise in scooter-related accidents, the Washington Post reported. In Los Angeles, injured riders accused scooter companies of "gross negligence" in a class-action lawsuit. And in response, some cities—including Denver, Santa Monica, California, and San Francisco—have temporarily banned the vehicles while they figure out how to regulate them.
Those bans are easy to stomach if you think scooters are "the epitome of tech-bro arrogance" or just another example of how Silicon Valley swoops into the rest of America only to break things and leave. But the scooters aren't being forced on students: They actually like using them on and around campus.
This is because the scooters are uniquely useful for college students, many of whom may not have cars and most of whom need an affordable, accessible way to move quickly between different places: home, class, work. So it makes sense that scooter companies have made university campuses a priority. Bird has its "University Pop Up Tour," which launched in August. Similarly, Lime says it serves nearly 30 universities, from the University of South Alabama to Guilford College in North Carolina. Razor, a rideshare newcomer but a scooter old-timer, has a college program on about a dozen campuses, including Purdue University, University of Colorado–Boulder, and Texas A&M. All three of the companies operate around my university, Arizona State, where they've been received by students with open arms. (Disclosure: ASU is a partner with Slate and New America in Future Tense.)
But if students have been quick to embrace the scooters, universities have been slow to understand how to deal with them. Midway through the fall semester, Arizona State "reminded" companies that campus transportation rules prohibited electric scooters. In response, the companies instituted "no-ride/no-park zones" on university property—much to the dismay of students. In theory, this means that rides can't be started or ended on campus, and that users who try to do so may face fines or account suspension. In practice, there are still lots of scooters being parked and ridden on and around campus (albeit fewer than before). On the ASU subreddit, students' reactions to the restrictions followed a common thread: The restrictions made sense from a safety perspective—but they were also pretty disappointing. As one user wrote, "some people were definitely jackasses with them, but they actually provided a pretty useful service … " In protest, some students painted a sheet with an electric scooter and the caption "Gone but never forgotten," which they hung outside the fraternity and sorority dorms.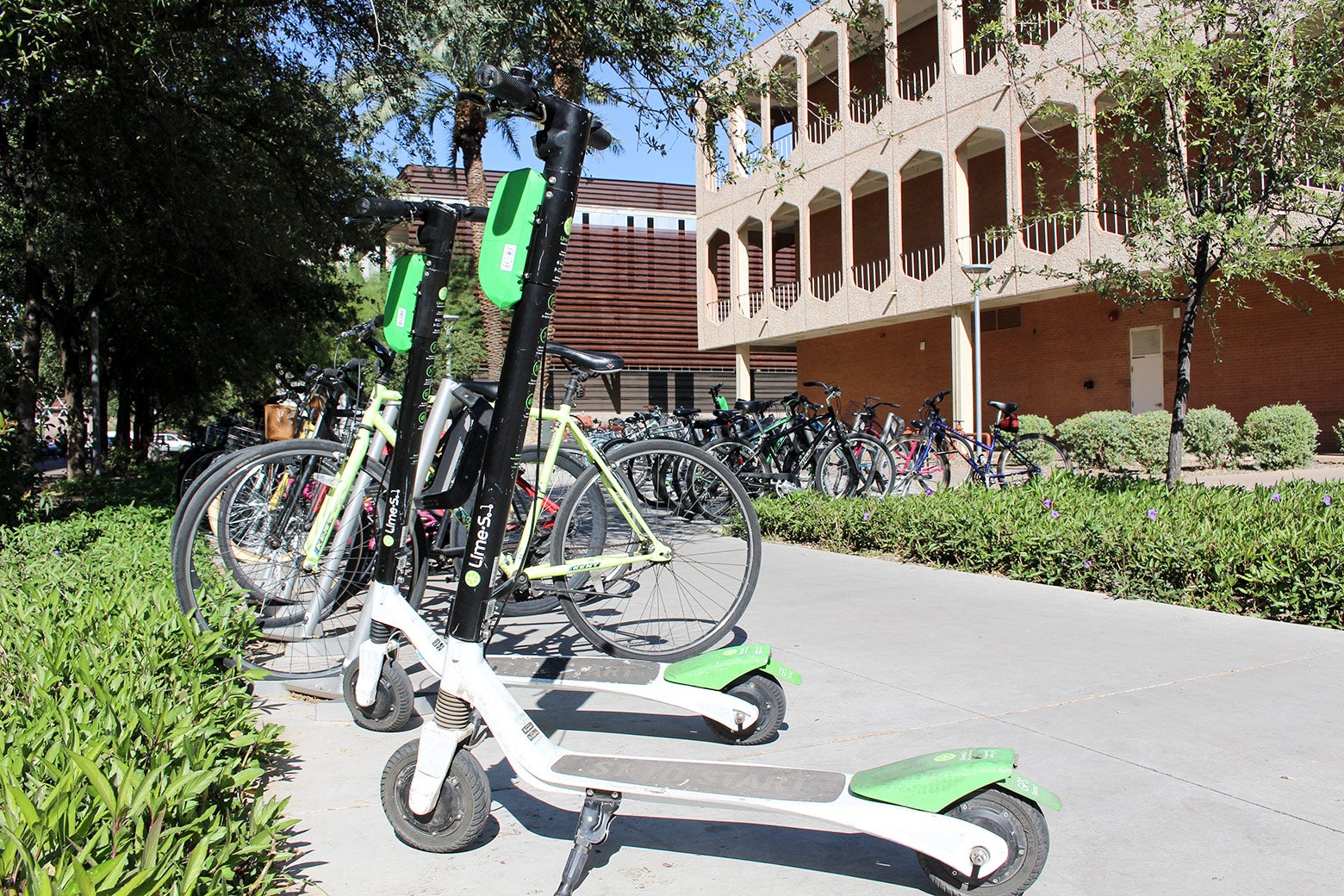 Arizona State isn't alone. The University of Arizona, University of Missouri, Ohio State University, Oklahoma State University, Michigan State University, and Loyola Marymount University have all taken some action against scooters on campus, ranging from temporary bans to stricter regulations to impoundment. These universities look to one another for clues on how to strike a balance between safety, company power, and student demands. As they do so, they also seek guidance from local governments, many of which are similarly unprepared to deal with the machines.
Many of the restrictions are temporary placeholders while campus and local officials come up with better plans for how (and whether) the scooters can fit into their communities. Hard data about how scooters are used and what can go wrong would help this planning—but unfortunately, that data seems far from comprehensive.
For example, Jerry Gonzalez, an Arizona State police spokesperson, said there was no central office collecting information on scooter accidents. Similarly, Benjamin Johnson, an Ohio State spokesperson, told me his university's police department doesn't track scooter-involved incidents, either. For most universities, including ASU and OSU, scooter accidents did not show up on daily crime logs. (Universities are required to publicly report crimes, but in most cases, scooter accidents don't involve criminal activity and therefore don't require a report.)
Accidents occasionally appeared in crime logs from the University of California–San Diego. On the afternoon of Sept. 8, for example, the log shows, two women lost control of their scooters while riding downhill. When I followed up with UCSD's police department about the accident, they reported injuries including a "minor head injury/concussion." A few weeks later, another downhill scooter accident at UCSD ended up hospitalizing a rider, who suffered from cuts on their face and chin and a "medium-sized contusion" on their forehead.
If universities had more comprehensive data on these types of accidents, they might be able to institute more specific and useful policies—designated parking zones, better enforcement of safety requirements like helmets, no-ride zones on hills or crowded areas—rather than resorting to blanket bans. And companies, for their part, could use data to proactively regulate their vehicles to promote user safety—something which they're already trying to do through features like putting caps on speed in certain locations, including on campuses. But there's still a long way to go.
There's also another, less talked about but definitely dangerous part of the scooter equation around campuses: students who ride scooters while drunk. Many students treat scootering as an alternative to taking an Uber home from the bar. But as a San Diego police officer told the San Diego Union-Tribune, "Uber and Lyft are still cheaper than going to jail and being the laughing stock of the cell because you got a DUI-scooter."
Of course, there are some things that we can't expect companies or universities to be responsible for. The couples who like to ride a single scooter together? They're on their own. The people who use scooters like they're in the demolition derby of the county fair? There has to be an element of user responsibility. But as it stands, college riders like Nerdylullaby take to Reddit and other networks in order to warn each other about the dangers of scooters. Maybe they weren't wearing helmets, but they also weren't doing anything particularly outrageous—and at the end of the day, it seems they were failed by safety measures from the companies and their universities.
Universities serve as testing ground for all sorts of tech: They are full of young, savvy users more likely to be early adopters, they provide somewhat controlled and closed environments, and they run on word of mouth. If we can get the scooter safety equation right on campus, it seems like there's hope for getting it right elsewhere. And if we can't? Well, then, we're going to have a lot of angry college students.