It should be a time for Mac lovers to rejoice. After three years, Apple finally released an all-new MacBook Air. After four years, a souped-up Mac Mini.
Both devices were announced by CEO Tim Cook at an event in New York City on Tuesday. Both appear to be sleek, thoughtfully designed, and potent for their size, if not their price.
Together, they give the Mac line a desperately needed revamp. Desperately needed, not only because their predecessors were outdated, but also because the flagship MacBook Pro and minimalist MacBook have proved seriously flawed. The Mac, it's now clear, is not dead yet. In fact, there has probably never been a wider array of Macs than there is now.
And yet it was equally clear from Apple's hardware event that the company doesn't view the Mac as a big part of its long-term future. The devices are conservative in a way that the company's leading mobile products never are. And on Tuesday, they were the opening acts; the headliner was the iPad Pro. (Unless you count Lana Del Rey.) That's unfortunate, because as pretty and powerful as it is, the iPad still isn't cut out to be most people's primary, workhorse computer.
But let's start, as Apple did, with the MacBook Air. The longtime favorite got long-awaited upgrades: a Retina display, T2 Chip, Touch ID, Force Touch trackpad, and USB-C. (Some might file that last one under "long-dreaded," but it's time. R.I.P. MagSafe.) It's the rightful successor to the beloved MacBook Air that the minimal MacBook wanted to be but was not. (Too limited, too pricey.)

As you can see in the photo below, which shows the new Air alongside my 2015 version, it manages to be significantly smaller and a bit lighter while maintaining the same screen size and angular silhouette. One caveat is that it sports the butterfly keyboard that has given Macbook Pro owners fits—albeit the new, improved third-generation version that may (or may not) have solved the problem. But the presence of Touch ID and Force Touch are blessings, as is the absence of the superfluous Touch Bar.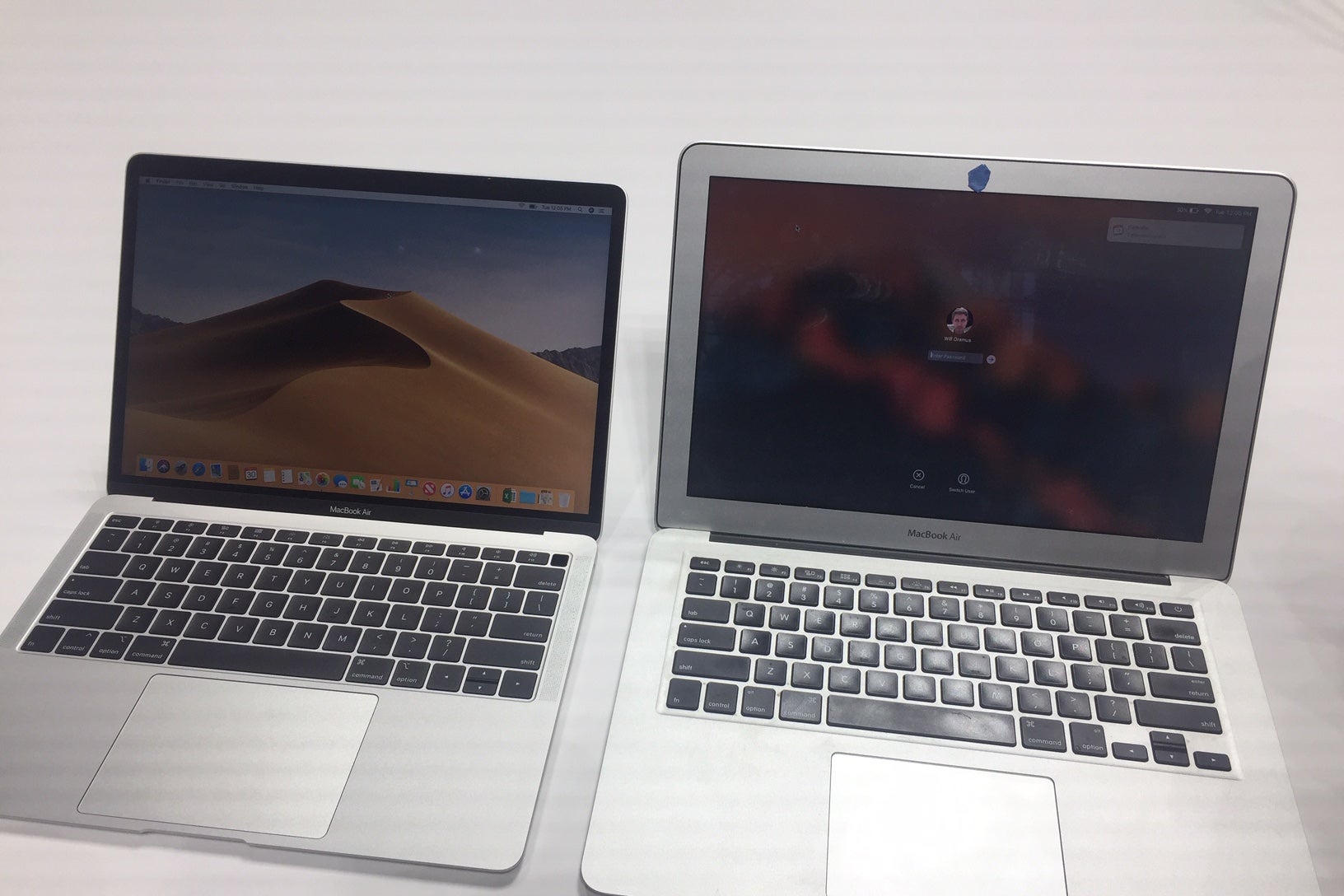 In short, it's an improvement over its predecessor in almost every way, and could immediately reclaim its place as an everyday favorite, even with a higher base price of $1,200.
But anytime we're talking about "long-awaited improvements," it's a signal that the product in question is not its creator's top priority. There are almost no surprises in the new MacBook Air, nothing that redefines a category or even pushes it forward. That's OK, from a consumer standpoint. It's like a popular band sticking to the formula and churning out some familiar-sounding hits. It's also a sign of creative stagnation, and a leading indicator of obsolescence.
Good luck convincing the world's top designers or engineers to work on the next version, let alone the version after that. This is the beginning of the end for the MacBook Air, and maybe for MacBooks more generally.
The Mac Mini is a slightly less straightforward story. Launched in 2005 as the entry-level Mac, the screenless cube won a fond if smallish following, some of which it alienated with a frustrating 2014 update. Since then, the device has languished, and there was speculation Apple would discontinue it.
Instead, Apple has revived it as a far more capable desktop PC—albeit one that is no longer really entry-level. At a starting price of $800 sans display, it's well into the midrange of PC pricing, and the add-ons can pile up quickly if you're not careful. That said, it's several times faster than the $500 Mini it replaces and strikes a fair trade-off between pro-grade performance and home-desktop price, especially given its compact form.
If you check the back of the new Mac Mini, you'll see where Apple has been stashing all the ports and connectors that have been disappearing from its other devices all these years. It has two USB 3 ports, an HDMI 2.0, Ethernet, four (four!) Thunderbolt 3 ports, and, yes, a headphone jack. A cube-shaped desktop computer with wires sticking out of it at all angles may be a throwback, but it's one that will still find a place in a lot of home offices.
Yet Apple saved its best tricks and most effusive self-praise for the new iPad Pro. Starting at $800 and $1,000 for the 11-inch and 12.9-inch, respectively, the devices get an iPhone X–like facelift, with thinner bezels, Liquid Retina display, and no home screen. With an A12X Bionic chip, they'll be fast as well as sleek. They go aggressive on the connectors, losing the headphone jack and trading in the Lightning port for USB-C.
That's noteworthy because it nudges the iPad Pro more in the direction of "computer" than "phone." You can hook it up to a big display, or use it to "charge out" to your iPhone. Its versatility is reinforced by a nifty new Apple Pencil that magnetically sticks to its top—and starts charging wirelessly. Cook called the iPad Pro "a magical piece of glass that transforms instantly to whatever you want it to be." He also displayed a slide comparing the iPad's sales figures to those of leading notebook-makers such as HP, Lenovo, and Dell—not so subtly implying that Apple considers its tablet the real PC-killer these days.
It's certainly nice to hold—thin but dense. And it makes a better case to be treated as a productivity machine than any iPad before it. But that's a very low bar. iOS was never meant to be a desktop operating system, and it's now the software more than the hardware that keeps the iPad Pro from being a viable replacement for something like, well, the MacBook Air. Microsoft got the "all-in-one" concept right several years ago with the Surface Book, and it's surprising that Apple still hasn't copied it.
Apple's lineup of devices keeps growing and diversifying, and with the latest additions, there are few major personal computing categories in which it doesn't have a competitive entry. It's a lot harder to complain about the options now than it was before the event.
But for the Macs, it feels less like a golden age than the golden years. Eventually, if Apple has its way, we'll all accept a flat tablet as a substitute for a laptop with a real keyboard. Thankfully, we aren't there yet.