On Thursday, Facebook shared that the company had banned more than 800 accounts and pages for violating its policies on spam and flooding the platform with links to pages that appear to be political-information sites but are actually ad farms. But unlike previous sweeps of pages in recent years, which have included hundreds of pages and accounts from Russian and Iranian actors attempting to muddle the United States' political conversation, the pages and accounts removed on Thursday all originated domestically.
Facebook says that these pages and accounts aren't like typical spam pages on the social network, which are often used to peddle things like watches or vitamin supplements. The links they post, according to Facebook, often use politically divisive clickbait headlines that direct readers to websites that may appear to be places for political conversation or news but actually exist to host lots of digital ads. While creating spammy pages that host programmatic ads isn't a new tactic, the use of it to host politically divisive and often factually incorrect content has proliferated in recent years. Facebook has decided they're fair game in its efforts to limit the spread of false news on the platform. Many of these operations popularize their posts in small ecosystems built by the page creators, with fake and duplicative accounts that help to seed links in multiple Facebook groups and provide false engagement to drive how high the posts rank in news feed, which Facebook says is against the company's spam policies.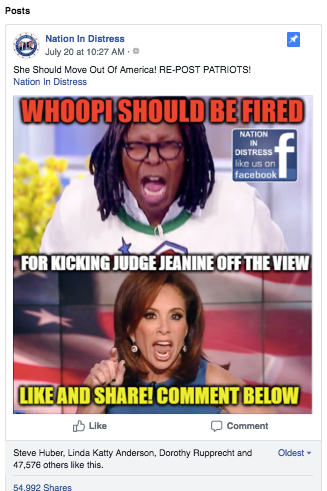 Some of the pages that Facebook wiped had millions or hundreds of thousands of followers, with names like Nation in Distress, Reverb Press, Right Wing News, and Snowflakes*. The Nation In Distress page had amassed more than 3 million followers, according to a capture of the page from the Internet Archive. The page's "about" section links to the website Americasfreedomfighters.com, which is full of blog posts with sensational headlines like "BREAKING News Out of the FBI," with a description that reads "FBI Steals Treasure Hunters' Civil War Gold Worth up to $250 Million." There's almost no information about who runs the site, which is so saturated with junk ads it's hard to navigate. Right Wing News also had more than 3 million followers. A left-leaning page that was shut down in Thursday's purge called Reasonable People Unite had about 300,000 followers, according to an archive of the page. One post included a screenshot from Twitter that had garnered nearly 1,000 comments and had been shared more than 86,000 times that read, "Somewhere in America, a teenage girl is listening to her parents defend Brett Kavanaugh and she is thinking to herself, 'If something like that ever happens to me, I have nowhere to go.' " For many administrators of these pages, these operations serve as full-time jobs, and Facebook has let them publish and gain followings for years. The company alerted these administrators that their Facebook pages were set to be removed this morning "when the action took place," according to a Facebook spokesperson.
Facebook's decision to remove popular partisan pages just weeks before the midterm election could fuel allegations that the company is biased against conservatives, a charge that has taken on a life of its own in the past year. The company's chief operating officer, Sheryl Sandberg, even testified on the topic at a congressional hearing in September. Still, if these pages were propagating false, hyperpartisan information using networks of fake accounts for the purpose of raking in ad money, this is exactly the kind of cleanup Facebook should be doing.
Update, Oct. 12, 2018: After this story published, I heard from the administrator of Reasonable People Unite, Chris Metcalf, who ran nine Facebook pages that were removed in Thursday's purge. Describing himself as an activist, he said his network coordinated in a pattern that is common on Facebook and that he never intended to profit in a way that violated Facebook rules, though he did admit to having an alternative profile on the platform in the past. "The problem with language like 'inauthentic coordinated behavior' is that everyone in this space coordinates. We swap each other's best performing content," Metcalf said in a statement. "Everyone I know has shared content for profit."
Correction, Oct. 15, 2018: This post originally misidentified Reverb Press, one of the pages banned by Facebook.