Once a month, an analytics firm called NewsWhip publishes rankings of the most popular publishers and news stories on Facebook. And once a month, the results are embarrassing for Facebook—suggesting that, for all its talk of "high-quality content" and "trusted sources," the news feed algorithm continues to serve people the same schlock it always has.
The firm's most recent rankings, published in September, showed that the top publisher on Facebook in August 2018 was not CNN, Fox News, the BBC, or BuzzFeed—but a Manchester, U.K.–based site called LADbible. Fourth was one called Unilad, also based in Manchester. Fifth, London-based tabloid the Daily Mail. Trusted sources, indeed. The New York Times' John Herrman and Kevin Roose highlighted another NewsWhip list that showed LADbible had three of the 10 most popular stories on Facebook in the first week of September.
To American eyes, the dominance of sites such as LADbible and Unilad on Facebook might be as surprising as it is disconcerting—particularly since Facebook has very publicly vowed to improve the quality of stories that perform best in its news feed. These sites' presence at the top of NewsWhip's list prompted head-scratching even from seasoned pundits, such as FiveThirtyEight Editor-in-Chief Nate Silver.
But LADbible and Unilad are as familiar to blokes in England as they are foreign to the U.S. media elite. There isn't a perfect U.S. equivalent, but imagine Upworthy rewritten by the Barstool bros, or a whole website comprised of "Around the Web" headlines, and you'll get a decent picture. Once known for blatant misogyny, both sites embarked on an effort to tone it down a few years ago, with LADbible earning profiles by BBC News and BuzzFeed in the process. Nowadays they mix celebrity gossip and feel-good stories with hastily rewritten press releases, the occasional outrage-bait, and sundry viral fluff. Also: lots and lots of dogs.
Similar as they are in name, scope, and ethos, LADbible and Unilad are not affiliated with each other, though they do share a tangled history. LADbible did not respond to a request for comment.
So how did LADbible vault to the top of Facebook's publisher rankings at a time when Facebook claims to be trying to cleaning up its news feed? The answer isn't as straightforward as you might expect. It involves what appears to be a concerted effort by LADbible and its ilk to re-optimize its content for Facebook's ever-changing system. But it also involves methodology, and semantics, and underscores the murkiness of measuring the effects of an algorithm whose inner workings remain opaque. Ultimately, it's a reminder that Facebook simply wasn't built to force-feed people high-minded content—that it isn't truly effective as a news site, and probably never will be.
NewsWhip's rankings are a fascinating window into what people are reading on Facebook. They're particularly useful—and often surprising—because everyone's feed is different. So the stuff you're seeing every day might be wildly unrepresentative of what other people around the world are liking and sharing. But they do not, as the Times' Herrman suggested on Twitter, give you a "pretty clear sense of things," because the picture they reveal is occluded and distorted.
Look closely, and you'll see that NewsWhip's analyses focus on URLs—not Facebook pages. That is, the firm looks at links that people post to Facebook and measures the likes, comments, and shares those links generate on the social network. By that metric, LADbible and Unilad suddenly rocketed from relative obscurity to the top of the list in just the past two months.
Yet by other metrics, the British lad behemoths have been topping Facebook charts for years—if anything, they've been slipping a bit of late.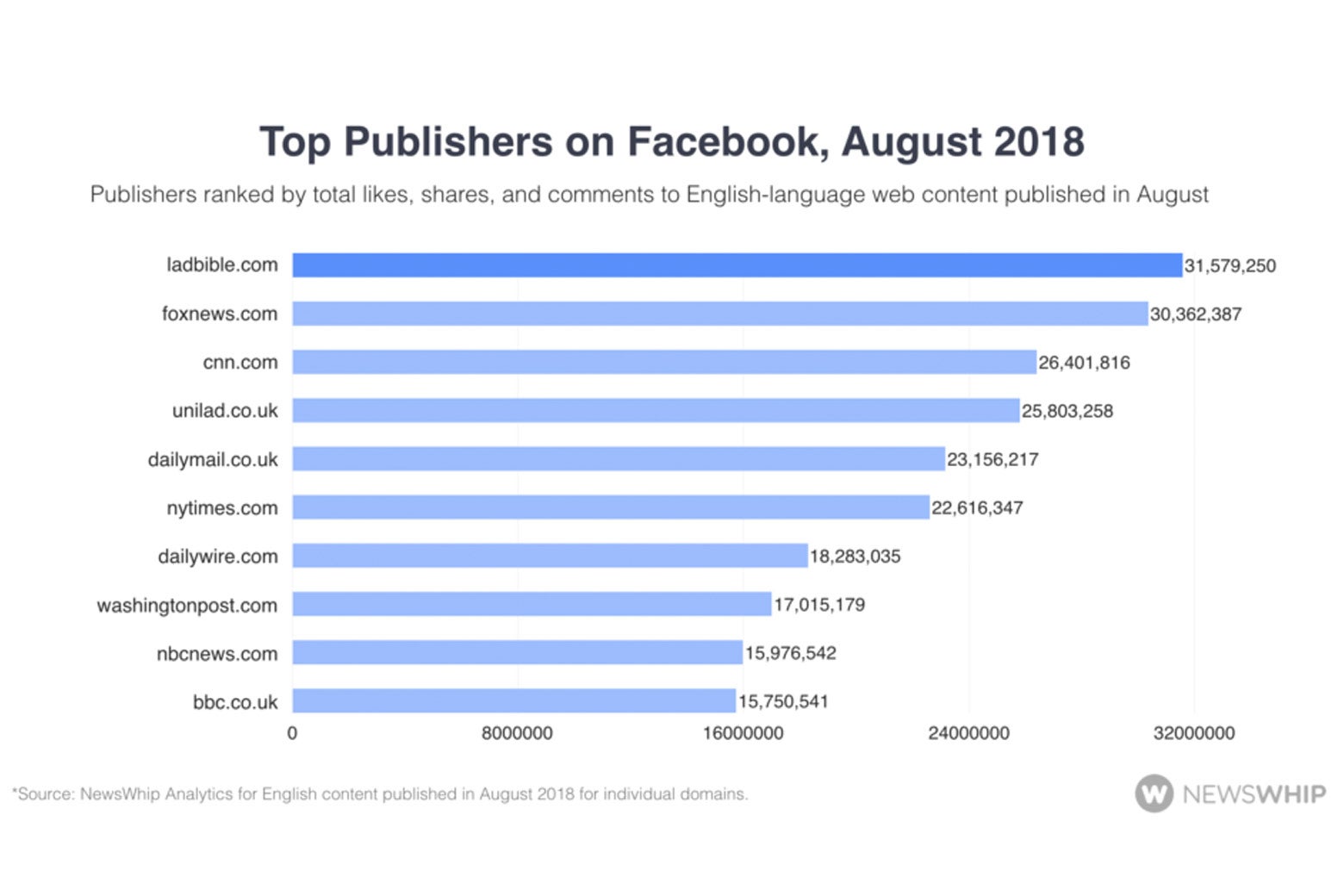 Rather than looking at URLs, CrowdTangle—which is owned by Facebook—measures interactions with stories and videos that a publisher posts to its own Facebook page. That means that it counts, for instance, the likes on a video that LADbible posts directly to its own Facebook page, which NewsWhip does not measure. On the other hand, CrowdTangle does not count the likes a LADbible story accrues on Facebook when readers share that link with their own Facebook friends.
By CrowdTangle's metrics, both LADbible and Unilad have been crushing the competition on Facebook for at least two years. For every week since October 2016, those two publishers have garnered more interactions on their Facebook pages than any of the following: CNN, the New York Times, Fox News, the Daily Mail, BBC News, BuzzFeed, Tasty, or Delish. As recently as February 2018, both lad sites were receiving roughly twice as many Facebook interactions as any of those other publishers. That gap has since narrowed, with both LADbible and Unilad down more than 60 percent from February to September of this year, though they're still outperforming other top publishers.
From that vantage point, Facebook's news feed changes actually look like they're working as intended. Users are seeing far fewer posts in their feed from publishers they follow—especially those such as LADbible and Unilad, which one might reasonably assume are not among the winners of Facebook's "trusted sources" survey. (CrowdTangle metrics for more mainstream news publishers, such as Fox News and CNN, have stayed mostly flat this year.)
The CrowdTangle data becomes easier to reconcile with the NewsWhip rankings when you look at interactions only on "link posts"—that is, posts from a publisher's page that link out to an article on the web. While LADbible and Unilad's overall interactions have plunged in the past seven months, their link posts have actually risen—both have more than doubled since April. That hints that they've reacted to the drop-off in engagement on their native Facebook videos by posting more links to stories on their websites. And that could account to why they've rocketed up the NewsWhip rankings—which again, are centered on link posts.
So here's the fuller picture that emerges when you combine the two sources: LADbible and Unilad have almost certainly been hurt by Facebook's down-ranking of posts from publishers, and probably also by Facebook's new focus on trusted news sources. But they're nothing if not adaptable. And their following on Facebook is so enormous that when they pivoted to posting more links, they almost immediately became the leaders in NewsWhip's publisher rankings.
All of this matters because Facebook has become so influential in the distribution of online news that it can affect elections, drive news cycles, facilitate ethnic violence, and make or break media empires. Rankings like NewsWhip's and analytics like CrowdTangle's offer windows into the state of Facebook's news feed—not sweeping views of the landscape, but useful glimpses of its peaks, valleys, and tectonic shifts.
One lesson in LADbible's changing fortunes may be that Facebook, for all its importance to the news business, has always been more junk food than vegetables, at least when it comes to the professional content that flourishes in its news feed. People don't open Facebook to peruse the day's most serious headlines, but to catch up with friends, gossip, and see what people they know are talking about. So it would probably be unrealistic to expect the New York Times to be more popular than the publishers who have devoted their entire business models to achieving social virality—which is often about entertaining far more than it is about informing.
A flip side is that the publishers who rise up Facebook ranking's meteorically by optimizing their content for its algorithms tend to come crashing down in much the same fashion. Upworthy, ViralNova, BoredPanda, LittleThings, Elite Daily—the history of the news feed is strewn with flashes in the pan. The CrowdTangle numbers hint that LADbible and Unilad may be in the midst of such a crash now, even as some American readers are just becoming aware of them.
Facebook declined to delve into details of the analytics reported here, but a company representative offered a statement that suggested it isn't ashamed or particularly concerned by the continued success of viral publishers. "We are committed to helping people connect around quality, reliable news on Facebook—but we're not building a product that's exclusive to political or hard news," the company told me.
In other words, Facebook isn't holding itself to the same standards on which it's being judged by critics who'd like to see reputable, serious news organizations dominating the feed. It is trying to limit the reach of blatant false-news sites, Russian trolls, and spam sites, and recent research suggests it's having some success—although there's still misinformation to be found among the social network's most viral stories. But it doesn't seem to see prioritizing certain types of large, professional media publishers over others as a central project. As long as it gets the other stuff right that's probably OK, provided readers know to look elsewhere for traditional news values.
Facebook's news feed is always evolving. But it has always been a place for dogs, bros, and bros' dogs. And no algorithm tweak or reader trust survey is likely to change that anytime soon.