Hearts and Stars is Slate's pop-up blog about celebrity relationships.
We've all been there: You're on the couch, watching, I don't know, Sons of Anarchy, and Charlie Hunnam's gripping performance plants a question in your mind. Never mind that he has the kind of blue eyes and chiseled jaw on which basic-cable empires are built, while your shirt is covered in Oreo crumbs. In that moment, you're both just people, and you've got to know: Hmm, is this guy, like, single?
And so, before you can say Lost City of Z, you've plopped "charlie hunnam dating" into Google and are inhaling the results: Predictably, there are the tabloids like Us Weekly and the Daily Mail and gossip blogs like Just Jared among them, all with stories concerning Hunnam's romantic situation. But the list also encompasses a harder-to-classify category of websites with names like Ranker, Married Biography, WhosDatedWho, and Heightline (there to tell you that the object of your Googling is 6 foot 1).
Hunnam, by the way, has been with girlfriend Morgana McNelis for more than a decade, as all of these sites will dutifully tell you. Sigh. But if you've ever experienced a similar chain of events, then you already know this strange, retro, and remarkably still-present corner of the internet, a relic of a time when SEO was destiny and there were few richer veins to mine than celebrity relationship queries. These sites are where you go to remember the heyday of Mischa Barton and Cisco Adler, the existence of Anne Hathaway's con-artist ex Raffaello Follieri, and the rap sheets of serial daters like Wilmer Valderrama and John Mayer. Before we scrutinized famous people's social media presences to root out the identities of their baes, we had this web 2.0–era cottage industry, vestiges of which still litter the internet and in some cases remain up-to-date resources. Re-examining these sites won't just catch you up with Charlie Hunnam's relationship status: They also offer a condensed history of the past 15 years of the internet—specifically, of how we've used it to obsess over fame.
WhosDatedWho.com might be the Google of the celebrity-relationships SEO space to the Bings that make up the rest of the pack. (If Heightline is even considered Bing-level. Maybe it's more of an Ask Jeeves.) It's certainly the one I've landed on the most over the years and the one that has stuck with me because its name so closely matches its diabolically simple mission.
Michael Kuroiwa, founder of the celebrity blog Dlisted, said WhosDatedWho is "like an IMDB for celebrity dating." That's how I've used it: The website is as comprehensive as it is not-necessarily-trustworthy-looking. The internet used to be full of spaces like this—lo-fi sites that felt like the wilderness of the web, rather than businesses with owners and staffs—which is probably why it never occurred to me that this ultimate repository of dating histories had an interesting history of its own.
That history starts, fittingly, with Tom Cruise. In 2006, an Australian man named Alex Mair founded the site—close observers of celebrity history will recall that this was the year that marked the dawn of TomKat, an important union if there ever was one. "It really started as a hobby website, just to teach myself how to build a website," he told me on the phone recently, speaking from Canberra, Australia, where he lives. "It was completely accidental. I tried a few different websites at the time, and WhosDatedWho just managed to pick up some search traffic."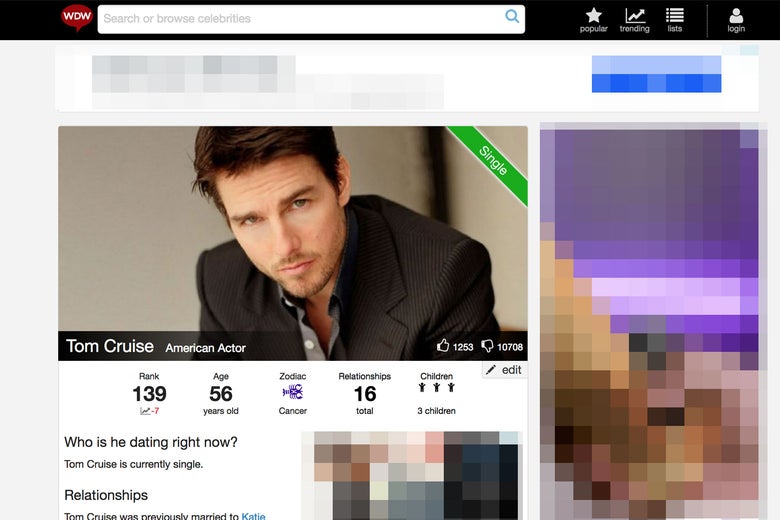 "I started off with Tom Cruise, looked at who he'd dated in the past, and created a little bit of a story around that," Mair went on. "You know, Nicole Kidman and Penelope Cruz, and you end up on other people's pages, like Keith Urban [Kidman's current husband]. I started off with a small number of celebrities, maybe 100 or so."
Today, WhosDatedWho still looks a bit like it's trapped in 2006. How it works—and it's still very much kicking—is like a more focused version of Wikipedia meets Facebook: Just about every famous person has a page on the site (each one indexed on Google using a comfortingly predictable formula: "Who is Miley Cyrus dating? Miley Cyrus boyfriend, husband"), and in addition to pictures and some biographical information like age and zodiac sign, each page lists who that person is currently romantically involved with as well as who they've been in relationships with in the past, dividing them into confirmed relationships, encounters, and rumored hookups. Via Miley Cyrus' page, for example, you can surf over to Liam Hemsworth, her fiancé, but you can also click on Nick Jonas, Justin Bieber, Stella Maxwell, and other actual and possible paramours.
How WhosDatedWho handled rumors—of course leaving an opening for plausible deniability—was especially innovative, Kuroiwa said: "I don't think Wikipedia's going to do that." For one thing, Wikipedia relegates most of the juicy stuff on its biographical entries to the "Personal Life" section halfway down the page, which left an opening for a site like WhosDatedWho to put this stuff, which is the only stuff some of us care about, front and center—not just the notable pairings, but unconfirmed and obscure dalliances too. "It's something that I wish that I came up with because it's so simple, and it probably gets a lot of traffic," Kuroiwa told me.
Back on the WhosDatedWho profile of Miley Cyrus, note that links on the names Hemsworth, Jonas, Bieber, and Maxwell all lead to pages of their own, which in turn list all of their respective relationships. Each relationship, such as the one between Cyrus and Hemsworth, also has a page of its own, containing references and dates and other possibly useful information. So you can probably pretty easily imagine falling down a WhosDatedWho rabbit hole in much the same way you might fall down a Wikipedia one.
After its inception in 2006, WhosDatedWho chugged along for a few months, until Mair happened upon the thing would take it from a fun concept to, well, internet history. One day, "one of our readers contacted me and said that she'd love to edit the content," Mair said. "For me, that was the greatest idea of all time."
I stopped Mair when he said this. Wait—all this time I could've edit WhosDatedWho? Like Wikipedia? Apparently, I wasn't the only visitor this was lost on in all the times I'd visited the site. "It needs to be clearer," he admitted.
Still, that lack of clarity didn't stop the site from hitting the big time. "Organically over the first three or four years, it really grew out to a pretty comprehensive website in terms of celebrities across the globe." At its peak, Mair told me the site was receiving 600,000 visitors a day. Multiply that by 30 days and you're looking at 18 million hits a month, pretty impressive circa 2010. WhosDatedWho also has a sister celebrity site that Mair also administers, Famous Fix, that is home to a stronger community of users, though its mission and what differentiates it from other sites are somewhat less clear. Most of the content to both Famous Fix and WhosDatedWho is contributed by a core group of a few hundred to a thousand users, Mair said, which he likened to Wikipedia's core group of volunteer writers and editors.
Though WhosDatedWho's SEO-friendly nature was pure happenstance, Mair quickly started learning to cater to Google's whims, but he was of course competing with the rest of the internet learning the same tricks around the same time. "I found that by partnering with other celebrity websites, I could improve my rankings," he said, citing sites like AskMen and Hollywood.com. "Partnering" could be as easy as agreeing to link to each other. "Back then, it was all about making sure you were visible in a search result."
The boom years couldn't last. Around 2011 and 2012, smart devices, Instagram, Twitter, and especially the Facebook app began to transform the way people used the web. By 2012 and 2013, traffic started to decline. "These days, we get closer to 120,000 [visitors] a day. It's been a demolition story." Mair, who monetizes the site through online advertising, itself a difficult business, declined to say how much money the site was generating either at its height or now. In 2013, the Canberra Times called Mair's sites "a million-dollar-a-year celebrity news empire." "I'll just say that the revenue has declined roughly in line with the traffic," he told me. Site Rank Data, which collects Alexa website popularity rankings going back to 2011, shows that the site was ranked in the mid-7,000s of top websites as of 2011 and has since plummeted to its current ranking of 31,741.
There have been competitors over the years. Ranker didn't return my interview requests, and Zimbio declined to speak with me for this article, but Jill Slattery, the chief content officer of its parent company, Livingly Media, told me in an email that "Zimbio's celebrity dating content hasn't been a focus on the site in recent years, and it's not a product we spend any time on these days." But what's really hit WhosDatedWho hard has been broader trends. "Search has changed so much over those 10 years," Mair said. "Back then, a lot of people were searching for content. I don't think as many people search for these things as they used to. They're on their Facebook feeds."
And where Google's algorithm once gaveth, it now taketh away: "It tends to favor larger sites. It used to really send you to the dark corner of the web that might have this very obscure article from some obscure website, but I think now, you don't see that as often." Google also introduced "snippets," which, similar to its so-called knowledge graph, can dig into the profits of sites like WhosDatedWho and Wikipedia by revealing answers on the search results page itself rather than forcing users to click. "Information that we used to get traffic on is now just provided by Google," Mair said. This might explain why sites like Heightline have expanded to new, er, verticals covering more than just height: The site also boasts a wealth of information on celebrity bra sizes.
These days, SEO seems to be making a comeback as a spigot of web traffic, but WhosDatedWho hasn't seen much benefit so far. Google's algorithms also prize recency and news articles, Mair explained: "We were ranked No. 1 on most of those searches across the board in the old days, but then the news articles started to get rankings. And so the latest article from one of the big celebrity news sites would then outrank us because it would have some article about Selena Gomez's latest dude." Those articles didn't contain Gomez's complete dating history, of course, but readers didn't seem to mind. "Generally, they're watching a film or a TV show and they want to look it up on the spot: Who's this person's partner? Do they have kids? The right now is the thing they want to know."
For these reasons, it makes sense that users like Kuroiwa and I associate WhosDatedWho with a certain category of famous person, or perhaps more accurately, a famous person who was famous at a particular time. Kuroiwa said he would consult it for "a figure from a few years ago that I know has dated or been linked to a lot of people so they have a lot of tabloid history—someone like a Paris Hilton or maybe like an Avril Lavigne, someone from that era." Katie Z of the celebrity blog Celebitchy told me in an email that she also finds reason to look up a past celebrity dalliance from time to time—for example, she recently pulled up the history of Justin Long and Drew Barrymore, a former couple who reunited a few weeks back. But, she said, "I rarely use [that type of site] unless I'm looking pre-early 2000s." At this point, she's been blogging for so long—since 2006—that she can usually consult her own archives before turning to an outside source.
Over time, Mair's relationship with his site has shifted, too. He's had employees working on the site at various times since it began, but lately it's just been him keeping it going. At 41, he also has personal reasons for spending less time working on WhosDatedWho: After separating from his wife, he's been focusing on being a single parent. "I've put a lot more time into my daughter than I have into my website. So it has been a bit neglected over the last five years."
Meanwhile, new sites and practices have popped up to fill in new gaps. Stars relentlessly update their own social media, for one thing. For another, Famous Birthdays, a site whose mission is to tell you how old stars are (another frequently Googled query) has, instead of fading into the SEO sunset, found success in leaning into social media–bred stars that other celebrity sites traditionally haven't covered.
Mair, for his part, isn't sure what's next for WhosDatedWho. "The internet has changed so much. When I first started, it was pretty clear to me what I needed to do in order to be successful. Now it's much harder to see where the web's going to go and where to invest time, in terms of whether to build an app or a better mobile site, whether we're going to be on a fridge or an Amazon Echo." Maybe a new SEO era will arrive for the old SEO guard; maybe it won't.
Mair added: "I just thought I'd throw it out there that if Slate ever wanted to acquire WhosDatedWho, I'd be more than happy to slot in and help you guys for a couple years. You can tell your bosses that."