Twitter announced Thursday that it was permanently banning conspiracy theorist Alex Jones and his media site Infowars from the platform, citing "[t]weets and videos posted yesterday that violate our abusive behavior policy, in addition to the accounts' past violations." A spokesperson further elaborated to the Daily Beast that an Infowars video of Alex Jones insulting CNN reporter Oliver Darcy was the last straw.
Jones was at Congress on Wednesday to confront tech executives, elected officials, and journalists during back-to-back hearings about social media in the House and Senate. Both Facebook COO Sheryl Sandberg and Twitter CEO Jack Dorsey made the trip to Capitol Hill to testify on their efforts to stymie foreign misinformation campaigns. Jones, who at that point had been banned by Facebook and temporarily suspended by Twitter, apparently saw an opportunity to raise a fuss about the alleged suppression of his speech.
Jones first ran into Florida Sen. Marco Rubio, interrupting the senator while he was talking with reporters and calling him a "frat boy." Jones later approached Darcy, who has been covering Jones's behavior on social media and the platforms' responses to him. Jones decided to launch into a lengthy rant in which he barraged Darcy with insults, likening him to a "rat," a "sociopath," "a possum that crawled out of the rear end of a dead cow," and "the Hitler Youth." The interaction was livestreamed on Periscope, a video app owned by Twitter. Periscope has also removed Jones and Infowars from its platform.
Jones tweeted and retweeted links to videos and articles of his confrontation.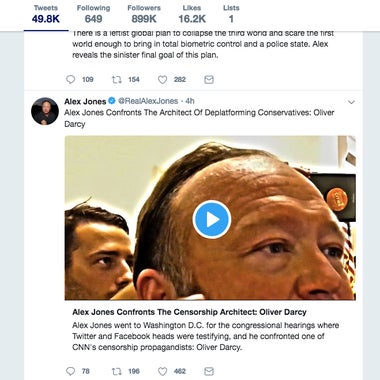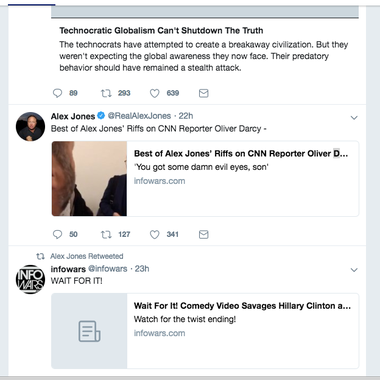 Twitter's abuse policy covers a range of objectionable behaviors, such as unwanted sexual advances and wishing bodily harm on someone. The company has not specified exactly which category Jones' behavior falls into, but the prohibition against "using aggressive insults with the purpose of harassing or intimidating others" would seem to fit best.