One of the Apple Watch Series 4's most noteworthy features is one you hope to never use: fall detection. After sensing a person has fallen, the device checks if the person actually fell, if he is OK, and if he needs emergency services. It's the 21st-century version of Life Alert but built into a popular piece of hardware. It's a step beyond Apple's SOS feature, which makes the Watch useful in emergency situations, but fall detection is still limited. Falls are a specific type of event, and the Watch's detection feature isn't automatically enabled unless you're over 65.
The Apple Watch's use of the technology drew headlines, but other companies have been working on similar ideas. Some are attempting to go far broader and cover an array of situations. While 3 million adults are treated for fall-related injuries each year, more than twice that number are involved in automobile collisions—and that's not to mention bike accidents and scooter incidents. A smartphone-based alternative with a more comprehensive approach to accident detection is a personal safety app called Noonlight. It aims to account for all these types of crashes and connect you with emergency services whether you're on foot, two wheels, or four when an accident happens.
Noonlight detects what it calls a "forceful event" using a mix of data from your GPS, accelerometer, and gyroscope. Its algorithms compare the measurements from that event with data it's collected, including billions of miles of car driver data from Zendrive. If those forces match what's typically seen during a fall or crash, the app goes into action mode.
When a crash is detected, the app pings you via phone or text to first check if you're OK. If you don't respond with your PIN code, the app's dispatchers will reach out and contact emergency services on your behalf if you're unresponsive. It typically takes two minutes for Noonlight's dispatchers to get in touch and then transfer information to emergency services.
Noonlight (originally called SafeTrek) began as an alternative to the blue-light phones on college campuses. "We thought it was ridiculous that if you were in an emergency you were expected to run up to a pole on campus and hang out till help gets there," Noonlight founder Nick Droege says. The app it developed can contact emergency services on your behalf, bridging the gap between legacy 911 systems and the smartphone age. When it does, it shares a browser link with emergency personnel that provides your location and relevant personal information—allergies, medical conditions, and other information you've previously entered. While landlines share caller location, many emergency systems cannot identify someone's location when they call via cellphone. IOS and Android are now working on solutions to the problem. Unlike these built-in solutions, Noonlight employs dispatchers of its own that act as an intermediary between users and emergency services. This lets app users have someone to message with in uncomfortable situations—if they're walking alone late at night, for example—and reduces the risk of false positives (an issue that proved problematic in the early days of Apple's SOS feature on Apple Watch, when it was accidentally dialing emergency services and tying up 911 lines).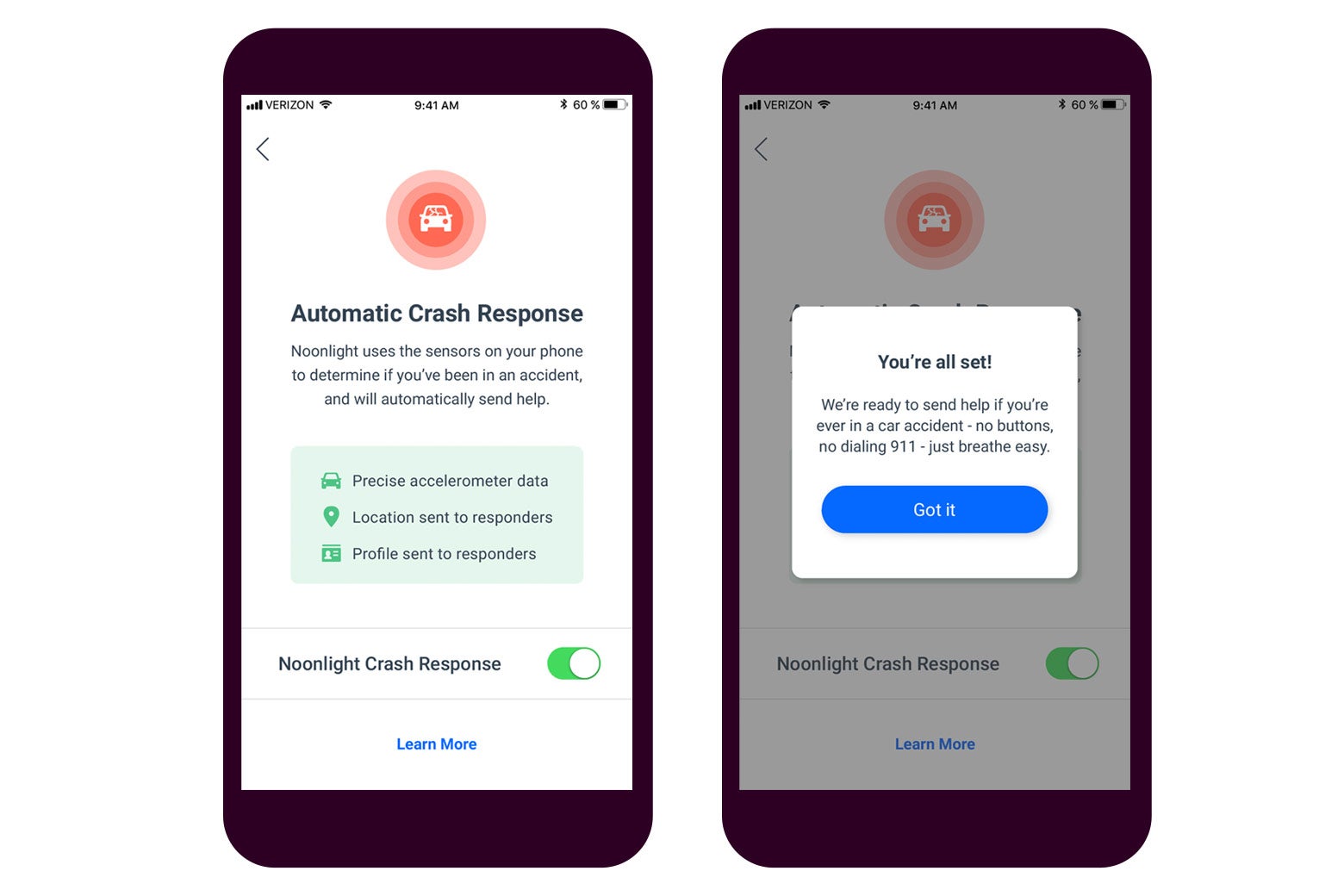 Noonlight's crash-detecting ability comes as the increasing adoption of scooters is yielding the first reports of scooter accidents in metropolitan areas such as Dallas and San Francisco. Bike incidents are also on the rise as more people have begun biking both for transportation and recreation. Depending on the severity of a crash, someone may be unable to reach their phone to dial 911 themselves, and bystanders—if there are any—may not contact emergency services immediately. The app also bridges a gap in existing services. Similar services, such as Strava Beacon, Garmin LiveTrack, or iOS location sharing, let you share your whereabouts with a loved one, but they don't include any sort of accident detection. If your dot quits moving on the map, it's difficult to tell whether you just stopped to chat with a friend for 10 minutes or you're immobilized from a fall. Some products, like CrashDetect and SOSmart, focus exclusively on car crash detection and assistance, which is useful for driving, but not so much if you're out on a hike, run, or bike ride. Others specifically target the elderly and the issue of falls, like the Apple Watch or Philips' AutoAlert. Noonlight aims to accommodate any type of crash.
Noonlight has its pros and cons. It's not free: Noonlight's crash detection capabilities are part of its premium service, which costs $9.99 per month. (Its free service is essentially a panic button you can use to contact its dispatchers.) It also needs access to your location and other onboard sensors in order to do its job monitoring those sensors for signs of an incident, which could be a privacy concern for some. But for those that frequently travel, exercise, or commute alone, the app could provide a much-needed safety net. In the case that a crash or other emergency occurs, you'll know that as long as you have a cell connection, help will eventually be on its way.
Fall detection is definitely a step forward for the Apple Watch. It transforms the device from passive data tracker to active aid during a distressing incident. It's one more way mobile devices are finally beginning to fulfill their promise of using your data for good—using the insights they've gleaned over millions of hours of use in order to improve your life and help keep you safe. Apps like Noonlight push that further. Perhaps in the not-too-distant future we'll see phones and smartwatches with its kind of capabilities built-in. For now, at least you can download it yourself.