In the years leading up to the 2016 U.S. election, Facebook became the world's de facto morning newspaper—and everyone wanted to land on A1. With more and more people getting their news on the app and in the news feed, media companies competed in the company's algorithmic sweepstakes, crafting headlines and story ideas to induce clicks, likes, and shares on the social network.
It was often a dirty game: one in which accuracy and nuance could be sacrificed on the altar of "engagement." But for a time it seemed to work well enough, at least for the publishers willing and able to play along. In return for free content from news organizations, Facebook directed spurts of readers to their websites, which converted the page views into ad revenue.
That era's over. Since 2017, scandals involving fake news, Russian electoral interference, and user privacy have sullied the social network's reputation. Facebook has responded to the criticism partly by trying to exert more control over what stories appear in users' feeds—but also partly by simply showing them less news. For many publishers (though certainly not all), traffic from Facebook has nosedived.
This change in the landscape has left both readers and publishers casting about for new platforms. Google, YouTube, Twitter, Snapchat, and Flipboard are among those that have sought to fill the vacuum left by Facebook's pullback—each bringing its own set of incentives for publishers who want to reach more readers. But one platform in particular has exploded as a news source in the past year, and it promises an antidote to some of the poisonous dynamics that Facebook had set in motion. That platform is Apple News.
Launched to rather tepid fanfare three years ago, Apple's mobile news app has recently surged in popularity and influence, if publishers' traffic figures are any indication. Sources at several news outlets say they've seen their audience on Apple News multiply in 2018 alone. Some now say it has become one of their top traffic sources, alongside Facebook and Google. At Slate, which disclosed its data for this story, page views on Apple News have roughly tripled since September 2017, and the app recently surpassed Facebook as a driver of readership.
Conversations with social media consultants and people who work in audience development at major publications, along with recent reports by other outlets, suggest Slate is not an outlier—which is why many news organizations are now making Apple News an important part of their strategy to reach as large an audience as possible.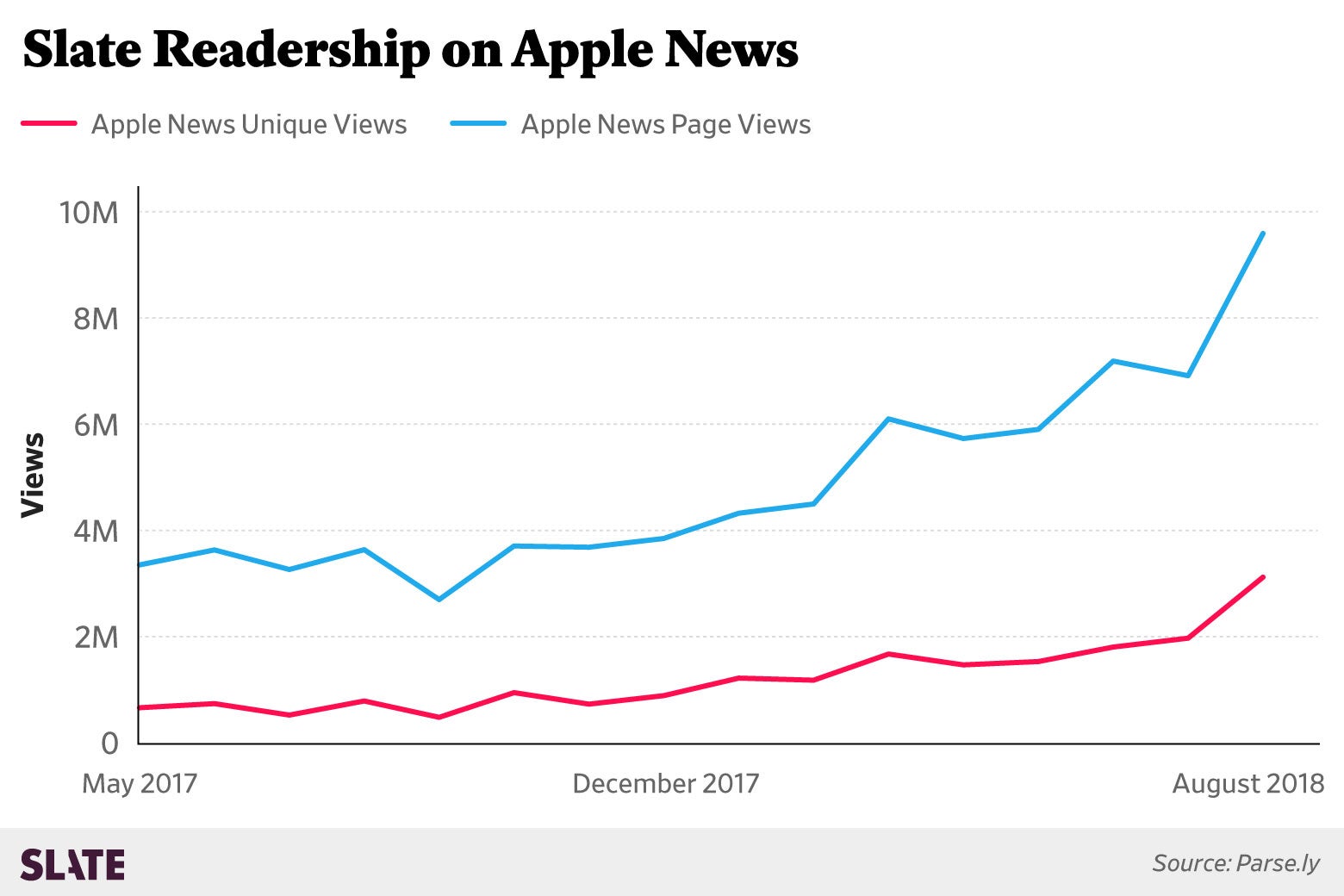 There is, of course, a catch. Whereas Facebook sent hordes of readers from its news feed to publishers' websites, Apple tends to keep them inside its app. And so far, publishers have found that's not a lucrative place to be. Although Apple allows publishers to sell ads within their stories—and partnered two years ago with NBCUniversal to sell "backfill" ads in slots that the publishers don't fill themselves—several sources at media outlets told me that they're seeing little to no revenue from Apple News.
The problem, publishers say, is that the NBCUniversal partnership isn't yielding much money, and Apple doesn't make it particularly easy for publishers to fill their own unsold inventory. Apple News doesn't support some of the common ad systems that dominate ad sales on the web, and not all media companies find it worthwhile to develop and sell ads specifically for Apple News. (Those that do can keep all the revenue or they can let Apple sell them, in which case Apple takes a 30 percent cut.) As Matt Karolian, the Boston Globe's director of new initiatives, told me, "The juice ain't worth the squeeze."*
Until recently, Apple sold backfill ads only through the NBCUniversal partnership, and even some of the largest publishers told Digiday they saw little revenue from those ads. That's in contrast to Google's Accelerated Mobile Pages, or AMP—another format that hosts publications' articles on a platform rather than their own websites—which allows publishers to place many of the same types of ads they're already selling on the web. More recently, Apple has started allowing publishers to serve ads via Google's popular Ad Manager, which could make it much easier for publications to place ads in the News app. But its revenue potential within Apple News is unproven, at least for the average publisher. Apple declined to comment on the ad revenue that publishers are seeing from News.
Chris Schieffer, Slate's senior product manager, said Slate still makes virtually no money from Apple News even as its audience there has skyrocketed. I did one back-of-the-envelope calculation that startled me: Slate makes more money from a single article that gets 50,000 page views on its site than it does from the 6 million page views it receives on Apple News in an average month.*
An audience development director at another midsize publication agreed with Schieffer's diagnosis: "It's hard to monetize in any way." Apple did pay BuzzFeed to premiere three documentary videos on Apple News before other platforms, but such arrangements are not the norm at this point. The norm is that Apple—the world's most valuable company—is getting news stories for free from publishers, many of which are struggling to make ends meet, and giving them little to no money in return.
So why would an industry largely sustained by ads go in on a platform that, thus far, does not pay? Because Apple News may represent a saner way of discovering the news than Facebook. And because there are some indirect ways in which publishers believe the app's massive audience will make them money.
Apple News comes installed on every iOS device, and you can find its featured stories by swiping left from the home screen. With some 1.3 billion iOS devices in use around the world, the potential readership is vast—and sure to grow. On Monday, Apple released a new Mac operating system, MacOS Mojave, that brings Apple News to desktop computers for the first time.
Because Apple both tightly controls the platform and closely guards its data, there are no definitive industrywide figures on Apple News traffic. But the company does share some data with its media partners. And that data is as encouraging as the data coming out of Facebook is dispiriting. The Information reported in February that there were days when Vox got half of its daily traffic from Apple News. Business Insider reported in May that Vice's Apple News traffic had more than doubled in the past year. Digiday reported in January that ABC News had more than 400,000 people signed up for its alerts on Apple News.
Mother Jones, meanwhile, has seen a 400 percent leap in Apple News audience since last September, said Ben Dreyfuss, its editorial director for growth and strategy. The spike began in the first few months of 2018, he added, when readership doubled in consecutive months.
That kind of growth would grab media companies' attention no matter where it was coming from. No wonder a Digiday poll in February found that more media executives were prioritizing Apple News over other platforms.
It's unclear exactly what is driving this vertiginous growth, and Apple declined to comment on its usage metrics for this story. (It also isn't universal: The Globe's Karolian said, "Traffic bump? What traffic bump? Our traffic has stayed relatively flat.") Push notifications could be part of the story—Apple News sends alerts throughout the day based on users' interests—but that's unlikely to be the full story. Apple has also made News an explicit priority over the past year, acquiring the news-subscription app Texture and launching a special Midterm Elections section within the app to draw in politics junkies.
The audience isn't the only thing that excites publishers. Unlike Facebook, Apple News employs humans to choose its top stories and takes cues from editors at the news organizations with which it partners. The result is a platform that looks more like an online magazine than an algorithmically generated feed—one where editorial judgments about news value tend to trump viral clickbait, and breaking news and original features outrank partisan hot takes. By regularly delivering push notifications to users from publications they've signaled interest in, the app gives editors a direct line to readers' phones. It is, in many ways, the anti-Facebook that the mainstream news media (and some of its savvier consumers) have been craving.
"If you were to sit down with publishers and ask them what they would want to see in a multi-source news app, it would look probably pretty much identical to Apple News," said Karolian, who has worked to develop the Globe's presence on the platform.
How Apple News decides what stories to feature in each user's app is a bit murky. Several sources confirmed to Slate a February report from the Information that Apple has set up Slack channels in which editors at major publications can pitch stories for it to feature. BBC News has one, as does Slate. Apple News also sometimes rewrites headlines on the articles it picks for its featured sections, and uses its Slack channels to make sure those changes are accurate. Sources at two midsize publications said they do not have access to a Slack channel with Apple News, though one said he corresponds occasionally with the app's editors via email.
All of the stories Apple highlights in its Top Stories, Top Videos, and Editors' Picks sections, as well as roundups such as the Morning Digest, are hand-picked by Apple News editors, the company confirmed. Several of those editors are former journalists. In a move that turned heads, the company hired Lauren Kern, a respected editor from New York magazine, as its first editor in chief of Apple News in May 2017.* And this month, the Information reported that Apple had named a former Conde Nast China executive as its "head of news business."
Apple CEO Tim Cook explained the thinking behind the human curation at a conference in June. "News was kind of going a little crazy," he said, in what sounded like a veiled reference to Facebook's well-documented problems. For Apple News, he went on, "we felt top stories should be selected by humans to make sure you're not picking content that strictly has the goal of enraging people."
But the app also uses algorithms to personalize its recommendations for each user, and its Trending section relies on an automated ranking system. (Not surprisingly, Trending is the section of Apple News where you're most likely to find headlines such as, "Florida bartender arrested for throwing beer mug at customer's head over bathroom comment.") Beyond the human-edited sections mentioned above, everything in each user's feed is automated.
Still, the human touch gratifies editors who are tired of depending on the whims of Facebook's inscrutable algorithm. "People like it because it's another platform where they have the ability to control traffic to their content," said Matt Navarra, a digital media consultant who was previously director of social media at the Next Web. Sources who have worked with Apple News' staff said they tend to be especially interested in originally reported features, exclusive scoops, and big breaking news stories, whereas Facebook's software often elevated sensational headlines and polarizing opinions. Browse Apple News and you'll see that it's not entirely innocent of man-bites-dog headlines, celebrity gossip, or partisan rancor, but it's rarely dominated by them.
"Our newsroom editors appreciate talking to editors who actually appreciate journalism and storytelling," said Nathalie Malinarich, the mobile and new formats editor at BBC News. "They speak the same language, while algorithms are a bit of a black box." That said, Malinarich noted that it can be "sometimes hard to understand decision-making around the selection of one news org over another" for a story in one of the app's featured sections. It matters because those featured sections drive a significant proportion of publications' total audience on Apple News.
The audience growth and the human editing is the good news for publishers. And so far, that seems to outweigh their disappointment in the revenue. The reason is that there may be other ways to leverage the Apple News readership.
Slate's Schieffer told me that the magazine uses its Apple News ad slots on house ads promoting its own podcasts, and hopes to use the app in the future to drive sign-ups for its Slate Plus membership program. That's a model that does appear to hold some promise: The Washington Post told the Information earlier this year that it was gaining hundreds of paying subscribers through Apple News each day. And Apple reportedly plans to eventually incorporate Texture into its own premium subscription service—like Apple Music, but for news.* (Texture, whose service has been glossed as "Netflix for magazines," gives users access to digitized versions of dozens of magazines for a single monthly subscription.)
That might help a certain subset of national or international outlets that have membership or subscription programs—although even some of those, such as the Guardian, have decided to stop using Apple News. But the platform remains tough for smaller publishers, including news outlets with a local or regional focus. A study by the Tow Center found that less than 4 percent of the stories Apple included in its newsletter came from regional publications. The majority came from some of the world's largest outlets, such as the New York Times and CNN. (It's worth noting that it's possible some of those large outlets are also seeing more ad revenue from Apple News than the ones that spoke with Slate for this story.)
Navarra said he didn't have a direct line to Apple when he worked at the Next Web, a U.K.-based tech blog, and he frequently hears from audience development managers at other publications who also struggle to get their foot in the door. "It's still quite elitist in terms of how they deal with publishers and who they choose to deal with," Navarra said of Apple News. "If you're someone they want to work with—if you're the New York Times, or the top tier—you'll hear from them. If you're somewhere down the pecking order, I get the impression that you have to find your own way in."
For now, many large news outlets seem more than willing to put up with the frustrations of Apple News in exchange for a platform that seems to share their editorial values. Facebook may have propped up the business of online journalism. But the news feed's algorithmic rankings, which seemed to skew toward the outrageous and sensational, eroded that business' underpinnings—the bonds of trust between the news media and their readers. By hand-picking its publishers and stories, Apple News prioritizes a news source's reputation and the old-school news value of its content over the propensity of its headlines to garner clicks and likes.
That's not to say that Apple News won't come with its own drawbacks if its importance as a news source continues to grow. Facebook's software democratized the news, giving upstarts an even playing surface with the largest media empires, and exploding old notions of what readers cared about. That opened the field to all manner of fake news, but also to forward-thinking startups such as BuzzFeed, Gawker Media, and Vox Media.
If Apple News were to reach a similar degree of dominance, its opaque processes and insistence on working behind the scenes with a cadre of established news partners might make it harder for smaller or newer outlets to compete. Apple has also repeatedly assured consumers over the last year or so that it isn't in the personal-data business like Facebook and Google are. Its distaste for the targeted advertising business—where rates can be higher—might make it viable mostly for publications with a paid-subscription model.
There's also the question of whether Apple News' approach really represents the future of news, or just a temporary resurgence of the old-school approach. Demographic data on Apple News readers are hard to come by, but one large U.S. newspaper shared an analytics chart that showed its Apple News audience skewed toward the oldest age groups: People 65-and-up were its largest segment, followed by those 55–64. And Slate disclosed to me that the publication's Apple News audience skews older and more male than the site's overall readership.
News organizations are probably right to cheer a platform that seems to eschew the worst tendencies of the social media age. But if they want to be sustained by Apple News, they better hope it starts getting serious about ad sales soon—or that other benefits, like a boost in subscriptions, go from theoretical to concrete. If the Facebook era taught us anything, it's that bad habits are always only so far away.
*Clarification, Sept. 26, 2018: This story has been updated to make it clearer that Apple News allows publishers to sell their own ads, and to better reflect the distinctions between direct, custom, and backfill ad sales on Apple's platform.
*Correction, Sept. 25, 2018: This article originally misspelled Lauren Kern's first name. Due to an editing error, it also misstated that Slate makes more money from a single article that gets 50,000 page views on its site than it has from the 54 million page views it has had on Apple News this year. It makes roughly the same amount of money from a single article that gets 50,000 page views on its site than it does from the 6 million page views it receives on Apple News in an average month. Last, the article originally misstated that Apple has announced plans to incorporate the news app Texture into Apple News. Those plans were reported by Bloomberg, but Apple has not announced or confirmed them.