As the midterm elections loom, it's safe to expect Facebook to be a minefield of disinformation and fake accounts. But unlike after the 2016 election, when it took Facebook more than a year to come clean in a public post to its users about disinformation from Russian agents, Facebook is being more forthright this time around.
On Tuesday, the company shared that it found a new coordinated disinformation campaign on Facebook and Instagram and that it had removed 32 pages and accounts from the two platforms. There's not yet a definitive link between this latest cluster of accounts removed and the Internet Research Agency, the Russian social media manipulation operation that puppeted thousands of fake accounts before the 2016 election and the months that followed.
Facebook says it removed eight pages and 17 profiles on Facebook and another seven profiles on Instagram, and shared the findings of its internal investigation with the U.S. government, law enforcement, other tech companies, and the Atlantic Council's Digital Forensic Research Lab, which Facebook has been working with to research abusive behavior on the platform.
Facebook reported a trove of 470 accounts that it removed from its platform linked to Russian disinformation agents in September 2017, which may make the 32 pages and accounts feel like a small number in comparison. But more than 290,000 users followed at least one of the pages, the company said. Facebook also noted that it first uncovered the accounts two weeks ago.
Nathaniel Gleicher, the head of cybersecurity policy at Facebook, said that the tactics of the bad actors are getting more sophisticated in hiding their true identities than the accounts Facebook found linked to Russia last year. The recently uncovered cluster of accounts "used VPNs and internet phone services, and paid third parties to run ads on their behalf," Gleicher wrote on the Facebook blog. The accounts the company disabled last year associated with the Kremlin-backed Internet Research Agency used Russian IP addresses. The disinformation accounts removed Tuesday did not. One of the pages that Facebook removed, dubbed "Resisters," previously had someone connected to the Internet Research Agency as an admin, but that only lasted seven minutes, according to Facebook. It's a link to Russia, but not a strong enough one to point fingers.
Part of the urgency around publicizing the removal of these accounts is their connection to promotion of events surrounding the "Unite the Right 2" neo-Nazi and white nationalist rally, scheduled for Aug. 10–12 in Washington, this year's follow-up to the 2017 Unite the Right rally in Charlottesville, Virginia, that left one woman dead. The inauthentic "Resisters" page used Facebook to create an event page for a counterprotest it purported to be organizing. The admins of the "Resisters" page reached out to admins from five legitimate pages to co-host and coordinate logistics for the event. "These legitimate pages unwittingly helped build interest in 'No Unite Right 2 – DC' and posted information about transportation, materials, and locations so people could get to the protest," Gleicher said. Facebook says that it's working this afternoon to inform the approximately 2,600 users who marked they were interested in the event and more than 600 who said they planned to attend.
Facebook also shared the names of three other pages that were apparently operated by trolls. One, "Aztlan Warriors," appears to have focused on Native American justice and identity. A post by that page included a photo collage with the word "Aztec" on top of it, captioned with the message, "Be proud of who you are." That post received about 1,800 reactions and was shared 901 times. There was also a page called "Black Elevation," which advertised itself with a collage with the portraits of famous black leaders and had attracted 139,217 people to like the page, according to one example Facebook shared Tuesday. Another page was called "Mindful Being" and, according to the samples Facebook shared, appears to be focused on socially conscious and philosophical themes in science fiction.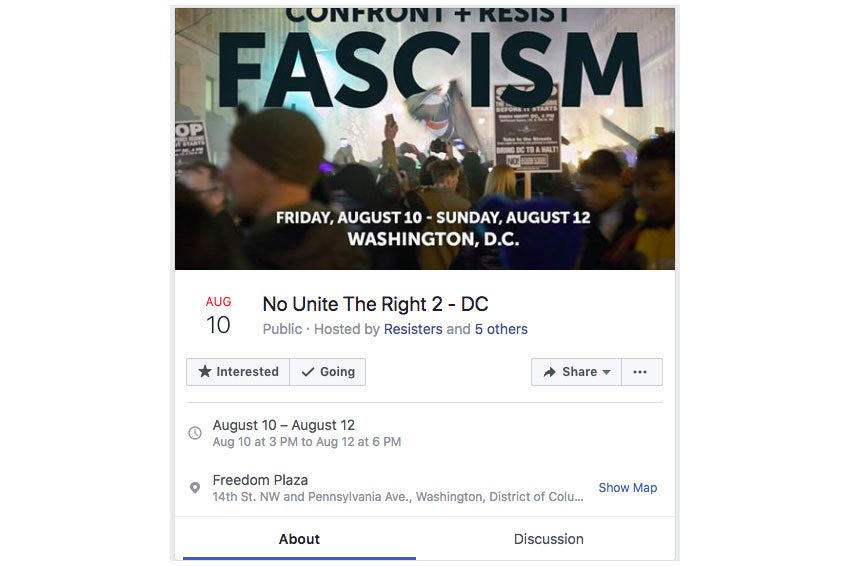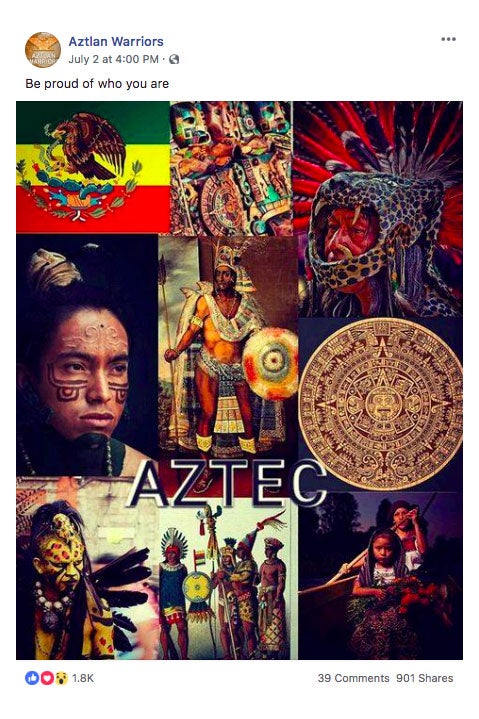 Facebook says this cluster of 32 accounts and pages spent about $11,000 on 150 ads across Facebook and Instagram between April 2017 and June 2018, all of which were paid for using Canadian and U.S. dollars.
In response to the disclosure, Minnesota Sen. Amy Klobuchar said in a statement, "Congress must immediately pass my bipartisan Honest Ads Act to ensure that all major platforms that sell political advertisements are held to the same rules of the road as those sold on TV, radio, and satellite." Klobuchar is one of the authors of the Honest Ads Act, which seeks to apply similar political ad disclaimer laws to the internet that already apply to broadcast and print political ads. Mark Zuckerberg has said he supports the bill.
To help their users get a better picture of how much and where certain groups are spending on Facebook this election cycle, in May the company unveiled a public archive of political ads that run on the site. It includes information on who paid for the ad, a price range of how much was paid, the breakdown of men and women who saw the ad, a range of how many people saw the ad, and the states where the ad was seen. But Facebook is not required to share this information. It's doing so voluntarily, and the company could decide to stop at any time. Moreover, political ads purchased through third parties and ads aimed at a specific issue, like racial justice, might not be caught in Facebook's political ad database or be covered by Klobuchar's bill.
"We know that Russians and other bad actors are going to continue to try to abuse our platform—before the midterms, probably during the midterms, after the midterms, and around other events and elections," Gleicher said on a call with reporters last week. "We are continually looking for that type of activity, and as and when we find things, which we think is inevitable, we'll notify law enforcement, and where we can, the public."