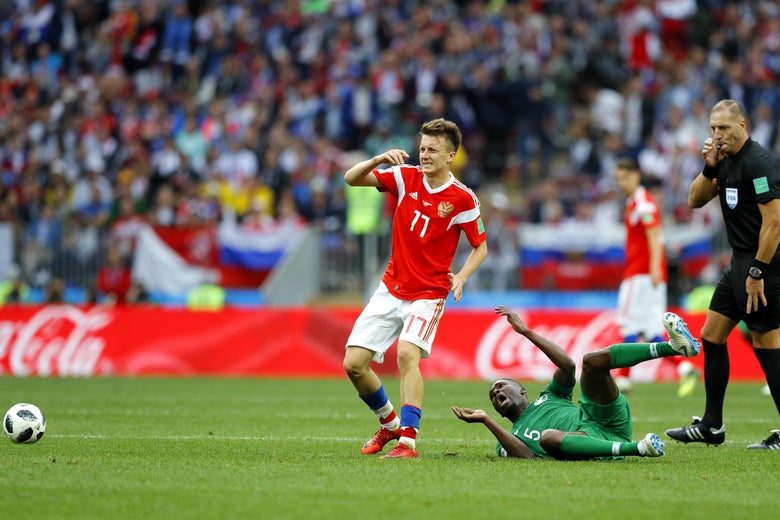 The 2018 World Cup commenced on Thursday and will run until July 15. Luckily for fans who don't have a ticket to Russia, which is hosting the tournament, or a cable subscription, there are a bevy of online platforms that will be streaming the games.
Telemundo will be broadcasting all the games for free on its website until June 25, at which point you'll have to buy a subscription to a provider. The Fox Sports site and the Fox Sports Go app will stream the entire tournament as well, though you'll need to sign in to Xfinity, DirecTV, or another TV service. Fox Soccer Match Pass is also offering a 7-day free trial for live and on-demand games.
There are a couple virtual reality options available as well if you really want to feel like you're in the stands. Facebook's VR subsidiary Oculus is streaming four games for free through its Venues app, and Fox is working with startup LiveLike to offer all the games in the Fox Sports VR app.
Viewers with a subscription to one of the major online TV services like Hulu Live, Playstation Vue, Fubo TV, or YouTube TV will be able to watch at least part of the tournament by tuning into the Fox channel, which will broadcast the first 38 games, and Fox Sports 1, which will air the last 26. Not all services will have Fox Sports 1, however, so it's a good idea to check what's included in your package.
Want to pitch Slate?
Every year, Slate Plus members participate in the Slate Pitch Slam—where members discuss their story ideas with our editors and each other. It's a chance for members to interact with Slate's editors, to refine their pitches, and to vote for their favorite ideas—and a way for us to learn about Slate Plus members.
Join Slate Plus today for just $35 for your first year and start weighing in.
Join Slate Plus
Enter the Pitch Slam
---