The first months of Donald Trump's presidency were a fraught and chaotic time in American politics. But in an age of shrinking newsrooms, early 2017 was a bright spot for online news publishers, especially those with some Facebook savvy. People were hungry for political news, commentary, and analysis, and Facebook fed them a steady diet of it. It was where conservatives gathered to crow and liberals went to commiserate and organize.
Slate—yes, the publication you're reading right now—got more than 85 million clicks that originated from external sites and apps in January 2017 alone. Almost a third of them—28 million—came from Facebook. That was more than any other single outside traffic source. Other online publications with a political focus, such as Vox and Politico, posted similarly blockbuster numbers.
It was, in retrospect, the zenith of Facebook's influence over the news industry. Starting in about 2013, when the social network began prioritizing actual news in users' news feed rankings—the order in which posts appear when you scroll through its app or site—Facebook had grown increasingly critical to many media outlets' business, for better or worse. Every visitor the social network sent to an outlet's pages translated to much-needed ad views. And it sent so many that newsrooms remolded their editorial strategies to maximize clicks, likes, and shares on Facebook. For less scrupulous publishers, that sometimes meant sensationalizing headlines or framing stories in ways that pandered to people's biases—a trend that Facebook tried to combat algorithmically, with limited success. By August 2016, the New York Times' John Herrman wrote that Facebook had "centralized online news consumption in an unprecedented way," shaping how the public perceived politics by determining which stories they'd see in their feeds. And by 2017, some antitrust thinkers concerned with its centrality to the news business were calling for Facebook to be regulated as a monopoly.
A year and a half later, however, the flood of Facebook traffic to news publishers has receded dramatically. Google surpassed it as the primary driver of readership to news sites in late 2017, according to the analytics firm Parse.ly, which counts Slate as a client. In May, Facebook lost its place as the top traffic source on mobile devices, according to another traffic analytics firm, Chartbeat, with more people visiting news sites directly than via the social network. And at Slate, which agreed to share its internal data for the first time for this story, traffic from Facebook plummeted a staggering 87 percent, from a January 2017 peak of 28 million to less than 4 million in May 2018. It's down more than 55 percent in 2018 alone.
The diminished flow of readers from Facebook to news sites is not an accident. Some of it may be due to readers' fatigue and the gradual normalization of Trump's presidency. But Facebook has also pulled back from the news business intentionally. In June 2016, it announced a shift in philosophy, prioritizing posts from individual friends and family over those from groups, brand pages, and (to a lesser extent) news outlets. The effects appeared relatively subtle at first, but Facebook acknowledges they likely compounded over time. Then, in January 2018—a time when it was under heavy fire for its role in elections and politics around the world—Facebook announced another major change to how its news feed algorithm chooses what you see when you load up the platform, this time de-emphasizing news publishers in particular and skewing the feed further toward posts from individuals.
At the same time, Facebook said that it would focus on boosting higher-quality news publishers in its rankings, using surveys to identify "trusted" sources and prioritize their content ahead of clickbait, propaganda, and fake news. (Facebook also said it would prioritize "local" and "informative" news sources, in different ways.) Facebook hoped these changes would help to stem the abuse, manipulation, and general cacophony that had polluted the platform during and after the 2016 elections.
News organizations, which had already seen their Facebook traffic dry up over the course of 2017, weren't sure what to expect. Would they be pummeled by the overall algorithm change? Or might Facebook's newfound focus on credible sources help to stabilize their traffic and entrench the social network's importance to their business? On the whole, Facebook predicted that the proportion of news in the average user's feed would dip from about 5 percent to 4 percent. That's a small adjustment for Facebook but potentially a big hit to the publishers relying on it—especially the ones that failed to rank highly in user trust surveys.
Precise numbers are hard to come by, because most publications don't share them, and neither does Facebook. But studies drawn from public data such as likes and shares suggest that the renewed emphasis on posts from friends and family has had a noticeable impact on many news publishers, while the effects of Facebook's attempt to emphasize trusted sources are harder to discern.
Indeed, sources at several major publications told me they're now seeing less than half the referral traffic from Facebook that they were receiving in the first half of 2017. But few would go on record, whether because their employers consider the information private or because they don't want to risk compromising their ongoing relationship with Facebook.
For this story, Slate agreed to share with me its own data on referrals in order to provide a window into the rapidly changing relationship between Facebook and online publishers. The chart below shows how traffic to Slate from Facebook rose steadily through 2016 and peaked in January 2017, both in absolute terms and as a proportion of all outside traffic sources. From there it plunged, with steep drops in mid-2017, late 2017, and again in early 2018. From May 2017 to May 2018, traffic from Facebook dropped from nearly 19 million views to about 3.6 million—a decline of 81 percent. To put it another way: For every five people that Facebook used to send to Slate about a year ago, it now sends less than one. "Every time Facebook traffic would go down, we'd think, 'OK, maybe this is the low point,' " said Slate's editor in chief, Julia Turner. "And then it would go down even further."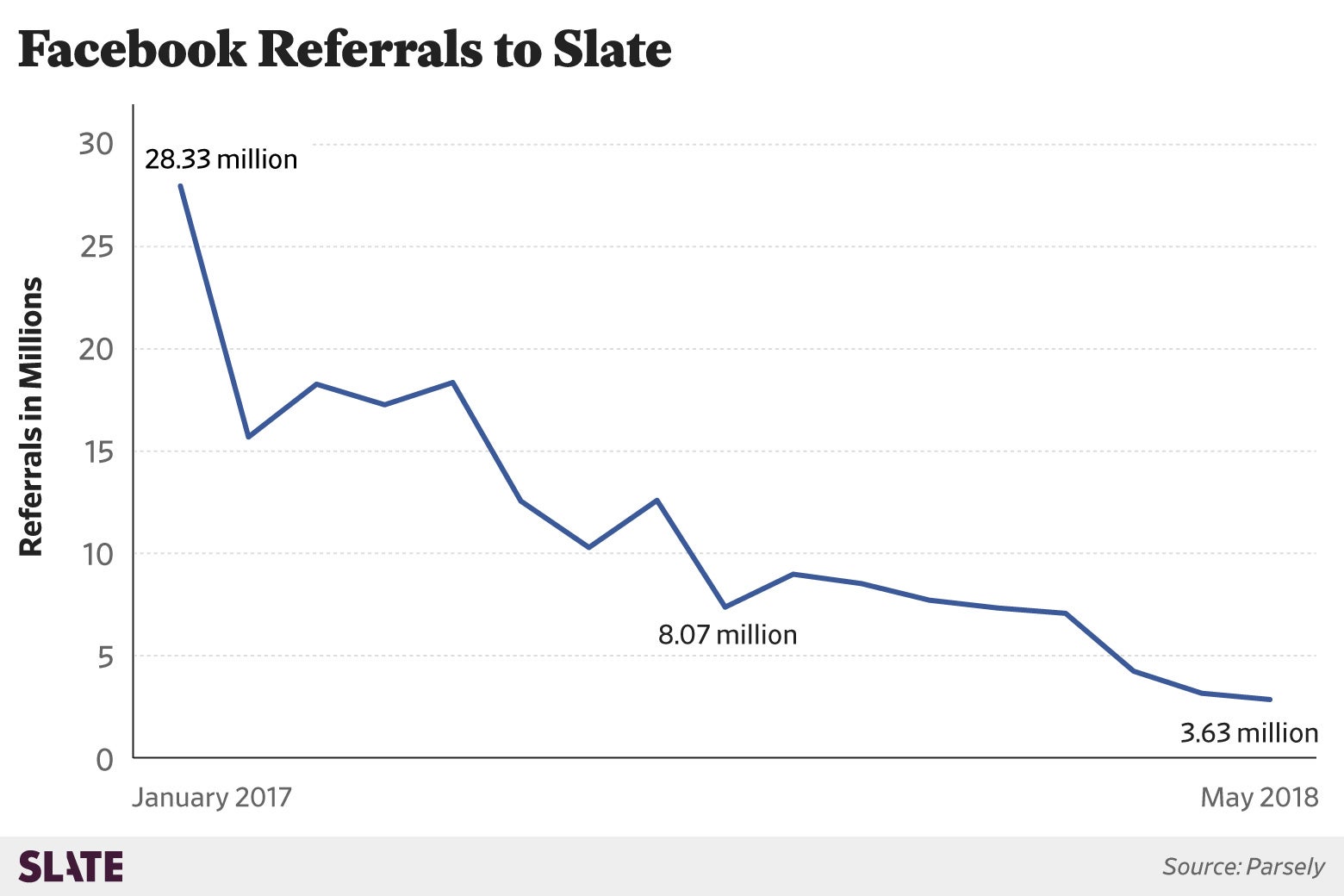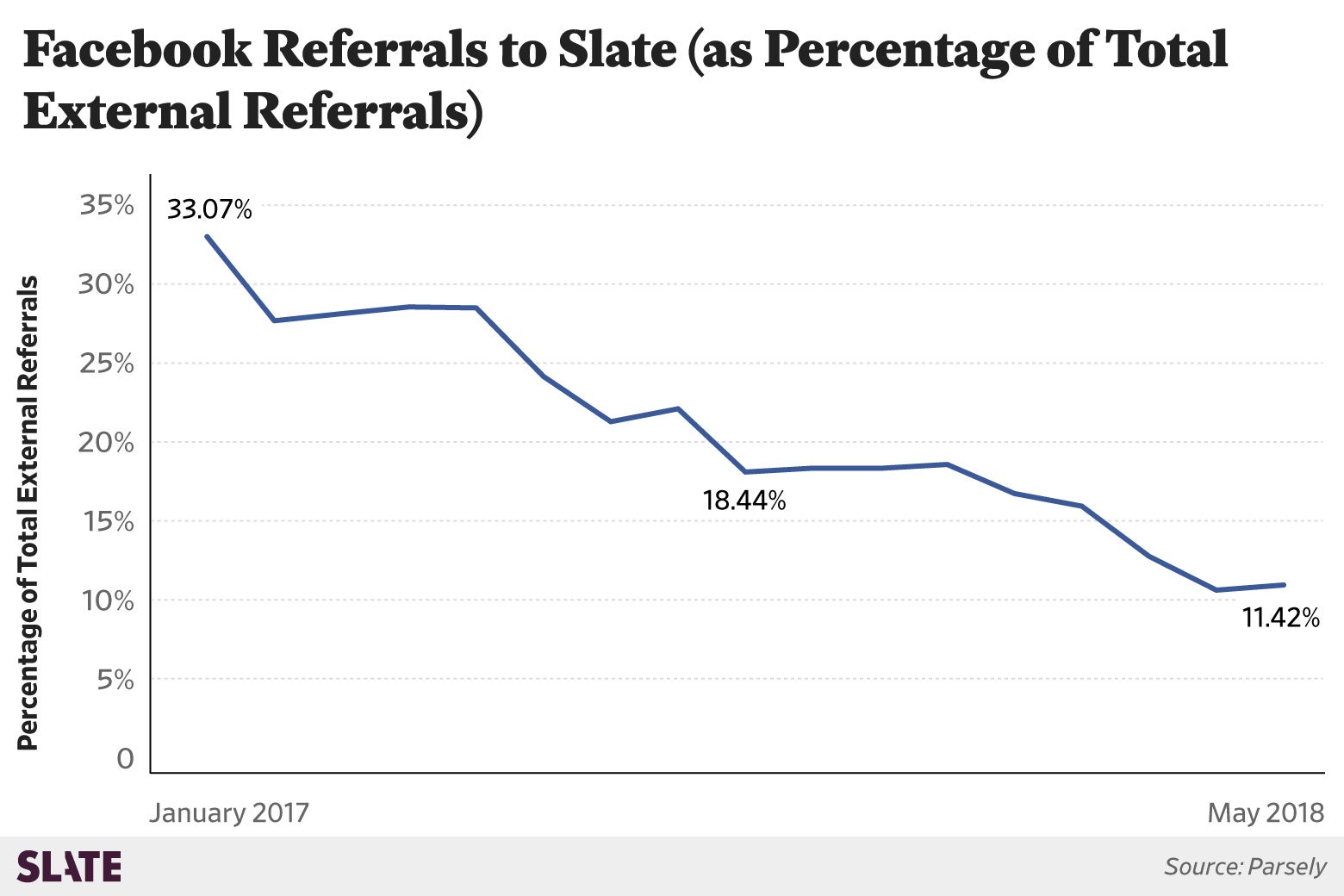 Turner declined to estimate the precise amount of advertising revenue Slate has lost as a result of the nosedive, though she acknowledged that "the drop in traffic does come with a financial hit." A rough, back-of-envelope calculation using prevailing ad rates and ad loads (that is, the number of ads a reader sees when she visits a site) suggests that a loss of 15 million visits per month could mean something on the order of $1 million per year in revenue—which, in a newsroom, might equal a dozen or more journalists' salaries. Slate laid off five editorial staffers in early 2017, but the company told me those were unrelated to Facebook traffic. It has not announced any staff cuts since.
Several other online publishers that have laid off journalists in the past year cited lost Facebook traffic as a factor, though. Those include Vox Media (the parent of Vox.com, the Verge, Eater, SB Nation, and other sites), which laid off 50 employees in February. Vox said at the time that it was pulling back from its strategy of publishing content directly on Facebook, calling the social network "unreliable." Sites that posted lots of video on Facebook, such as Vice, Mic, and Mashable, have been especially hard hit. Some publishers that were especially reliant on Facebook have gone out of business altogether. LittleThings, a purveyor of "feel-good" content targeting a female audience, shut down abruptly in February due to what it called a "catastrophic" 75 percent decline in Facebook referrals following the rankings change.
When I asked Facebook about Slate's decline, a representative told me that its data showed Slate in particular suffered a dip in news feed reach in early 2018 after Facebook made a policy change that prohibited pages from accepting money to share content they didn't create. Slate was one of several publications that had been paying one such company, the Social Edge, to share its stories via a network of popular celebrity Facebook pages, including George Takei's. (Slate and some others discontinued the Takei relationship in November 2017 in the wake of a sexual assault claim against him.) Slate's director of strategy and audience development, Bill Carey, confirmed to me that the site saw a further dip in traffic after Facebook changed its policies, although he said that appeared to account for just a fraction of the overall decline. Lorenzo Thione, CEO of the Social Edge, told me via email that the company has discontinued the service in question, to comply with Facebook's policies.
Facebook offered no other explanation for Slate's numbers. But the fact that it has generally sent less and less traffic to Slate in 2018 would seem to suggest that the site has not benefited from the social network's new emphasis on "trusted" or "informative" sources. Facebook would not comment on whether its algorithms consider Slate, or any other publication, to fit either of those descriptions.
Facebook pitched its focus on trusted sources as a remedy to the problems of false and misleading news, implying the algorithm change would help legitimate publishers of credible information. But the algorithm is based on Facebook user survey results, and different users trust different news sources for very different reasons. Some trust mainstream news outlets such as the New York Times because they do original reporting and write in an objective style. Some trust opinionated TV personalities, such as those on Fox News or MSNBC, because they're relatable and affirm familiar worldviews. Some trust magazines of opinion and analysis such as Slate or National Review, because their writers own up to their political biases, while others mistrust them for the same reason. Most familiar with the workings of the journalism industry would trust any of those outlets over hyperpartisan propaganda sites on the right and left that lack basic editorial standards such as correcting errors of fact. But it's not clear that most Facebook users are tuned in to those distinctions—and they're the ones whose opinions Facebook is relying on to separate credible from fake.
The social network, for its part, has gone out of its way to avoid defining what it means to be credible, or revealing which publishers are benefiting. "We don't share any specific publishers because the list of publishers that are trusted is dynamic, as we survey people every single week," a Facebook official told me in a statement. However, the company added, "We know from our data internally that high quality news organizations are benefitting from the changes we've made this year."
In April, New York Times tech columnist Kevin Roose inadvertently touched off some minor panic in media circles when he tweeted a pair of charts from the social media analytics firm NewsWhip. The charts showed that, between March and April 2018, some publications with checkered reputations—the Daily Wire, the Daily Mail—seemed to be benefiting from the trust rankings and that the notoriously partisan Fox News had claimed the top spot as the site with the most Facebook "engagement." (Engagement, in this context, means the sum of likes, shares, and comments that a given post generates, but does not include clicks.) "New Data Casts Doubt on Facebook's Commitment to Quality News," media columnist Mathew Ingram wrote in the Columbia Journalism Review.
A broader view of the data, however, yields a murkier picture. "The data that's being referred to showed a snapshot in time—not a larger trend," a Facebook spokesperson told me over email. And it is true that, if you look at the trend from January, when the trust initiative launched, to April, well-known news sources like CNN and NBC seem to be faring better overall than newer, less prestigious sites that rely heavily on viral headlines. (Roose, who has since deleted his tweet as part of a routine purge of tweets older than 30 days, told me it was intended simply as an observation, not a full analysis of the trends.)
So does this mean that plenty of "trusted" sources are faring just fine? Not necessarily. It's worth noting that there's a difference between NewsWhip's engagement stats, which are public, and referrals—that is, people actually clicking on stories and visiting publishers' sites. The two have generally correlated, historically, and Facebook told me that its own data suggests that continues to be the case. But two social media professionals interviewed for this story, including one who consults for a number of different publications, told me that the engagement on Facebook posts has led to less relative traffic. This means publications could theoretically be seeing less ad revenue from Facebook even if their public engagement stats are holding steady. So, for instance, if Facebook, say, used to boost posts that got lots of clicks but now focuses more on the number of comments they generate, then people might be seeing more content in their feeds that encourages them to comment without actually reading the linked story. From Slate's perspective, a comment on a Slate story you see on Facebook is great, but it does nothing for the site's bottom line.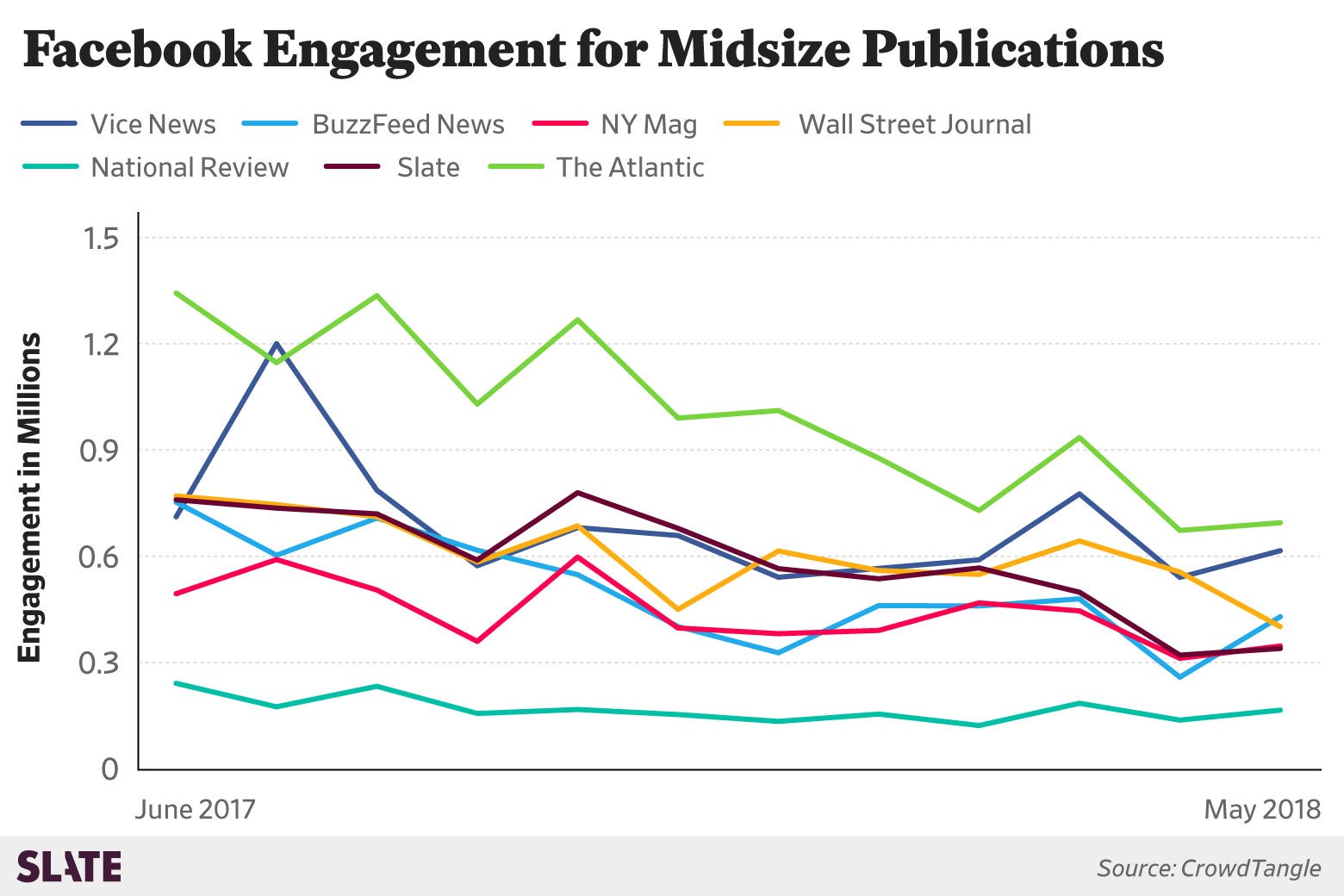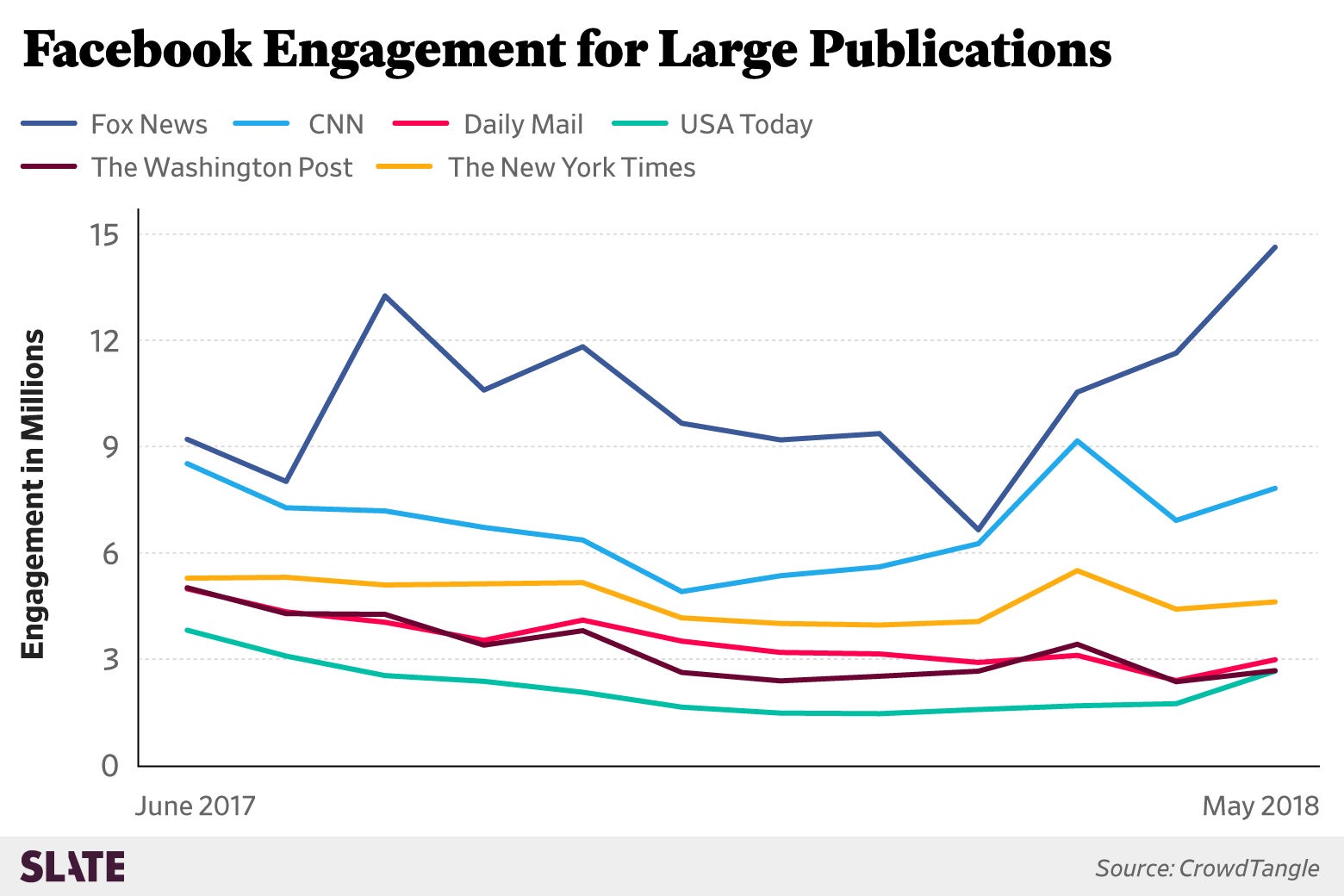 Ultimately, however, it's impossible to divine the effects of Facebook's trust survey without knowing which publications are benefiting from it—and Facebook isn't telling. In March, I asked Facebook's then–news feed chief Adam Mosseri on Slate's tech podcast, If Then, why the company couldn't be more transparent about the nature of such algorithm changes. Mosseri said that more transparency was a goal but that Facebook wanted to avoid giving ammunition to critics who might seize on small mistakes or insignificant details. The company also is leery of giving out information that could help people game its algorithm.
Facebook's trust rankings in particular are politically sensitive, too. This month, Facebook published responses to questions from members of Congress, including 108 questions just from Sen. Ted Cruz, the Texas Republican. Much of his questioning suggested that he believes Facebook is discriminating in various ways against conservatives, Christians, whites, and other groups dear to his heart. Cruz specifically asked Facebook how its latest algorithm changes had affected the amount of referral traffic it sends to each of 25 publishers—a list that included left-leaning outlets such as Slate and Vox, along with conservative sites such as the Daily Wire and the Washington Free Beacon. Facebook dodged the question, offering instead a vague statement about the many factors that go into its news feed ranking system.
The Daily Wire, for its part, has published multiple stories alleging liberal bias on Facebook's part, and a conservative site called the Western Journal published a study in March headlined, "Confirmed: Facebook's Recent Algorithm Change Is Crushing Conservative Sites, Boosting Liberals." The study based its conclusions on just one month of data, from the analytics site SimilarWeb. Regardless, it has become conventional wisdom among many on the far right that Facebook is suppressing conservative views. None of these pieces have mentioned that Slate, which is widely considered to lean left, is seeing 87 percent less Facebook traffic than it did in January 2017. They did acknowledge that Fox News and the Daily Mail, two of the largest right-leaning outlets, seem to be thriving under the algorithm change but characterized those as exceptions to the trend.
Should Slate, which publishes political viewpoints that frequently lean left, count as a trusted source? Should a respected but explicitly conservative publisher like National Review? How about Fox News, which calls itself "fair and balanced" but counts right-wing conspiracymonger Sean Hannity as its top personality? No doubt different people would have different answers to each of those questions. It's not unreasonable that Facebook should prefer to punt the question to its own users. But the opacity of Facebook's approach might add to the epistemological uncertainty it has fomented since before the 2016 election, because it is still asking us to trust that it can surface what is trustworthy. And if nothing else, its approach adds to the financial uncertainty facing news publishers who had been forced to rely on Facebook traffic as the social network became the dominant distributor of online information.
Facebook's retreat from that central role in online news has certainly been painful for many publishers—especially those that had made the social network a centerpiece of their strategies. Turner told me that Slate was able to weather the blow from Facebook better than some because it had avoided going "all in" on Facebook during the boom years. For instance, to diversify its revenue, the magazine launched a paid membership program called Slate Plus in 2014, which grew dramatically following Trump's election, and its podcasts have grown to account for 25 percent of its revenue. Slate also continued to bring readers in through its front door even as industry watchers declared the homepage "dead." Still, the loss of reliable Facebook traffic has undoubtedly affected Slate's editorial and business strategies.
One silver lining of the Facebook crash is the emergence of other platforms that have been directing more traffic to many sites in the past year, even as Facebook sends far less. Google, Apple News, Twitter, and Flipboard are all sending more readers to Slate than they used to, and the increase has happened over the same time period that Facebook traffic has dried up, Carey said. Other publications told me the same is true for them. Digiday noted in January that Boston.com received more readers from Apple News than from Facebook in December. However, publishers often get less revenue from an Apple News reader than from a Facebook referral, because Apple pockets part of the ad revenue. New York Media, parent of New York magazine, has broken traffic records in 2018 by shifting its focus from Facebook to Google and Apple News.
"On one side of the coin, you have the Facebook-pocalypse," said Margarita Noriega, a former executive editor at Newsweek digital who now consults for publishers on editorial and social media strategy. "But on the other side of it, you have increased traffic from other sources on both mobile and desktop." Those sources may not be sending enough traffic to make up for the losses from Facebook, she added. But the long-term effect could be a healthier news economy, one that's less reliant on the whims of a single company and more so on the open web. Noriega noted that Google Chrome Suggestions, a personalized news feature in Google's Chrome browser, is the hot new traffic source for several of her clients. (Chartbeat's data confirm its rising influence.) Mozilla has added a similar feature to its Firefox browser, after acquiring the reading-list app Pocket in 2017. Of course, if Google returns to referral dominance, that could lead to its own set of unhealthy incentives. (Remember when every news site published the piece, "What Time Is the Super Bowl?")
To complicate the picture, Slate told me it has seen what appears to be a modest uptick in Facebook referrals so far in June. Carey said it's too early to tell for sure whether that's a fluke or a trend.
For years, the greatest fear of many online news publishers was that Facebook would someday turn off the traffic spigot, leaving them gasping for readers and ad revenue. For Slate and many others, that's largely what has happened over the past 18 months. As a result, people have lost jobs and many publications have had to adjust their plans and expectations. But the industry has not been devastated—at least so far. An optimist might even say that it's being rebuilt on a firmer foundation, although online journalism has always been a shaky business. "The internet is a completely different place every 18 months, and that's been true since we launched in 1996," Turner said. "We never expected the Facebook boom to last forever."
Facebook's waning influence could help to reverse some of the trends that the social network stoked: pandering headlines, overt partisanship, filter bubbles. It has certainly already forced many publications to prioritize the loyalty of their existing readers over chasing the wider but more fickle audiences available on social platforms. The important questions now are what behaviors, crutches, and opportunities to sustain viable news operations the new terrain will encourage, and whether a single traffic behemoth will replace Facebook or an archipelago of them. The Facebook era is ending. We don't know whose era we'll live in next.
Correction, June 27, 2018: A chart in this article originally referred to Vice and BuzzFeed. In fact, it shows Facebook engagement data for Vice News and BuzzFeed News.