Uber's self-driving vehicles operating in Arizona were unprepared to safely encounter pedestrians and were fatally over-reliant on the mindfulness of human operators, a federal accident report released Thursday shows.
On March 18, Uber's Volvo XC90 was being driven by software but supervised by a human attendant in the driver's seat when it hit and killed Elaine Herzberg, who was crossing the darkened road with her bicycle. It was the first fatal crash involving a vehicle driven by a computer, a technology that promises long-term safety improvements but has been rushed into road testing by a handful of companies despite questions about transparency and reliability.
According to the preliminary report of the National Transportation Safety Board, Uber's sensors first perceived Herzberg about six seconds before impact—more than twice the commonly accepted reaction-time of 2.5 seconds. But the sensors struggled to classify Herzberg (first as an unknown object, then as a car, then as a bicycle) and determine her expected path across the road. At 1.3 seconds before impact, the system determined emergency braking was required, a function that was disabled under computer control "to reduce the potential for erratic vehicle behavior."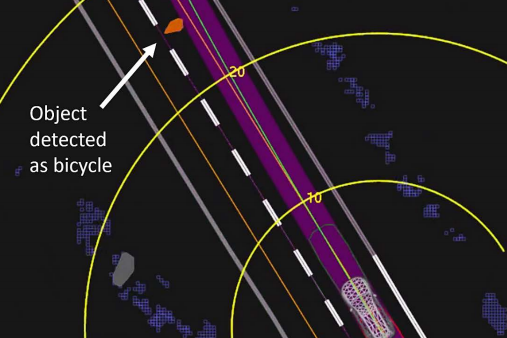 Emergency braking was instead entrusted to the vehicle operator, though no system was in place to alert the operator of the computer's conclusion. Previously released footage showed that the operator had been looking down for an extended period before the crash occurred, and the NTSB report will draw more attention to the flaws in models that require humans to monitor computer behavior for hours on end.
Uber, for its part, told some 300 Arizona workers on Wednesday that the program in the state, which had been on hold since the accident, would be shut down. "We're committed to self-driving technology, and we look forward to returning to public roads in the near future," the company said in a statement. It hopes to restart AV testing in Pittsburgh and California once the NTSB inquiry is complete.
Google's Waymo, meanwhile, continues to operate AVs in the Phoenix area with and without supervising drivers, and plans to introduce an AV taxi fleet to commercial service by the end of the year.