On Thursday, Democrats on the House Intelligence Committee released a trove of about 3,500 Facebook and Instagram ads purchased by Russian operatives to influence the 2016 election and exploit and attempt to worsen America's polarized political climate in the months that followed. The ads reveal a sophisticated campaign clearly aimed at supporting Donald Trump's presidential bid and inflaming Americans on some of the most divisive social and political issues in the country, like gun control, Islamophobia, immigration, and police violence. There were even ads aimed at sowing discord among Beyoncé fans.
These 3,500 ads are from the Internet Research Agency, a Kremlin-backed operation that is the subject of a February indictment from special counsel Robert Mueller's ongoing investigation into possible coordination between the Russian government and the Trump campaign, and which Congress has also been investigating since after the election. The ads in this latest cache were posted between mid-2015 and mid-2017 and demonstrate how the Russian trolls used Facebook's targeting tools to focus its messages on specific demographics of the American population based on users' race, gender, age, sexual orientation, political affiliation, and interest in things like the Tea Party, Malcolm X, "funny pics," Fox News, and Maya Angelou. Perhaps the most striking thing in this batch of ads—other than the Beyoncé campaign—is how fixated the IRA was on racial tensions in general and Black Lives Matter in particular.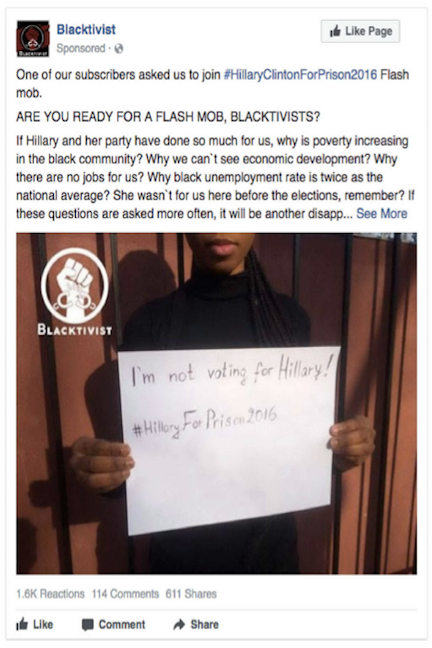 While the messages themselves could be crude and meme-y, the ways the ads were targeted showed that the Russian agents understood many of the complex ways racism afflicts so many aspects of American life, in every corner of the country.
One ad was targeted to exclude Hispanics and Asian Americans but to include black Americans who enjoy the writing of Maya Angelou and are interested in the trial of imprisoned activist Mumia Abu-Jamal; it included text about Micah Johnson, a black American sniper who shot five police officers during a rally against police violence in Dallas. The ad claimed that the mainstream media was working to paint Johnson as a member of the Black Lives Matter movement. "The mainstream Media are telling us, that the protest against police terror is a violent anti-government riot!" the ad read, clearly trying to cultivate distrust in the media among racial-justice activists and those directly interested in writing about race and systemic injustice. This particular ad was shown in July 2016 and included a video with a map of local television stations across the country.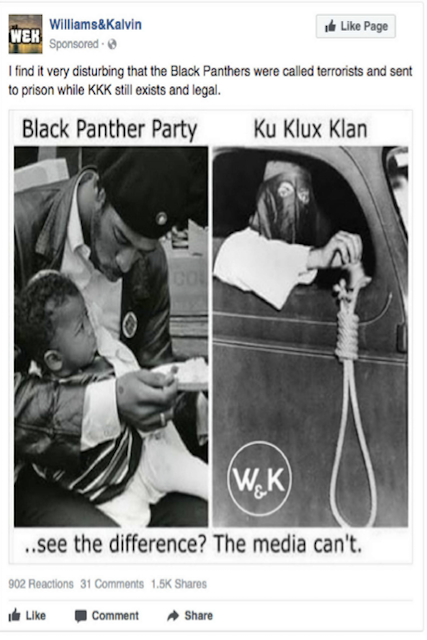 There were ads about white supremacy that targeted people interested in HuffPost's Black Voices section. Another featured an image of a member of the Black Panthers with a baby on his lap next to a photo of three hooded members of the Ku Klux Klan holding a noose under the text, "I find it very disturbing that the Black Panthers were called terrorists and sent to prison while KKK still exists and legal." Hundreds of ads were bought about American racism, laser-targeted to people interested in, to take a few examples, "Understanding racial segregation in the united states," and "Martin Luther King, Jr." and "Black is beautiful" and the "African American Civil Rights Movement (1954-68)." It seemed that the more politically aware and interested in American history someone was, the more likely they were to be targeted by this propaganda. IRA trolls seemed to be interested in reaching people who are deeply invested in political history and expressing their beliefs, particularly on the subject of race in America and institutional violence against black people. Hundreds of the ads were focused on police violence toward black Americans.
The ads come as Facebook says it is working to better protect its platform against interference by foreign agents ahead of the 2018 midterms and just weeks after its CEO, Mark Zuckerberg, sat through two days of questioning from the members of both the House and the Senate about his company's data-privacy practices and other issues, including Russian propaganda. The release of the ads is another clue that even as the spotlight begins to dampen, Facebook isn't escaping intense public scrutiny anytime soon.
Because what's at issue isn't just Russian misbehavior but an entire business model. IRA agents used Facebook's ad-targeting tools just as they were intended: to reach specific groups of people with specific interests, as revealed through their Facebook likes and listed enthusiasms. This is how Facebook became one of the most powerful companies in the world—through an online advertising empire, unregulated and barely equipped to stymie nefarious use. It can be exploited by anyone looking to target people based on negative stereotypes, racial profiling, and extremely specific points of interest, hitting people with just the right kind of messaging that will provoke a reaction. It's potentially dangerous and manipulative, especially when used by foreign agents with an agenda to broaden divisions in the American public for their own political ends. Which explains the Russians' focus on racial injustice, an issue that is always in need of more attention and activism in order for any political change to occur. But the Kremlin's trolls weren't hoping to solve anything—they wanted to make people angry. And Facebook was the perfect place to do it.