The Federal Communications Commission under Chairman Ajit Pai has made a show of its efforts to crack down on robocalls. "I've repeatedly made clear that the FCC's top consumer protection priority is aggressively pursuing the scourge of illegal robocalls," Pai said in a November statement.
He compared the FCC's approach to robocallers to that of "an aggressive cop on the beat" in July.
In March, he said, "We'll maintain our strong approach to enforcement against spoofers and scammers, including the over $200 million in fines that we proposed last year."
Robocalls have been booming in recent years: The screening service YouMail estimates that there were 3.4 billion automated calls made in April, up 900 million per month compared to 2017. The current FCC, for its part, has been taking steps to address the issue when it comes to scams. In November, it issued new regulations allowing phone companies to block calls that come from invalid numbers or show evidence of "spoofing," which involves people tricking caller ID to hide their true identities. The commission also adopted a proposal in March to create a database of reassigned numbers so that businesses don't keep calling the wrong people. And just last week, the FCC fined a Miami man named Adrian Abramovich $120 million over a complaint that he made 96 million robocalls in a three-month period.
Pai has been unsparing in his denunciations of scam calls and has taken concrete steps to crack down on them. Yet he and the FCC have sent mixed signals when it comes to addressing aggressive robocalls from "legitimate" businesses, which have also been known to harass people with incessant calls.
When Margot Saunders, senior counsel at the National Consumer Law Center, testified before the Senate Commerce Committee last month, she provided a table showing that only two of the top 20 robocallers in the U.S. were scammers, according to YouMail. The rest were from established businesses.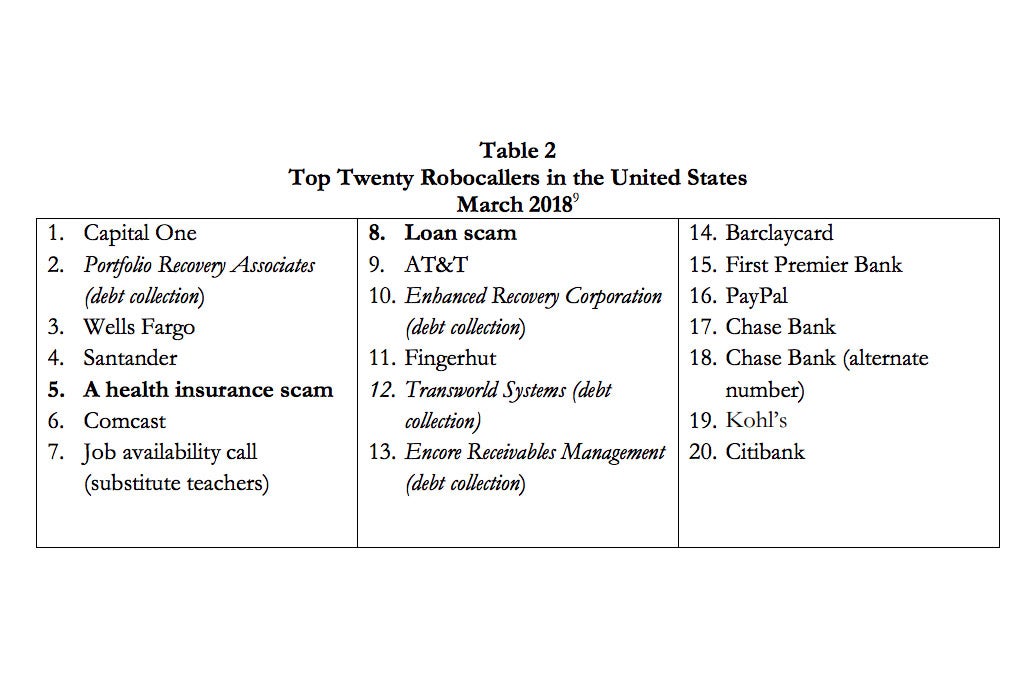 Of course, robocalls themselves are not illegal and can be extremely useful for emergency notifications, appointment reminders, flight cancellations, and other informational purposes. Yet, some companies that do not advertise scams still make robocalls that annoy and harass consumers. The FCC's approach to those companies will indicate the extent to which it's willing to get tough on robocalls. "If your phone is ringing all the time and it's a debt collector trying to collect either a debt from you or a debt that someone else owes, and they won't stop when you ask them to stop … that's a privacy issue that the FCC should be addressing," said Saunders. "We've raised that with them, but they're still talking about scams."
The Telephone Consumer Protection Act (TCPA) is the law that regulates robocalls. Passed in 1991, it dictates that autodialers must have prior consent from consumers to contact them and that consumers have the right to opt out of robocalls. Debt collectors, however, have been known to use robocalls to call their clients relentlessly without permission. Saunders gave a representative case during last month's hearing:
Tonya Stevens of Tampa, Florida purchased some appliances from Conns Appliances, Inc., a Texas company, in late 2014. Although she was making her payments, they were not always on time. Nevertheless, over the next fourteen months Conns called Ms. Stevens on her cell phone 1,845 times, over one hundred times a month, often as much as eight or nine times a day. These calls were made despite Ms. Stevens' repeated requests that Conns' agent stop calling. During one call, she said, "I am at my grandmother's death bed, quit calling." Conns' position is that once Ms. Stevens provided consent to be called on her cell phone she could never revoke that consent.
(Conns didn't respond to Slate's request for comment.)
Many companies have been accused of similarly harassing debtors with robocalls. The student loan company Navient was subject to 599 "communication tactics" complaints to the Consumer Financial Protection Bureau from 2014 to 2017. The complaints, which the bureau has published, include allegations that Navient called one person "in excess of 12 times per day," that it called a person's "past co-workers, childhood friends, and mother in law," and that it dialed the same number "14 times in a 30 minute period." In a lawsuit outlined in the New York Times, a Florida resident accused Navient of pestering him with more than 2,500 automated calls over a two-year period about federal student loans that had already been forgiven. The suit further claims that Navient called him up to nine times a day.
A Navient spokesperson would not comment on the suit or specific allegations, but sent a general statement: "Navient has a well-established, positive track record of supporting student loan borrowers to succeed in repayment … Calls from student loan servicers are proven, effective methods that help people explore repayment options that can help them avoid default."
Saunders filed a complaint against Navient to the FCC last year on behalf of a half-dozen consumer protection organizations referencing these cases and asking the commission to take the company to task for allegedly breaking the law. "We got no response," she said. "When I spoke to them [the FCC] about it, they said they're not going to do anything about it, which I think is too bad." (An FCC spokesperson told Slate that he could not comment on enforcement matters.)
Navient and a host of other businesses have in fact filed petitions to the FCC to exempt themselves from limits on the number of calls they're allowed to make to a consumer per month and the consent requirements. The petitions are currently pending, and consumer advocates are watching to see if the FCC leans toward enforcement or leniency. "What I'm afraid of is that they are leaning towards not enforcing the law against what they call 'legitimate callers,' " said Saunders.
Monique Michael, a senior director at the Credit Union National Association, which is one of the petitioners, argues that there should be an exemption for robocalls when there is an existing relationship between businesses and customers. The exemption currently applies to landlines, but not to cellphones. "We'd like to see an established business relationship exemption for credit union informational calls and text messages for cellphones," said Michael. "We don't think you should need a prior express consent threshold for established business relationships, especially in the context of an industry like ours, where the members are the owners."
Michael pointed to a credit union in Texas that wanted to offer low-cost, short-term lending to people affected by Hurricane Harvey last year, but were unable to because of the TCPA. She said, "My concern is the fact that there's this legal remedy that ultimately impacts legitimate businesses in an adverse way and makes them afraid to want to communicate with their customers."
Saunders' organization wrote a rebuttal to CUNA's petition, which reads in part, "If the information to be imparted by credit unions is so important and valuable to their members, the members will consent to receive it—eliminating any necessity for an exemption. Almost 60 million robocalls are now made monthly by financial institutions just to collect consumer debt; allowing credit unions to make calls without consent would add significantly to this number."
Advocates are also monitoring the FCC's ruling regarding the very definition of autodialers in the Telephone Consumer Protection Act. In March, a federal appeals court rolled back an expansion of the definition under the Obama-era FCC in 2015, which had essentially prohibited debt collectors from using autodialers to reach cell phones. The court ruled that the definition, however, was too broad. Pai praised the decision with a statement that read, in part, "I'm pleased today's ruling does not impact (and, in fact, acknowledges) the current FCC's efforts to combat illegal robocalls and spoofing."
The reaction isn't surprising. In a vigorous dissent that Pai issued to the FCC's original order to expand the definition in 2015, while he was still a commissioner, he wrote, "Rather than focus on the illegal telemarketing calls that consumers really care about, the Order twists the law's words even further to target useful communications between legitimate businesses and their customers." He also argued that while scams and intrusive telemarketers are a problem, trial lawyers have abused the TCPA to file frivolous lawsuits.
Now that courts have struck down the Obama-era definition, it is up to the current FCC to write a new one. Saunders thinks the court ruling and the rewrite could have three potential outcomes: "One—the FCC could do nothing, in which case the issue of how to define an autodialer will be left to the courts. Two—the FCC could define an autodialer in a very restrictive manner, as has been requested already by the Chamber of Commerce, which would hurt consumers and cause many of the calls that are being made to not be covered by TCPA. Consumers wouldn't be able to stop the calls necessarily. Or three—the FCC could cover autodialers as we believe the law requires them to do and adequately protect consumers from the calls."
Maureen Mahoney, a policy analyst at Consumers Union, hopes that the FCC pursues the third outcome. "We hope that they recognize that there's adequate room in the law to issue a definition that covers existing autodialers," she said. "If they issue a narrower definition, it would leave consumers unprotected from millions of unwanted robocalls."
The FCC has announced that it will seek public comment on the new definition and act accordingly. It's possible that the new definition will focus on scams, while largely ignoring the aggressive robocalling behavior of legitimate businesses—continuing Pai's focus on only one part of the problem.