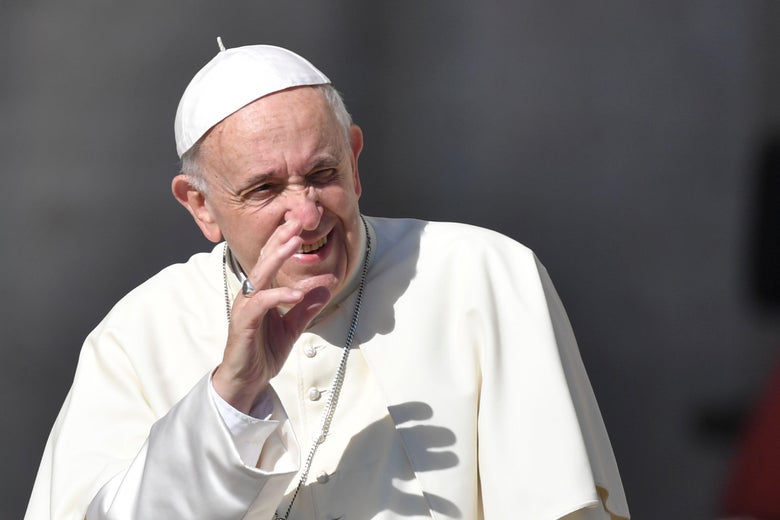 It's a good thing we made Rihanna pope last week, because I've had about enough of Pope Francis' wack opinions on selfies and cellphones. On Wednesday, the National Catholic Reporter published an article in which the pope posited that selfie culture leads to alienation and departure from reality. He came to this conclusion after a recent run-in with some teens.
"They were all there waiting for me," he said. "When I arrived, they made noise, as young people do. I went to greet them and only a few gave their hand. The majority were with their cellphones (saying), 'photo, photo, photo. Selfie!' "

"I saw that this is their reality, that is the real world, not human contact. And this is serious. They are 'virtualized' youths," the pope said. "The world of virtual communication is a good thing, but when it becomes alienating, it makes you forget to shake hands."
This follows his criticism of people who snap pictures during mass in November. This frickin' pope! Perhaps he has not yet discovered how to work his angles? Or how to get his highlight poppin'? Besides, why is the pope acting like wanting to take photos means these teens are that much different than he is? And why is asking to take a photo with the pope considered a lesser (or disqualifying) form of human contact than shaking hands?
The pope is not wrong that humans' relationship to their phones is worth interrogating, but he sure does seem quick to ID selfies as the problem. Why doesn't he stop to consider that for a lot of young people, a far bigger issue is not being able to find decent work or healthcare? We're unemployed and depressed and corporations have spent billions convincing us we need smartphones, thus fueling the world economy; let us selfie in peace!
At first glance, this reads like the classic old-person mistake of assuming that anything involving the internet or a device is less valid than all other forms of human interaction. But maybe the real problem is not that he's old, but that he's the pope. Of course everyone hounds him for selfies; that's how it is when you're @Pontifex. Most elderly people are not dealing with nearly as many selfie requests, which I would wager makes them much less inclined to demonize cellphones. It can't be easy to be constantly cheesing for tourists' pics, but guess what, his holiness? It's also not easy to constantly defend yourself from accusations of moral bankruptcy just because you're young and like to point your camera a certain direction.
Support our journalism
Help us continue covering the news and issues important to you—and get ad-free podcasts and bonus segments, members-only content, and other great benefits.
Join Slate Plus
Join
---