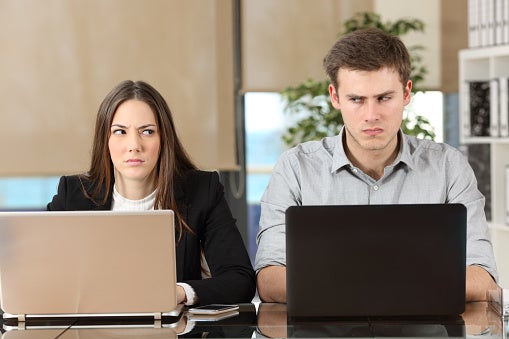 Facebook, which emerged from the ashes of a website that allowed users to decide which of their peers were hot or not, has come full circle and announced its entrée into the dating space. "There are 200 million people on Facebook who list themselves as single," Facebook CEO Mark Zuckerberg said during the company's annual F8 conference on Tuesday, with shades of your relatives who are always trying to fix you up: "So clearly there's something to do here."
When Facebook's competitors in online dating heard tell of their new rival, they naturally had thoughts. Just like you can't help but have an opinion on your ex's new relationship, the Tinders of the world felt compelled to weigh in on this new whatever, and their reactions ran the full gamut of things people say about their exes.
"Your new boyfriend/girlfriend is totally my clone!"
Based on the design specs, Hinge can't help but note how similar your new boo/Facebook dating is to Hinge itself (thinking face emoji/eyes emoji, right?), which to Hinge just proves how pathetic you are and how great Hinge is. Why get with a copy when you can get with the original, again?
"Good for you. And best of luck with that legal trouble you were having, by the way!"
InterActive Corp., which owns the Match Group, the umbrella organization for Tinder, OkCupid, and Match.com, has nothing but well wishes for you/Facebook dating, because, I mean, whatever, you're barely even relevant, so who cares, have a ball. But IAC does have to get onnnne little dig in there, just to be petty.
"Aw, this is the best news! We should hang out some time and catch up."
Bumble is so excited for you/Facebook dating! This is so great for everyone! Hey, have you been working out lately? Because you look great. Maybe this isn't the end of the story for you guys after all.
And here you thought dating itself was hard. Facebook, get ready: It's a jungle out there.
---