The 2018 election is less than six months away, and on Thursday Facebook shared its full plan to fumigate the troll infestation that afflicted it last time. Since Donald Trump won the 2016 race, we've learned about the Kremlin-backed boost his campaign got on the web, where trolls puppeting fake accounts posed as American activist organizations on Facebook, Twitter; and YouTube; where fake news stories written on another continent proliferated; and where ads from secretive groups pushed manipulative, often pro-Trump, almost invariably divisive messages.
Facebook is hoping that this year's midterms won't be a repeat—and that next year the company won't have to relive the public reckoning it's weathered in 2017 and 2018. Which is why starting Thursday, with primaries throughout the country already underway, Facebook shared its new plan for more transparency about where the political ads that are purchased on its platform are coming from, who is seeing them, and how exactly they made their way to you.
Now political ads on Facebook will include a label at the top that says who paid for the ad. When you click it, you'll be taken to a transparency center that collects all political ads running on Facebook. That archive includes information about how much was spent on the ad campaign, how many people viewed the ad, and demographic information about who saw it, like age, gender, and location. If you want to buy a political ad on Facebook, you'll have to go through a verification process to confirm your identity and your location, which should help the company to avoid potentially breaking Federal Election Commission laws that restrict foreign spending in U.S. elections. The new transparency rules don't only cover ads for or against a particular candidate, but also issue-based ads on topics that may be campaigned around during an election, like abortion, gun control, and immigration.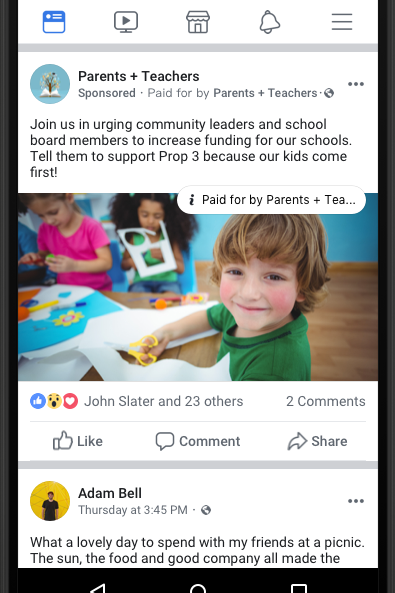 The archive is already up and running. A search for ads from the official Donald J. Trump Facebook page revealed 3,186 as of Thursday afternoon purchased since May 7, when Facebook starting archiving such ads. Clicking to learn more info on one of those ads, which included a video with text about how Trump demands his Department of Justice investigate if the FBI under President Obama surveilled the Trump campaign, reveals that less than $100 was spent to reach between 1,000 and 5,000 people (not bad!), and that it was mostly seen by women over the age of 65 in the states of Florida, Texas, and California.
A search for ads about "Donald Trump" that doesn't specify whether they come from a particular page turned up 13,233 bought on Facebook since May 7. That's … a lot. And that means as election season nears, those numbers will likely balloon to the hundreds of thousands—Facebook's political-advertising business is bustling, obviously.
Facebook wasn't the only social media behemoth to drop a new policy around the upcoming elections today. Twitter shared that in the "near future" it will start labeling political ads that run on its site and verify that people running ads about a U.S. election are indeed in the U.S. The company also shared that it will start verifying congressional and gubernatorial candidates ahead of the 2018 midterms. The verification program paused in November after Twitter got  heat for verifying a white nationalist, Jason Kessler, who was a key organizer of the violent Unite the Right rally in Charlottesville, Virginia, in November. (Though the program wasn't paused for everyone. Serena Williams' very cute baby daughter, Olympia, got her Twitter account verified earlier this month.)
Shortly after the news broke in March that the personal data of as many as 87 million Facebook users wrongfully ended up in the hands of Trump's voter-targeting firm, Cambridge Analytica, the company did come out in support of the Honest Ads Act, which would require political advertisements on Facebook to list who paid for them, just like political ads on radio, print, and television do, and would levy fines on social media companies that don't follow the rules. Still, in an interview with Wired in March, Facebook CEO Mark Zuckerberg said that he doesn't expect the bill to pass.
Earlier this month, Democrats on the House Intelligence Committee released a trove of about 3,500 Facebook and Instagram ads purchased by Russian operatives to influence the 2016 election and exploit and attempt to worsen America's polarized political climate in the months that followed. Facebook estimates that about 140 million people may have seen the Russian ads, purchased by the Kremlin-backed Internet Research Agency. Facebook made a tool earlier this year for users to check to see if they liked or followed a known Russian troll account.
Facebook's new ad-transparency measures are admirable, but that doesn't mean the company shouldn't be made to stick with thes practices by regulation. Facebook could easily decide tomorrow that it's not going to run its transparency center anymore, and it would face no penalty for doing so. Though Facebook says it supports the Honest Ads Act, the company would probably prefer not to face fines for not following the rules. It's still not clear that Congress is going to move to regulate the company around how it collects and stores user data following the round of hearings Zuckerberg sat through last month, but the company is certainly showing regulators that even if they don't act, Facebook is down to regulate itself—at least in this one way. No surprise there.