Most people haven't noticed that there's an official Twitter feed for the Joint Task Force of Guantánamo (@JTFGTMO), the U.S. military installation responsible for managing the detention facility. Even fewer people noticed that something odd has happened: Whoever runs the account has deleted more than 500 tweets since the summer of 2016.
I'm a millennial, so when I began academic research on Guantánamo in February 2015, my first step was to find the U.S. military's official Twitter feed for the naval base. At first, I opted not to follow because it seemed clogged and cluttered with Facebook links. But in summer 2016, curiosity got the better of me. I returned to @JTFGTMO and was pleasantly surprised by the feed, its quirks, and its smattering of inspirational quotes. I became follower No. 1,021. I especially liked the fact that, in April 2016, someone at Gitmo had gotten really into Ralph Waldo Emerson and Winston Churchill: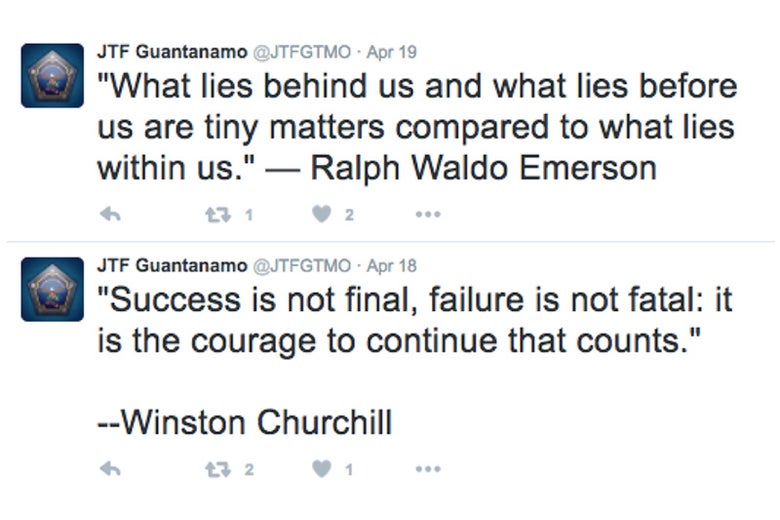 There were also tweets about mature content on the American Forces Network, the importance of consent, and local brew.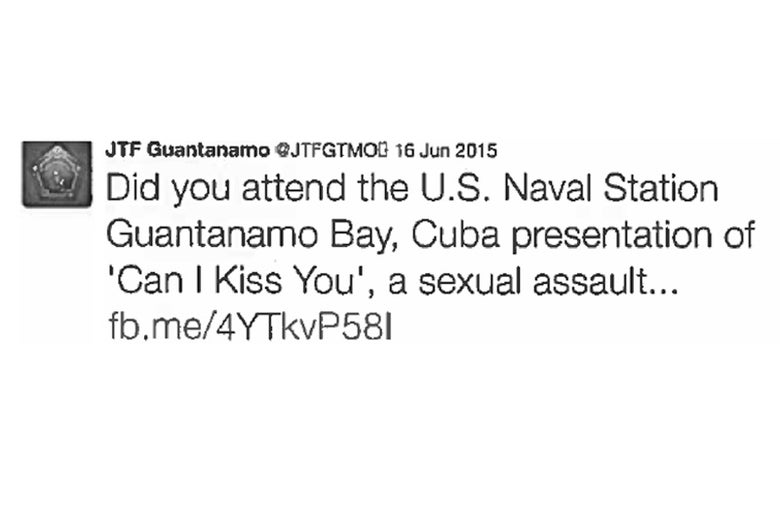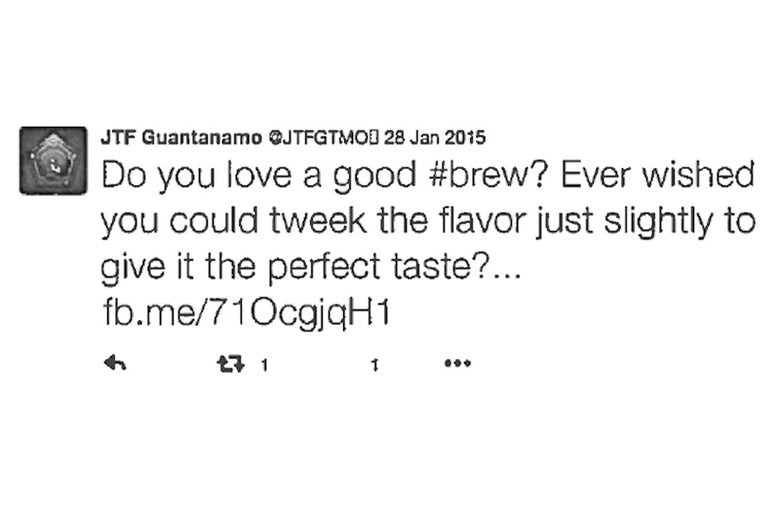 But in August 2016, tweets began disappearing from the feed. On Aug. 2, 2016, there were 1,097 tweets. On Aug. 24, the number was 901. On Sept. 7, it was 716. On Nov. 25, 2016, the tweet tally was down to 509. On Jan. 26, 2017, it went up to 536. And now, as of April 6, 2018, it's up to 650.
This discovery felt like the digital equivalent of finding entire chapters missing from a history book. Now, if you go and skim through @JTFGTMO, it's a celebration of diversity, dental hygiene, and even Dr. Seuss. Gone are the weird and delightful tweets that offered a window into military culture on the base.
I was interested in knowing what prompted @JTFGTMO to delete all those tweets. (In what may be a coincidence, I had retweeted some of those Emerson and Churchill quotes in August, about the time when tweets started to disappear.) So, I reached out to the Joint Task Force's media representative in the hopes that they would set the record straight. Was this mass deletion of tweets intentional or the result of a rogue individual? Were the tweets coming back?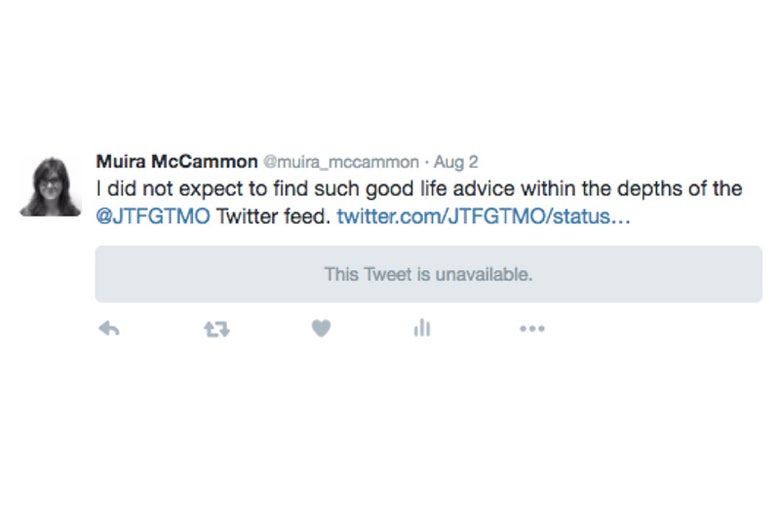 According to the former Joint Task Force Public Affairs Officer U.S. Navy Capt. John Filostrat, many of the deletes happened out of concern that they revealed too much information about the base and the service members stationed there. As for the motivational tweets, he said that they "were removed because they had no relevance to JTF-GTMO operations."
The tweets that shared too much had mostly originated from "The Wire"—not the HBO show, but a publication for and by those stationed at the Joint Task Force. It's a publication I was already familiar with, having read back-issues on a military website. But that page now displays a 404 error. Was it being printed anymore? Would I still be able to read entire issues, or had some content been deemed unsuitable for civilian readers? Filostrat responded that the articles and photos from "The Wire" were still posted on the Joint Task Force's public website. In December 2016, when I pointed out that the link for "The Wire" was a blank page, he responded, "Our currently website is undergoing changes as we migrate to a new server and system." Of course, eliminating links to entire issues of "The Wire" doesn't remove them from the internet. For instance, issues of "The Wire" from June 14, 2002–July 15, 2016, are accessible here on the Internet Archive's Wayback Machine.
But useful as the Wayback Machine is, it is not enough. For starters, the Joint Task Force started its Twitter feed back in May 2010, but the Wayback Machine only saved its first copy of the Twitter feed on Sept. 27, 2012. If the Joint Task Force had tweeted and then deleted a bunch of tweets between May 2010 and September 2012, we likely wouldn't have ever known.
So, what I do now is make my own web archives using Rhizome's Webrecorder, a project that just received a $1 million grant from the Andrew W. Mellon Foundation. (Full disclosure: In 2016, I was a fellow at the Harvard Law Library Innovation Lab with Rhizome's software director, Ilya Kreymer; in 2017, I received a microgrant to create archives of federal agencies' Twitter feeds. That work is ongoing.) Out of fear—and because I don't fully trust the Joint Task Force to be transparent—I periodically go to its Twitter feed and archive the latest tweets from the detention facilities, because you never know when someone there might decide to go on a deletion binge. Just last December, more than a year after I first followed the Twitter feed, I stopped printing out tweets and instead made my own archive; days later, the most recent tweet from November, a photo of JTF troopers participating in what had been titled a Figure and Fitness Competition, was nowhere to be found.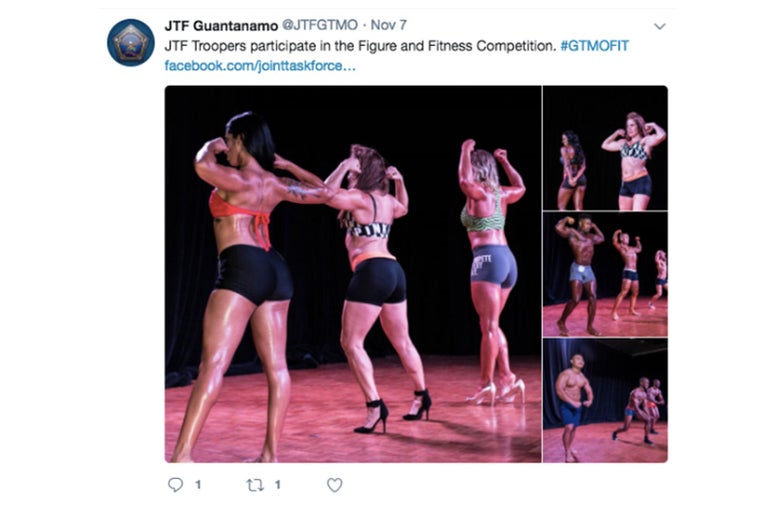 And as trivial as some of the deleted tweets may seem, they are still windows into a world most of us will never witness firsthand. As a concerned citizen and doctoral student focusing on military communication and digital culture, it aggravates me that someone saw it fit to take an eraser to the lived experiences of people serving in the military. This tweet, it turns out, was deleted sometime before Defense Secretary Jim Mattis made a surprise visit to the base. I wish I could talk to whoever hit "delete" on this tweet. I might even give them a tutorial on web archiving—to demonstrate that yes, I'm watching, albeit from afar.
When it comes to @JTFGTMO's followers, I'll admit that we are a diverse and fairly small group: As of April 6, there are 1,945 of us. There are Trump supporters, a self-described "national security law nerd," plenty of habeas corpus attorneys, veterans, and a hodgepodge of others. But who does the @JTFGTMO really tweet for? Certainly not former detainees, a growing number of whom are now on Twitter.
Thousands of people have shaped the legacy of Gitmo. Some have certainly been more influential than others, but each person—whether a journalist, Marine, translator, U.S. representative, senator, or president—fits into the larger historical puzzle. To understand Gitmo, we can't just analyze its policies; we have to also look at its people, and what they want to show and tell the world about its policies, practices, and landscape. I took my frustration via email to Andrew Hoskins, an interdisciplinary research professor of global security at the University of Glasgow. He believes that digital gatekeepers wield great power and are rarely held accountable for their role in reshaping organizations' historical narratives. "The historical record of organizational culture," he wrote, "is particularly vulnerable to reshaping when it is part carried through social media. JTF media managers therefore need to publish a complete archive of all their official social media postings and curation, if they want to avoid suspicion of having something to hide, and to ensure that @JTFGTMO lives up to their 'transparent' motif."
When I read his words, I muttered to myself, "Well, that's never going to happen."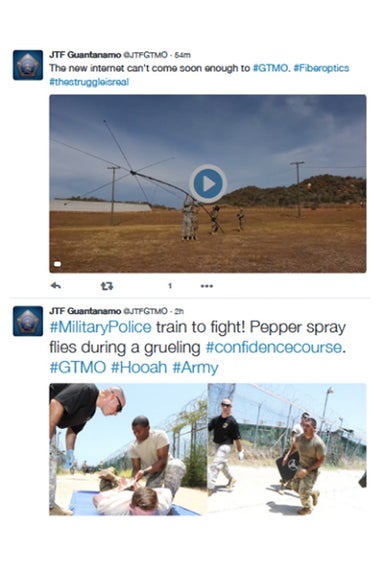 Still, as a researcher, I regard a tweet from the official Joint Task Force of Guantanamo Twitter feed as a window into a place most U.S. citizens will never visit in person. There are, certainly, others, who tweet from the facility. Carol Rosenberg, a journalist with the Miami Herald, has tweeted thousands of messages during her many visits to Gitmo. Over the past 15 years, a number of human rights attorneys, including David Remes and James Connell, have also turned to Twitter to explain the challenges that they have faced while representing their clients who are detainees at Gitmo. A number of veterans have tweeted about Gitmo after concluding their service. I have not yet encountered anyone on active duty maintaining a Twitter feed from Gitmo, but we can all imagine why: Many accounts run by individuals stationed at the detention facility are likely locked, lacking profile info, or simply nonexistent. There are obvious reasons to suspect why Facebook is probably more popular among service members at Gitmo: It's easier to keep journalists and activists out.
I myself went to Gitmo in June 2017. I chose not to tweet during my time there. It wasn't a strategic decision. There was a lot to say, and there was even decent wireless in my apartment. But I chose to take notes, to go for walks at night, to speak about what I saw into a dinky recorder. I didn't know what to say, what to tweet. I decided after my first day that it was futile to try to hash out my mixed emotions toward the medium: I would simply abstain. I kept an audio diary, and to date, I haven't shared those files with anyone. I saw and felt things at Gitmo that couldn't fit within a single tweet.
The managers of @JTFGTMO are trying to do right by their Twitter feed in an extremely complex environment. But are their tactics really all that different from their offline behavior? I often come back to a line in Murder at Camp Delta, a book by Joseph Hickman, a former U.S. Army staff sergeant who served at the detention facilities at Gitmo. In his book, he talks about how guards would try to "make sure everything looked its best" when journalists visited and put on an "act" or them. In many ways, the Twitter feed is just that: a piece of digital theatre, a spectacle of security. We rarely get a glimpse of what happens backstage. But thanks to the power of web archiving I, this audience of one, can make sure that these deleted tweets are available for future generations to see—as they should be. And while we may never know the identities of all who work in the darkness, we can resist this theatrical stunt.
Read about Muira McCammon's weird, tedious, and infuriating attempt to track down federal agencies' policies around deleting tweets.