"The best products don't win. The ones everyone use win," wrote Andrew Bosworth, a Facebook executive, in a 2016 post on the company's internal network that was leaked to and published by BuzzFeed on Thursday.
The "ugly truth," Bosworth went on, is that "connecting people" was Facebook's mission, and growth its lifeblood. And so the company and its employees had to pursue those goals relentlessly—even at the potential cost of some users' lives. He reportedly wrote the post the day after a Chicago man had been shot dead on Facebook Live.
Since BuzzFeed published the text of the post, Bosworth has deleted it, saying that it did not represent his actual views but was meant instead to spur discussion within the company. Facebook CEO Mark Zuckerberg also distanced himself from Bosworth's 2016 memo, calling it "one that most people at Facebook including myself disagreed with strongly." The company is now reportedly roiled by internal debate over the leak of Bosworth's post, his subsequent decision to delete it, and—apparently to a lesser extent—the substantive questions it raises about Facebook's ethics, business model, and impact on the world.
Executives at Facebook and other Silicon Valley tech companies can publicly disavow Bosworth's memo all they want. But he's hardly the first to give voice to that outlook: Wired's Fred Vogelstein recalls that Zuckerberg and company used to conclude their Friday all-hands meetings by shouting the word "domination." And a disastrous past few weeks for some of the tech industry's brightest stars have made Bosworth's "ugly truth" more relevant than ever. From Facebook to Uber to Tesla and beyond, there is a reckoning underway: one in which these companies are being called to account at last for the recklessness that now appears to have been a feature of their success, not a bug.
At the same time that Facebook is trying to downplay Bosworth's growth-at-all costs manifesto, Uber's new CEO is apologizing for his company's past obsession with growth as it deals with the fallout from a fatal accident involving one of its self-driving cars. And Tesla disclosed Friday night that its autopilot technology was involved in the fiery fatal crash of a Model X in the Bay Area last week. The admission came as its stock was already plunging due to its failure to keep up with its own wildly ambitious production timelines. An April Fool's joke from CEO Elon Musk about bankruptcy fell flat.
It's a dark time in Silicon Valley, and while the causes of these tech titans' struggles are diverse, a common theme runs through them: In each case, the companies either explicitly or implicitly accepted users' deaths as the cost of rapid innovation and market dominance.
Facebook became the world's most popular social network, and one of its most valuable companies, by building a news feed and advertising service that capitalized on people's interests, biases, insecurities, and obsessions. No doubt the company's leaders, including Zuckerberg, genuinely believed that "connecting people" was a worthy mission. But the reality, which Bosworth's post acknowledged, is that connecting people—that is, adding ever more users and getting them to spend ever more time on Facebook—was obviously a business imperative above all.
"Make no mistake, growth tactics are how we got here," Bosworth wrote in 2016. "If you joined the company because it is doing great work, that's why we get to do that great work. We do have great products but we still wouldn't be half our size without pushing the envelope on growth." But pushing the envelope on growth has put Facebook in positions it was not built or prepared for, such as mediating hate speech and propaganda that are allegedly fueling genocide in Myanmar. That Facebook also facilitates commerce, activism, and critical communications in Myanmar means it's too late for it to simply pull out of the country. It got so big, so fast that much of the world is now stuck with it, for better or worse. Facebook Live, which allowed anyone to stream live video to their friends and the public, has likewise been criticized at times for connecting people a little too seamlessly—making it too easy, for instance, for people to commit a murder, or suicide, in front of an online audience. But Zuckerberg was reportedly "obsessed" with making it work, to maintain Facebook's edge amid competition from Snapchat and Twitter's Periscope.
Facebook succeeded in fending off those threats, just as it has succeeded at many similar junctures in its history by aggressively prioritizing growth and user engagement over concerns about user privacy, social media addiction, and the effects of its news feed algorithm on business partners, the media, elections, and society at large. Zuckerberg can disavow Bosworth's sentiment, but he can't disavow the company's long history of moving fast and breaking things. Even when he changed the company's unofficial motto, the "move fast" part remained.
Now, with Facebook in the midst of a sustained PR crisis that has hardly let up since the 2016 U.S. election, the company's leaders may finally be rethinking their priorities in earnest. They've begun openly discussing some of the social network's downsides for democracy and mental health. They've rolled out one tool and algorithm tweak after another to try and address problems such as fake news, clickbait, foreign election interference, discriminatory ads, abuse of user data, and many others that Facebook's own products either created or facilitated. The company warned in January that it is making changes to the news feed that might cause people to spend less time on the site. Weeks later, the company revealed that it had suffered a net decline in active users in the U.S. and Canada for the first time in its history.
It's like Facebook was the bus in the movie Speed, only instead of having to keep the speedometer above 50 mph, its leaders thought they had to keep accelerating—even as the collateral damage piled up. Now it's tapping the brakes for the first time, and some people are holding their breath to see if it explodes. But perhaps the more realistic danger is that it already has too much momentum to be brought under control.
Growth has long been central to Silicon Valley's self-conception writ large. Entrepreneur and investor Paul Graham, founder of the industry's most influential startup accelerator and one of its most popular discussion boards, believes growth literally defines a startup. His 2012 essay "Startup = Growth" has become a sort of manifesto for tech entrepreneurs. If you want to found a successful startup, he wrote:
The only essential thing is growth. Everything else we associate with startups follows from growth. … The good news is, if you get growth, everything else tends to fall into place. Which means you can use growth like a compass to make almost every decision you face.
Bosworth's controversial Facebook post channeled precisely that outlook. And while some in Silicon Valley have challenged or sought to qualify Graham's credo, it has taken on a status akin to gospel in the entrepreneurship world.
So it's hardly surprising that Facebook is not the only Silicon Valley giant grappling with the trade-off between momentum and control. Google's YouTube recently admitted that its moderation system has failed at basic tasks such as keeping fake news and conspiracy theories out of its trending news section, keeping terrifying and creepy videos out of its YouTube Kids product, and dealing with videos that depict child exploitation and abuse. Twitter has been overwhelmed by bots, trolls, and Russian agents, and its Periscope livestreaming service has lent itself to the sexual exploitation of minors. And Uber's growth-hacking tactics were either infamous or legendary, depending on your perspective. They're how the company overcame the taxi industry's incumbency, outflanked skeptical regulators, and overwhelmed rival Lyft to dominate ride-hailing. The company spied, sabotaged, and cheated its way past every obstacle—then pushed aggressively into self-driving technology when it saw an opportunity to take on not just taxis, but the entire auto industry. Like Facebook, Uber has been thrust into damage-control mode over the past year. A #DeleteUber social media campaign, the ouster of its CEO, a lawsuit from self-driving rival Waymo, and setbacks in crucial foreign markets have pummeled the company's value and public image.
Last month, one of Uber's self-driving test cars became the world's first to kill a pedestrian, mowing down an Arizona woman on a dark desert night when its human overseer wasn't paying attention. Subsequent reporting made clear that the disaster was inevitable. At every step, Uber's self-driving program had pushed the envelope of what its technology could safely achieve, putting commercial cars on public roads before rivals such as Waymo even though its system was less advanced. Now that program's future is in peril: It has been suspended in Arizona, it's expiring in California, and other state governments are reconsidering their previous support.
In a New Yorker profile published last Thursday, Uber's new CEO Dara Khosrowshahi talked about the challenges of trying to steer the company onto a safer, more ethical path without losing ground to rivals. "We were probably trading off doing the right thing for growth, and thinking about competition maybe a bit too aggressively, and some of those things were mistakes," he said.
Tesla, run by perhaps Silicon Valley's proudest, brashest, and most widely admired entrepreneur, has yet to acknowledge such mistakes. CEO Elon Musk has made his name by promising the seemingly impossible, and then somehow—more or less—delivering it. But even it may soon be forced to rethink its strategy. Now the company faces perhaps its tightest scrape yet as it scrambles to meet its own production commitments for the $35,000 Model 3 sedan, its grand entrance into the automotive mass market, while running short of cash.
Tesla has already reduced its estimates and pushed back the timeline repeatedly as it grapples with quality-control problems that Musk himself described as "production hell." Moody's recently downgraded its bonds, warning that Tesla may lack the cash necessary to cover its operations. A prominent industry analyst issued a report last week suggesting that the company had pushed factory automation too far, too fast, according to the Los Angeles Times, and "may have shot itself in the foot."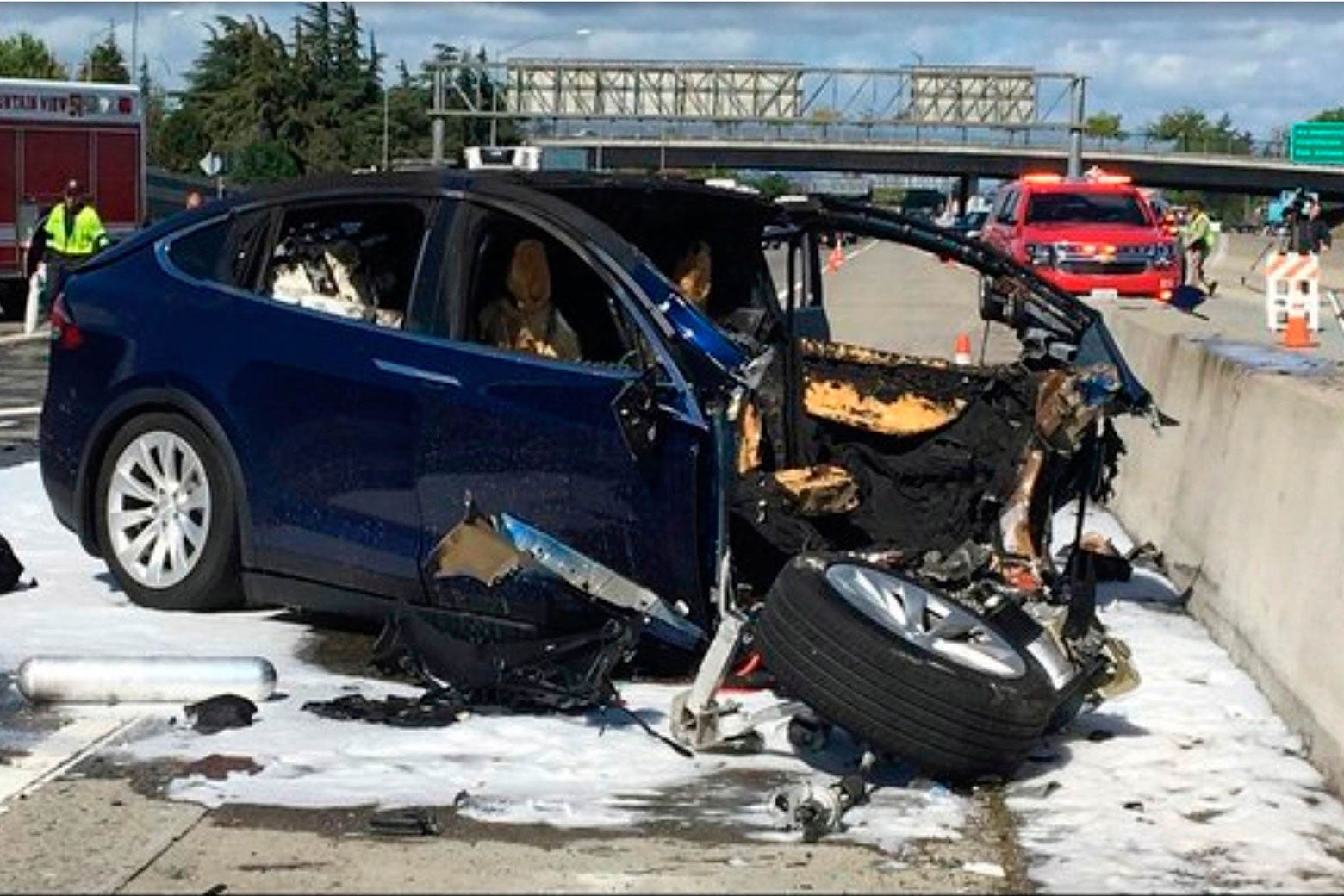 And all that was before the company disclosed on Friday that a Model X that recently crashed and caught fire in Mountain View, California—killing its driver—had been on Autopilot. Tesla had already taken heavy criticism for the safety of its Autopilot system after a Model S driver using Autopilot was killed in a 2016 crash in Florida. Auto-industry insiders and observers alike argued that the company was putting the public at risk by introducing a self-driving system that tempted drivers to relax behind the wheel even though it was not yet advanced enough to function safely without human oversight. Indeed, Tesla said the driver of the Model X that crashed last week had his hands off the wheel for six seconds before impact and had been warned repeatedly by the system to pay closer attention.
Tesla defended its Autopilot in the wake of the 2016 Florida crash by arguing that it saves more lives than it costs. Facebook's Bosworth argued in his post that connecting people brings benefits as well as drawbacks. Uber has defended itself as good for workers and the economy.
All three companies are what's known in Silicon Valley as "mission-driven"—that is, they see themselves as serving a higher purpose in the world than shareholder profit. No doubt all three have in fact been good for the world in many ways beyond aggregating wealth in the hands of their investors. But as Bosworth's memo makes clear, it's easy to fall into the trap of conflating the two to the point that business growth and mission become inseparable.
When your company's ends are as grand as "bringing the world closer together" or "accelerating the advent of sustainable transport," it becomes pretty easy to justify unsavory means. For example: Facebook in 2016 secretly built a censorship tool, presumably to pave the way for future entry into China. According to reporting by the New York Times' Mike Isaac, Zuckerberg responded to employees' concern by assuring them, "It's better for Facebook to be a part of enabling conversation, even if it's not yet the full conversation." If you've reached the point where you're ready to hand censorship tools to an authoritarian regime in the name of making the world more open and connected, it's time to ask what mission you're really serving.
Bosworth's "ugly truth" isn't just a truth about Facebook, or Uber, or Tesla. It's a truth about the hypercompetitive environment in which many, if not all, Silicon Valley startups operate. If your social network doesn't do everything it can to get as big as possible as quickly as possible, the thinking goes, someone else's will—and they'll be the ones who get to shape the future while your business fizzles. And we hear so often about the "race" to put self-driving cars on the road that it normalizes the prioritization of speed over safety. The race to automation—of content distribution, advertising, online speech moderation, transportation—is a 21st-century twist on the race to the bottom in which competitive pressures undermine ethical and regulatory standards. (Actually, the competition among countries and U.S. states to attract self-driving cars bears some striking similarities to the original turn-of-the–20th century use of the phrase, too.)
What could tame the excesses of this deadly competition? One answer might be the market itself, albeit belatedly and tepidly. Skittish investors have dented the valuations of Facebook, Tesla, and Uber to varying degrees. And some consumers have voted with their thumbs via the #DeleteFacebook and #DeleteUber boycotts. More significant in the long run might be the effects of reputational damage on employee recruitment and retention: That's why Facebook insiders see the company's leaks as such a grim sign.
But as long as the market rewards runaway growth more enthusiastically than it punishes runaway impacts on society, the tech industry is unlikely to change its priorities. For that, we may have to turn to something that's long been anathema to Silicon Valley: government intervention.
For years, U.S. regulators and legislators have used the rapid pace of innovation in the tech industry as an excuse to stay out of the fray. Laws that restrict fast-evolving technologies run the risk of becoming obsolete or counterproductive, or choking innovation with red tape. The policy establishment, especially on the Republican side, has been influenced by lobbyists advocating a "light touch" and pitching "self-regulation." The premise is that the companies themselves know better than lawmakers and regulators how their technologies work, and can be trusted to deploy it responsibly.
The former is no doubt true: Government officials routinely reveal mangled understandings of the tools they're tasked with overseeing, partly because tech companies do a poor job of communicating how they work. That will certainly pose an obstacle to productive government intervention. And even the tech-savviest policy thinkers have yet to agree on the proper framework or mechanisms by which to hold Silicon Valley more accountable. New digital privacy laws, advertising disclosure requirements, clear safety standards for self-driving vehicles, and public interest standards for internet platforms could all help if formulated and enforced thoughtfully—although that's a big "if." Ma Bell–style breakups would probably be premature, but a more credible threat of aggressive antitrust action could go a long way toward shifting companies' incentives.
Regardless, it's clear by now that the latter part of the tech industry's anti-regulation argument—that tech companies can be trusted to keep their own ambitions in check for the sake of society—is no longer tenable. If we want to hold Silicon Valley to higher standards, we need some new rules of the road—fast.