This article is part of Watching YouTube, a Slate series about YouTube.
It's natural, when you're commissioned to write about YouTube every day for a few weeks, to focus on what's popular on the video platform. But YouTube is also a vast library of the obscure and ignored, which is why I recently decided to find the least popular YouTube upload of all time. As a cantankerous weirdo, I am personally more interested in the oldest videos seen by the fewest people than whatever's trending on any given day. Sorry, yodeling kid.
This task is more difficult than you might think, especially given that YouTube doesn't really let you filter your searches by "historic unpopularity." Assuming that YouTube failure is a function of indifference over time, I used Google's site search with a custom date range to seek out videos uploaded within the first two months of YouTube's life span: April 23, 2005, through June 23, 2005. I was looking for a video that had been up continuously for almost all of YouTube's existence and still had barely managed to find an audience: the least viral video of all time.
At noon on the day of my safari last week, I thought I had found the winning losing video: this short clip of the Canal Street subway station in New York City.
With 1,600 total views since its June 16, 2005, upload date, this is one seriously unpopular video. But was it the most unpopular video? It was not—not by a long shot. "NYC Subway: Canal Street Station," though an empirically unsuccessful video, is more than 10 times more popular than our ultimate champion. The least popular YouTube video of all time—at least according to my idiosyncratic criteria—is this 30-second video, titled "Dinner," from June 19, 2005.
In almost 13 years of life, "Dinner" has been viewed a mere 139 times—and several of those views probably came from my editor and me. According to my calculations, this breaks down to roughly 10.83 views per year, 0.9 views per month, and 0.03 views per day that it has been online. "Dinner" has received one thumbs-up, zero thumbs-down, and zero comments. The video's description is one sentence long and says, simply, "Antoine is preparing his personal meal." I can only assume that "Antoine" is the talkative fellow holding the skillet in the video—our protagonist, if you will.
Let's go to the tape to try to break this video down.
"Dinner" is about a man preparing dinner. This is a relatively simple premise—perhaps too simple. In order for a video to go viral, something unexpected generally has to happen. "Dinner" would probably have been much more popular if, instead of being about a man cooking dinner, it had been about dinner cooking a man.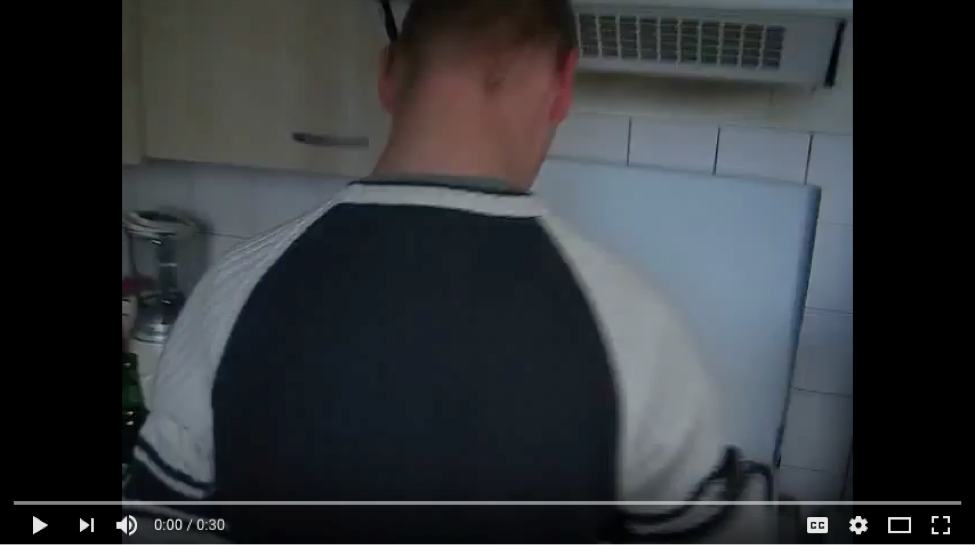 Then, we see Antoine in extreme close-up, smiling that classic Antoine smile. "What are you cooking, Antoine?" I assume the cameraman asks. They are speaking a foreign language—Dutch, I surmise—so I do not actually know what either man said. (Judging from the other videos that the creator of "Dinner" has uploaded, it is safe to say that "Dinner" takes place in the Netherlands.) To capture American audiences, this video probably should have been dubbed over in English, preferably with the voices of popular celebrities, like Adrien Brody. That said, YouTube exists in Holland too, and "Dinner" has also failed to find viewers there. Truly, this video's unpopularity spans cultures.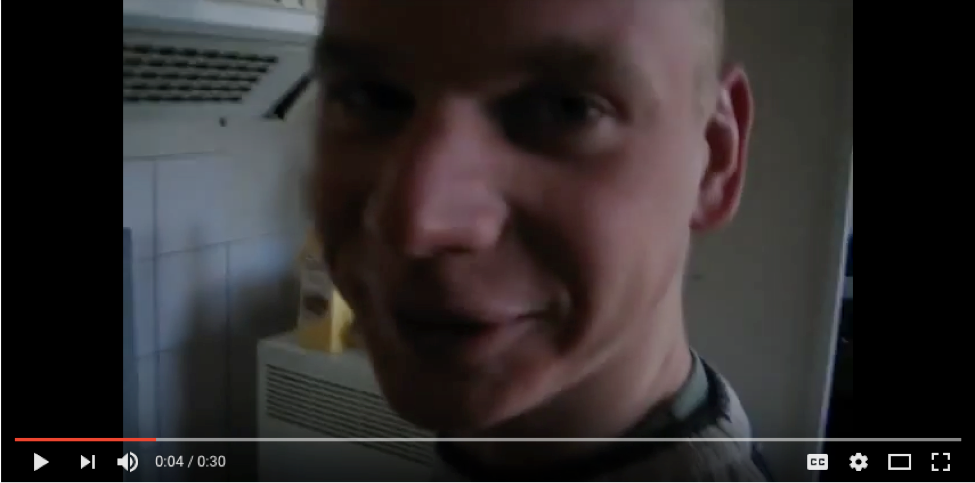 All of a sudden, another man enters the kitchen—a classic "funny roommate" character, I presume. The guy has something of a McLovin look and might have been a fan favorite had the director taken some time to develop his character. But the funny roommate doesn't really do anything with his screen time, blowing the opportunity. Why not have him burst into the kitchen and start yodeling or something? If he had done that, all three of these guys would have ended up on Ellen.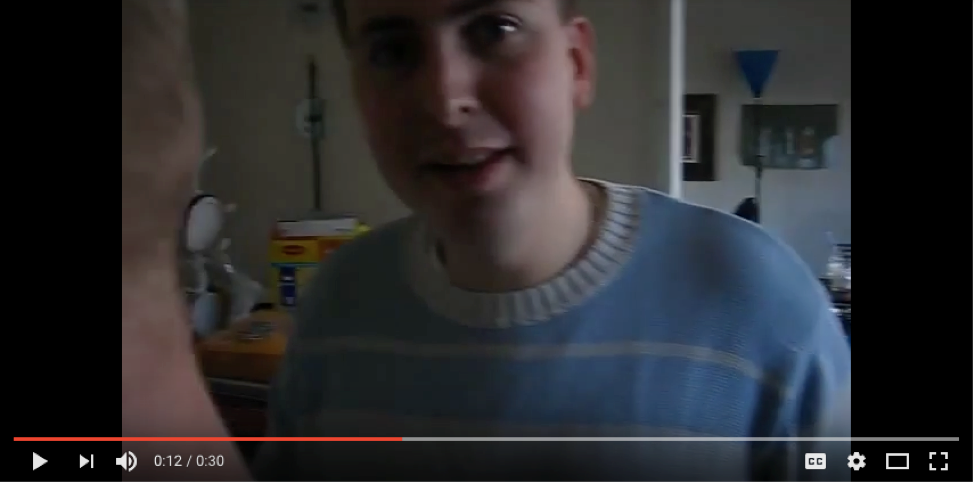 As they banter, we take another look at the cooking range, which appears to be quite dirty. I say appears because the room is very dark and poorly lit, and also the camera is unsteady. Lo-fi shaky-cam shots can be a valid aesthetic choice, and it's reasonable to assume the filmmaker may have been going for a Blair Witch effect or something like that. But that's still no excuse for bad lighting. Turn on a lamp or something!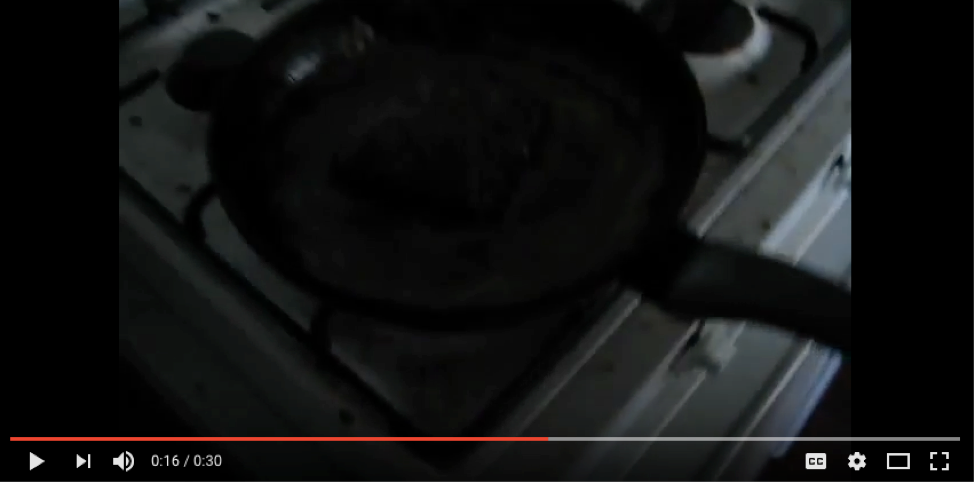 And then we go back to Antoine, with the funny roommate sort of half in the background, and a bunch of Heineken bottles on a table in between them. This is probably a good point to say that while Antoine is a cheerful protagonist, there has been very little character development and I don't really care about his plot arc at this point. Also, the funny roommate should be chugging the beers in the background. Instead, he just stands there, half in and half out of frame. Another missed opportunity!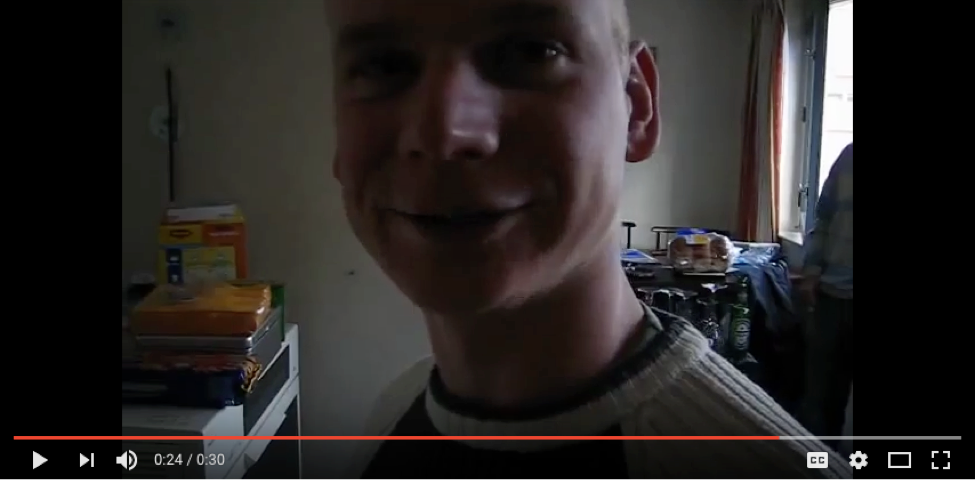 As Antoine turns back to his task, the cameraman zooms out and the video comes to an end, leaving several questions unanswered. What was Antoine cooking? Why didn't he have any ingredients or any cooking implements other than a skillet and table knife? How did the dinner end up tasting? And what did they have for dessert? Cliffhangers are great for television series and whatnot, but when I'm watching a 30-second YouTube video, I need a clear resolution. I don't want to have to wait for the sequel!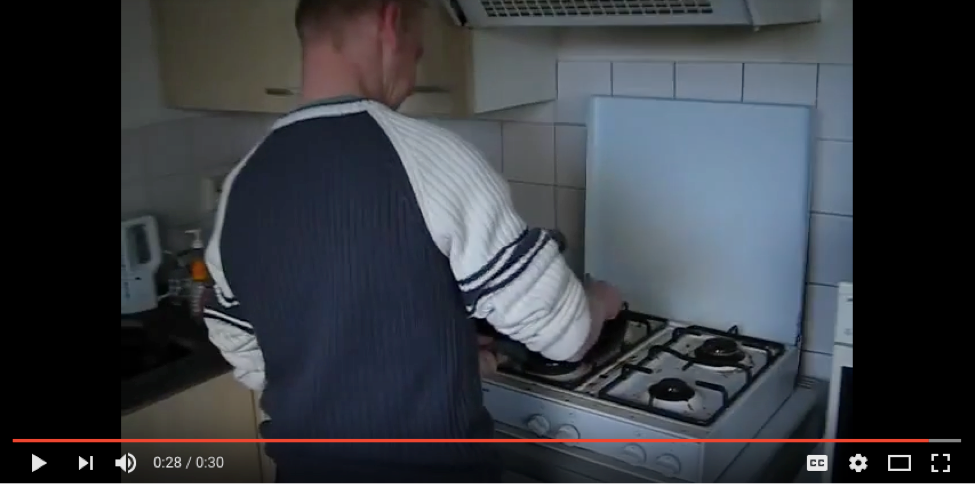 (For the sake of thoroughness, we must acknowledge the slim chance that "Dinner" might be stuck on 139 views thanks to a glitch in YouTube's system. YouTube does freeze some videos' view counts from time to time to "verify that views are real and accurate"—i.e., not manufactured by bots. I doubt that that is what has happened here. If the creator of "Dinner" paid a botnet to boost his video's view count, he should ask for his money back.)
Sadly, there was no sequel to this video, perhaps because so few people watched it, or perhaps because the funny roommate took his skillet and table knife with him when he moved to a new apartment later that month. Today, it lives on as an almost entirely unnoticed artifact of YouTube's Pleistocene era: a time before GoPro cameras, high-def video, wealthy vloggers, monetization, and worldwide trending pages. A thoroughly unexceptional clip, of interest to no one except the people who filmed it, "Dinner" may not be the least popular YouTube video ever—it's always possible that there are other even less watched old videos out there that have just escaped my notice—but it is certainly one of them.
Of course, the unfortunate fact is that by writing and publishing this article, "Dinner" will see an influx of viewers and will no longer be the least popular video on YouTube. By calling attention to this video, I have simultaneously deprived it of its one claim to notability and distinction. Come Tuesday morning, some other old and bad video will have assumed the least-popular mantle, and "Dinner" will fade into even greater obscurity. Sorry about that, Antoine.