According to Wikipedia, people are pretty upset about Monday night's season finale of The Bachelor.
Almost three hours into its exhausting broadcast, the show cut away to a live shot of host Chris Harrison. We had just watched the bachelor himself, Arie Luyendyk Jr., break off his weeks-old engagement with the season's ostensible "winner," Becca Kufrin. "I know everybody's just aghast here," Harrison said, feigning something like ordinary human horror while half-heartedly disguising his obvious glee. "To say this is trending and blowing up social media right now is a gross understatement."
Harrison wasn't wrong. There were tweets aplenty, from frank disgust with the show and its producers to viral snark by former competitors whose own sins no longer looked so bad. Surely there were plenty of Instagram stories, Facebook posts, and probably even Vero rants too. But you didn't need to log on to social media to catch a glimpse of viewer outrage. If you wanted to see it in action, all you had to do was pull up Luyendyk's Wikipedia page.
The edits came fast and came brutal throughout the evening. One early addition revised his name, referring to him as "Arie 'The Snake' Luyendyk Jr." and correctly calling him "incredibly indecisive." Another altered the page's introductory section to read, "He is worse at being the bachelor than he was at being a race car driver. America hates him." More earnest editors, committed to the site's serious-minded purpose, were quick to undo these changes, gamely tagging their attempts to correct "possible vandalism," but the hits kept coming. "The Snake" became "The Dirty Rotten Snake" and someone else modified the caption on a photograph of Luyendyk to note that it had been shot "before he was hated by America."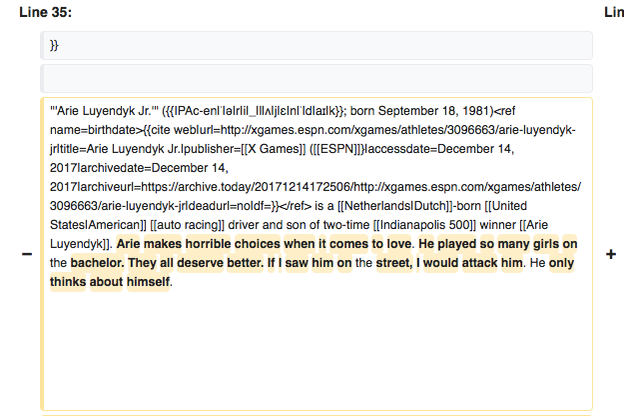 This back-and-forth went on for hours, culminating only when "master editor" Cullen328 bestowed protected status on the page for a full week. For now, at least, its revision history remains as testament to the evening's edit wars.
Wikipedia vandalism is nothing new, of course. It's so common, in fact, that the site maintains an entry on the topic, one that singles out Stephen Colbert for "frequently suggesting on air that his viewers vandalize selected pages." Many of the most famous incidents have been politically motivated—see, for example, the time in 2015 when someone replaced Donald Trump's page with the phrase, "Let's be fair, nobody cares about him"—while others were merely pranksterish. The site being what it is, its dedicated editors also maintain a record of "Most vandalized pages"—a list that includes such obvious targets as "Beaver," "Donald Trump," and "Never Gonna Give You Up." Only time will tell whether Luyendek's article joins their number, but it seems more likely that the fad will pass quickly.
Whether or not it does, however, the late-night changes to Luyendyk's page stand out, speaking directly to the irresolvable combination of real emotion and ironic bemusement that viewers bring to The Bachelor. This is a show that almost transparently works to manufacture drama, allegedly even tracking "contestants' menstrual cycles for maximum manipulation." Simultaneously, it asks us to believe that people really can and do fall in love while competing with dozens of other beautiful singles for the attention of one eligible dope. Its stories unfold as if in a kind of romantic superposition, at once deeply felt and overtly artificial.
While the edits to Wikipedia may violate the encyclopedia's goal and purpose, they nevertheless map well onto the quantum strangeness of The Bachelor writ large. Those changes may have been jokes, but there's still a kernel of affective truth to them. They don't belong on the site, but they still capture what it tries to embody, a record of the factors that make people, places, and things notable. In this case, Luyendyk's notability just happens to be a question of his perfidy. Once we've all calmed down, perhaps we'll find a more appropriate way to enshrine that fact in his permanent record.