As the country continues to debate gun violence in the aftermath of the Parkland shooting, we've seen some of the usual misdirected discussion of whether video games bear some responsibility. President Trump, for example, will meet this week with video game manufacturers to discuss the "ongoing debate over school safety"—a topic an administration wary of engaging with gun control would certainly rather frame around gaming consoles and lines of code. While research currently does not suggest that video games lead to real-life violence, the question of whether communities can is another issue. And a couple of online hubs for gamers have a particularly ugly record when it comes to deifying school shooters—and one in particular hasn't done a very good job cleaning up its platform.
On Steam, one of the world's biggest online gaming communities, there is no shortage of discussion groups dedicated to school shooters. One such group that was live on the site on Wednesday, called "I'm Future School Shooter Materi [sic]," implores users to "join if you want to be a future school shooter." Another group is called "School Shooter Hideout Group," which describes itself as a place where "only the toughest and most bravest gamers and school shooters come here to talk!" And although journalists from the nonprofit Center for Investigative Reporting shared in a report last week that they found 173 groups on Steam that glorify school shootings, when I searched on Wednesday, I saw many of the groups are still active on the platform.
Valve, the multibillion-dollar company that runs the Steam network, said last year that it has around 125 million members, about 67 million of whom are active each month. The company didn't respond to my questions Wednesday about whether it has taken any of these groups down in recent days but at least some of the pages found by CIR reporters are still accessible on Steam. Steam's content rules bar users from posting "threats of violence, even as a joke" in addition to racist or abusive language.
Beyond these groups and discussion, I found user-made games that glorify school shootings, including a project called the "Columbine Simulator 2017," which boasts more than 4,700 current subscribers. The simulator is advertised on its page with images of Columbine shooters Eric Harris and Dylan Klebold, superimposed over a video-game rendition of a classroom with a gun pointing toward students from the shooter's view. The whiteboard in the image reads, "R.I.P. Eric and Dylan," with a message on an adjacent blackboard that says, "Math 101. Lol Jk. Eric + Dylan = Losers." There are also games on Steam where gamers can play as Harris and Klebold as characters.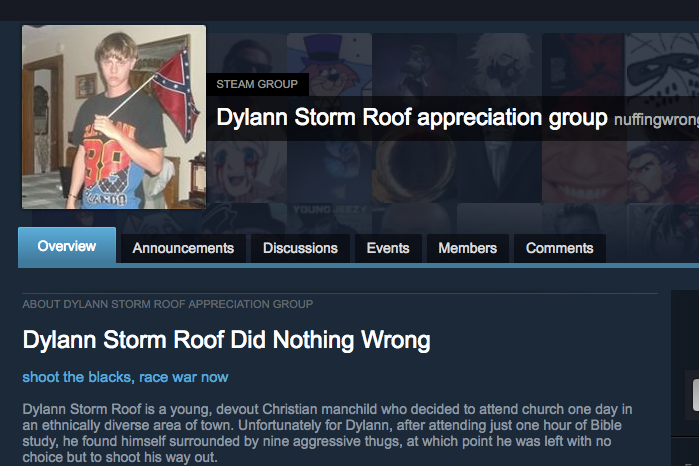 Beyond school violence, gamers on Steam have formed other communities to venerate mass shootings, like the "Dylann Storm Roof appreciation group," named for the shooter who murdered nine people in 2015 in a historic black church in South Carolina.
Another popular online destination where gamers can chat, Discord, has been more active confronting this kind of behavior. In February, the site said it has been working with the Southern Poverty Law Center to locate and purge the platform of hate groups. At the end of last month, the gaming site Polygon noted that hate groups and communities engaged in organized violence like the Atomwaffen Division, the Nordic Resistance Movement, and European Domas, among others, were removed from Discord. After the violent "Unite the Right" rally in Charlottesville, Virginia, last August, Discord likewise wrote in a statement that company unequivocally condemns "white supremacy, neo-Nazism, or any other group, term, ideology that is based on these beliefs" and took steps to purge far right hate groups, including a server from Altright.com, and others using Discord to organize the Charlottesville rally.
Online gaming communities have so far avoided much of the scrutiny that broader social media platforms, like YouTube, Facebook, and Twitter, have received—both in the aftermath of Parkland shooting as talk of gun violence has dominated the news cycle and since the first year of the Trump administration, as certain kinds of hate groups have become more active and visible. That's starting to change—and online communities that have been more welcoming of hate are beginning to be called out by activists, journalists, and others. It's about time.