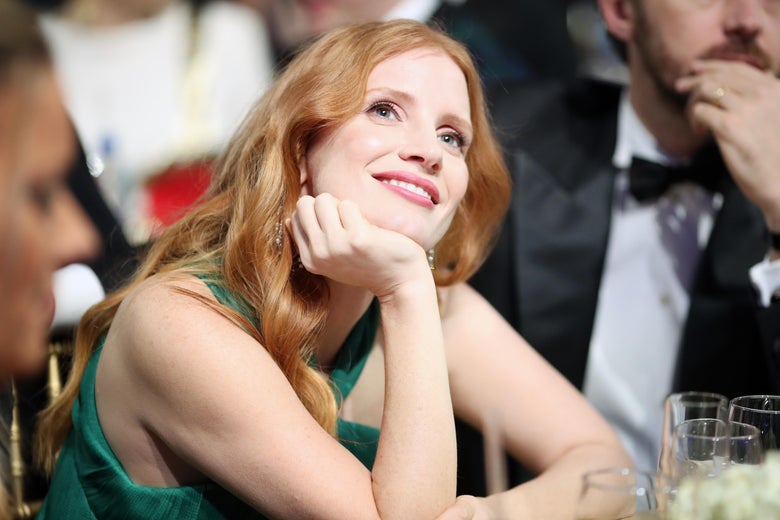 There Jessica Chastain was, going about her normal Jessica Chastain business: On International Women's Day last week, she posted a photo of herself on Instagram wearing a $710 T-shirt that said, "We should all be feminists." For the effort, she was rewarded with more than 160,000 likes and over a thousand comments. One comment, though, from a woman named Karin Schulz, seemed intended to provoke: "Yes feminist that believe in God and stand up for The Unborn. I would be for that kind of feminist."
As an actress with a growing reputation for activism, Chastain has surely been the recipient of attacks before, and she warns Instagram users that she doesn't tolerate them: "Play nice or I will BLOCK you," her bio declares. But she didn't block Schulz. Instead, she … gave her some money.
In addition to being a tool for following and apparently cyber-bullying celebrities, Instagram frequently serves as a hub for one's other online presences and projects. Such was the case with Schulz—Chastain was able to follow Schulz's profile to her GoFundMe page, where the commenter is raising money for infertility treatment. Of the dozen or so donations thus far, the highest one had been for $200, but Chastain coughed up $2,000. She also composed a warm response: "Yes, you can decide what is right for you. I am pro-choice and I believe that everyone has the right to make their own decision. I read about your journey to become a mother and it broke my heart. I hope that your dream will come true in 2018. Much love to you"
The internet, of course, went wild, as the soft, forgiving response seemed entirely in line with the gentle, feminist persona Chastain had been modeling in the first place.
Despite the unlikely nature of this exchange, this isn't the first time something like this has happened. A few months ago, Sarah Silverman reached out to someone who called her a C-word on Twitter and, after some back-and-forth, ended up helping him pay some medical bills, too. So there we have it, a microtrend—but what should we make of this new development in online fandom that finds celebrities literally paying their haters?
Celebrity clapbacks are already a reliable subject of online entertainment news—Chrissy Teigen claps back enough that there are BuzzFeed lists devoted to her many retorts to her haters. Stars are often celebrated for their sassiness, but as Chastain showed us, they're also celebrated for their kindness. Since we now take it as a given that the internet is a toxic place, maybe it feels refreshing to see a celebrity be the bigger person and offer some sympathy. Stars: We love to watch them shut down haters, and we love to watch them invert our expectations by killing their haters with kindness. Maybe we just love to watch them do anything at all.
Another wrinkle to this Chastain episode is that, because online comments make tone hard to pin down, it can easily be read as an act of pettiness, wherein the rich actress is rubbing the poor rube's nose in all her money. But in the end, the lady who needed money still actually got some so, even if that was the intent … the ends might justify the means? Still, there's something about the thrust of the story that makes it feel like the cash ended up in the wrong place: Think of the poor soul who yaaaaas-es Chastain's every post, or the Sarah Silverman follower who has never waged an obscenity at her—where's their $2,000?
This was one small incident. And yet just about everything about this interaction underscores the ways in which America and our online ecosystem are both deeply unfair places. Celebrities, who already have more money and influence than everyone else, see that influence replicated online. It's probably not a coincidence that two trolls happened to both be dealing with medical expenses they couldn't afford: It's a consequence of a society without a safety net, where a high percentage of Americans can't pay for the health care they need. What are the odds that behind every rude comment online, you'll find a suffering human with a GoFundMe account? Pretty good, it turns out. The question is how much longer paying up will feel novel enough to garner some good PR, though that might not stop a new crop of haters from trying their luck.
Support our journalism
Help us continue covering the news and issues important to you—and get ad-free podcasts and bonus segments, members-only content, and other great benefits.
Join Slate Plus
Join
---