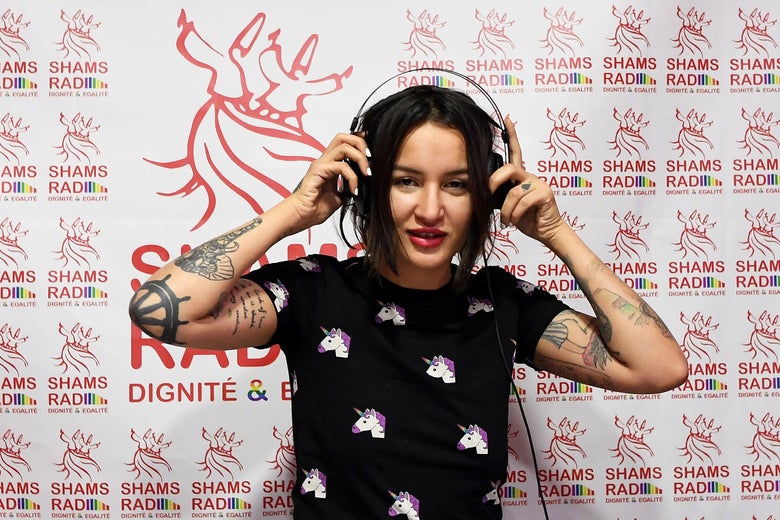 The Netizen Report offers an international snapshot of challenges, victories, and emerging trends in internet rights around the world. It originally appears each week on Global Voices Advocacy. Afef Abrougui, Ellery Roberts Biddle, Marianne Diaz, Rohith Jyothish, Laura Vidal, and Sarah Myers West contributed to this report.
A primary court in Tunis has refused to ban the online LGBTQ radio station Shams Rad, despite the fact that same-sex relationships are illegal in Tunisia.
A lawsuit filed by a union representing imams had asked the court to request the Tunisian Internet Agency to block access to Shams Rad under the pretext that it threatens "social and family values." In its Feb. 14 response, the court ruled that the radio station had not violated the rights of others or their reputations, and that the union did not have standing to make such demands.
When Shams Rad launched last December, its founders received a huge volume of online harassment and threats of violence. As in a majority of Arab region countries, homosexuality is a crime in Tunisia, where it is punishable by up to three years in jail.
Pakistan's high court says mobile shutdowns are illegal
In another court victory for free expression, the High Court in Pakistan ruled that mobile network shutdowns as carried out by the Pakistani government are illegal. The ruling raises the question of whether neighboring countries might someday follow their lead. In Bangladesh on Feb. 12, authorities temporarily shut down mobile internet and throttled broadband speeds during nationwide school exams in an effort to curb attempts at cheating. It then changed course, instead imposing a mobile phone ban near exam halls.
Indian Facebook users arrested for mocking Modi and Hindu gods
Two people were arrested in Uttar Pradesh, India, for allegedly making derogatory remarks made against Prime Minister Narendra Modi and Hindu gods in a video posted on Facebook and WhatsApp. Authorities say they will be charged under India's penal code for committing "deliberate and malicious acts, intended to outrage religious feelings of any class by insulting its religion and religious beliefs."
Venezuelan man arrested for announcing a power outage via WhatsApp
The Venezuelan Intelligence Unit arrested unionist and Communist Party of Venezuela member Elio Palacios on Feb. 14, after he used WhatsApp to warn fellow residents of anticipated electricity blackouts. Palacios said the blackouts would likely be a result of negligence and lack of proper maintenance. This contradicts the government's narrative that blackouts are the result of sabotage by opposition groups.
Turkey's parliament to vote on digital media censorship measure
A parliamentary commission in Turkey has approved a bill that would require online broadcasters to be licensed and regulated by federal broadcast media regulator RTÜK. The bill may also extend RTÜK's regulation authority to personal social media accounts, raising concerns of political censorship among free speech advocates.
São Paulo's mayor is blocking his critics on Facebook
Facebook users navigating to the official page of São Paulo, Brazil's city hall are being forced to mind their words or face being blocked. According to official government documents obtained by new outlet R7 via an access to information request, moderators for the page are actively banning certain terms and blocking users who criticize current Mayor João Dória. The page is a popular platform for dialogue between the city's residents and its administration.
Cuba censors local online magazine
Cuban authorities blocked the website El Estornudo ("The Sneeze"), adding it to a growing list of media outlets that are censored by state authorities. The site features critical essays on social issues and cultural change, and aims to tell stories of the "other Cuba" that is not part of the official government narrative. In response, its editors wrote an open letter to "the Censor" saying that they would not change their editorial line, despite the block.
Spanish Instagrammer faces fine for remixing image of Jesus
A Spanish man was fined for superimposing an image of his face over Christ and circulating it on the Internet, which prosecutors said showed "a disregard towards and mockery of" a local religious group, which brought the case against the 24-year-old. The decision led to a wave of indignation online, wherein numerous users posted similar images of their own faces superimposed onto that of Jesus. Supporters also raised money to pay for the fine, which the man says would have cost him 10 days' worth of pay.
Tracking predictive policing in China
A new report by Human Rights Watch sheds light on the magnitude of China's predictive policing surveillance infrastructure in the western Xinjiang region, where the population is largely represented by Uyghurs and other Muslim minorities. Using a combination of CCTV facial recognition technology, mobile phone surveillance software, national ID systems, and physical surveillance, police now routinely aggregate and cross-reference data about citizens' activities, movements, financial transactions and a host of other points as part of China's "Strike Hard Campaign," which claims to target violent activities and terrorism.
New Research
"Apps, Arrests and Abuse in Egypt, Lebanon, and Iran: An Investigation Into Use of Social and Dating Apps by LGBTQ Communities"—Article 19
"Face Off: Law Enforcement Use of Facial Recognition Technology"—Jennifer Lynch, Electronic Frontier Foundation
"The Yemen War Online: Propagation of Censored Content on Twitter"—Internet Monitor, Berkman Klein Center for Internet and Society
---