The realities of climate change have made weather an unpredictable thing, transforming the very meaning of the seasons as we learn to grapple with its effects. Today, we expect nothing so much as the fact of surprise itself: A December heat wave leaves New Yorkers in shirtsleeves as they head out to Christmas parties. A March blizzard kills off Washington, D.C.'s cherry blossoms just after they bloom.
Even in our warming world, however, Thursday morning's Dark Sky report likely came as a shock. Opening the forecasting app up, some users—including at least one Slate editor—found that the app was anticipating hellish temperature swings for the week ahead. Its readout for Arlington, Virginia, for example, proposed that Saturday's temperatures would range from a sub-subarctic negative 107 degrees Fahrenheit to a comparatively balmy 47 degrees Fahrenheit. By contrast, temperatures the following Tuesday would, it claimed, go from -20 to 99. Try dressing for that!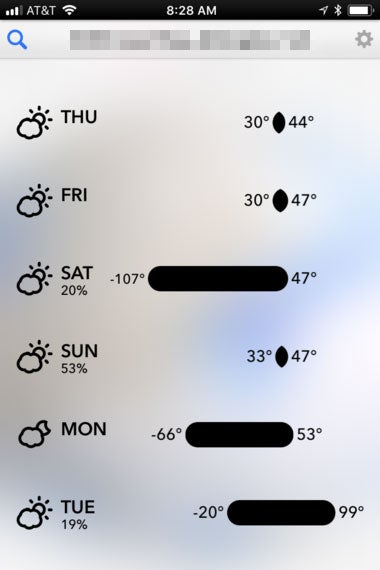 The glitch also seems to have affected other weather apps as well. A friend in Pittsburgh who uses Weather Nerd received a forecast that looked normal for a few days before taking a radical turn for the apocalyptic one week out. (Weather Nerd pulls information from Forecast.io, which also powers Dark Sky.)
Dark Sky, launched through a 2011 Kickstarter campaign, promises to provide hour-by-hour predictions about weather in your immediate area. Where it originally promised only to provide short-term precipitation projections, its scope has gradually expanded to the point where it now shows daily temperature ranges for the week ahead. As I write this, the glitch apparently having been fixed, it informs me that the outside temperature around Slate's D.C. office will range from 30 to 48 degrees Friday.
Many users reportedly rely heavily on these reports. In Business Insider, Brandt Ranj writes, "This is how I plan my weekend activities; if Dark Sky says it's going to rain on Saturday, I'll either plan on bringing an umbrella, or finding a good indoor project." Ars Technica, meanwhile, has described Dark Sky's predictions as "hyper-accurate," a claim that the company itself cites on its "About Us" page.
It may be the very thing that typically makes those predictions reliable that made them go astray on Thursday morning. As Fast Company reports, Dark Sky has experimented with machine learning, allowing the company "to compare [publicly available] data sets and automatically make adjustments to things like temperature, dew point, wind speed, and more at very specific locations within a single area." In theory, at least, that approach has the potential to make the app more precise and accurate than anything a human meteorologist is likely to churn out. In practice, however, even a small change in the incoming data or the tools used to parse it could lead to glitches like those that the app turned out. (I emailed Dark Sky for comment and will update if its representatives respond.)
In this light, Dark Sky's bizarre reports may offer a cautionary tale. Dramatic as the errors were, it's unlikely that they led anyone astray. It's easy enough, however, to imagine the same system producing smaller but still significant miscalculations. Human meteorologists have difficult jobs, and we almost certainly overemphasize their missteps, which may be we're so quick to blame them when they seem to get things wrong. But when an algorithm sends us into a rainstorm without an umbrella, we're all on our own.