If you've been following the discussion about how Russia meddled with the 2016 U.S. election, the Internet Research Agency is probably a familiar name. But if you haven't been watching every congressional hearing and reading every report, Friday's indictment of the Internet Research Agency (as well as two other Russian entities and 13 Russian nationals) offers a good opportunity to look at the Kremlin-backed troll organization—namely, how it attempted to manipulate U.S. voters and what we know about how it works.
The Internet Research Agency is based in St. Petersburg, Russia, and has been at work since at least 2013 churning out memes, YouTube videos, Facebook posts, and Twitter accounts; pretending to be activist groups; and even organizing grassroots events in an attempt to sway with political campaigns and conversations around the world.
The indictment is packed with new information about the Internet Research Agency, which allegedly has employed hundreds of people since it started operating from its main office in St. Petersburg. It alleges that the organization began targeting the 2016 presidential election in 2014. As time went on, according to the indictment, the agency compiled a list of more than 100 real Americans, including people associated with the Trump campaign, who had been contacted through by fake accounts made by the Russian trolls in order to recruit and unwittingly carry out requests. In February 2016, the indictment says, the workers at the Internet Research Agency were instructed to "use any opportunity to criticize Hillary and the rest (except Sanders and Trump—we support them.)" The indictment also supports the long-held suspicion that the agency attempted to sow resentment on the left as well as the right, though its support for the Trump campaign was significantly greater.
This news comes on top of what was already know about the efforts of the Internet Research Agency. Last fall, Facebook, Twitter, and Google all admitted to Congress that the Internet Research Agency had hosted thousands of fake accounts on their platforms, where they had reached millions of people through paid ads and posts on social media. Facebook alone estimated that roughly 126 million people likely saw content or followed accounts made by the IRA between January 2015 and August 2017.
Twitter revealed in January that it has found 3,814 accounts believed to be made by the Russian troll group, and it sent emails to 677,775 users who had inadvertently followed or interacted with content made by the trolls. Twitter also noted that Russian bots retweeted Trump almost 500,000 times in the final weeks of the 2016 election—10 times more than they retweeted Hillary Clinton. Furthermore, Twitter found that 50,000 Russian-linked accounts retweeted Wikileaks almost 200,000 times between Sept. 1 and Nov. 15, 2016.
The Twitter accounts made by the Internet Research Agency often pretended to be real Americans or American advocacy organizations and shared news by American outlets. According to a new report released Tuesday from Jonathan Albright, the research director at the Tow Center for Digital Journalism, the news outlets most frequently shared on Twitter by Russian trolls were Breitbart, the Washington Post, and the San Francisco Chronicle.*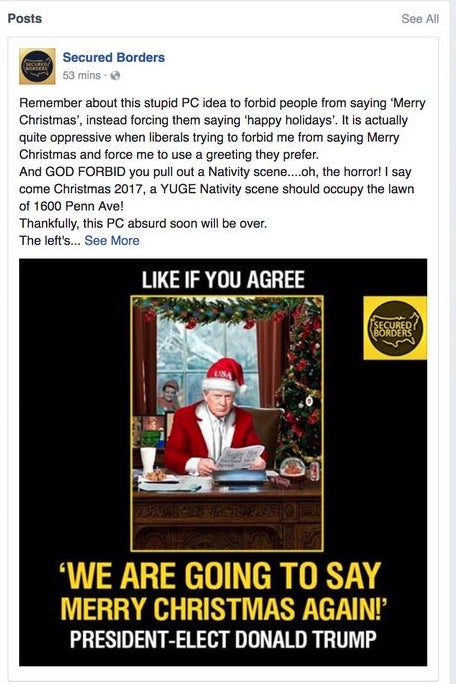 In September, Facebook identified roughly 470 accounts as being linked to the Internet Research Agency. As on Twitter, many of those accounts were masquerading as belonging to U.S. activist organizations. One of the Russian Facebook groups, Black Matters, had an event page for a protest in New York City the weekend after the election, which it promoted with an ad. More than 16,700 people signed up to attend on the event page, while 33,000 more listed themselves as interested. The Guardian at the time wrote that thousands of people actually showed up with protest signs in tow, though many of those protesters may have heard about the demonstration through other channels.
Google shared roughly 3,000 ads with Congressional investigators that it believed were linked to the Internet Research Agency ahead of series of hearings on Oct. 31 and Nov. 1.
The Internet Research Agency didn't just use the major social media companies in its effort to meddle. It also turned to Pokémon Go and Tumblr, as well as PayPal, which Slate found hosted a donation page for a fake Black Lives Matter–themed site.
*Correction, Feb. 16, 2018: This piece originally misstated the name of the Tow Center for Digital Journalism.