Snapchat recently shipped a major redesign of its app, an update designed to address two main issues: to make the app less confusing for us olds, and to bring the company one step closer to its goal of complete social media domination. To accomplish this, Snapchat lumped all of your friend-related interactions—both chats and stories—into one half of the app and transformed the other half, the Discover section, into a brand-centric media mecca. Unfortunately, Snapchat's core user base, the under-20 set, is displeased with the changes—if not downright mutinous over them.
More than 585,000 angry Snapchat users have now signed a Change.org petition to restore Snapchat to its unupdated glory. Reasons for signing range from "The new [Snapchat] update is trash" to simply "Ew." With more than 587,000 ratings, the latest version of the app has garnered a lowly two-star score on the App Store. "I liked having everyone's stories and my messages in a separate place, and the best friends/streaks emojis are so small now, I can almost guarantee I'll lose all my streaks because I won't be able to tell where they are," one app reviewer, ThatsJustHowItIs, wrote. A streak, for the unfamiliar, is when Snapchat users direct message one another back and forth for consecutive days. Some teens will keep streaks going for months at a time; it's a source of pride and a measure of success—not to mention an incentive to keep snapping—on the app.
While teens today may have questionable life aspirations and poor taste in snacks, in this case, the youth are right on target: This update sucks.
In trying to simplify its overall user experience and increase user growth, particularly among those over age 34, Snapchat inadvertently completely bungled the app's main draw—its chat and stories features—while simultaneously failing to offer a compelling reason for users to visit its media and monetization-focused Discover section. Before, with a swipe from the left, you could access your chats, listed chronologically by your last interaction with that contact. A swipe from the right would list your friends' stories, again listed in chronological order based on who had updated their story most recently. Below that lay the app's Discover section, which you could peruse for takes on the day's news, trends, and celebrity gossip.
With its redesign, Snapchat now lumps both stories and direct message chats into that left-side section. This wouldn't be too much of an issue, except that the app also doesn't list these in reverse-chronological order anymore. Instead, Snapchat is using machine learning for a more "personalized" (read: Facebook-like) feed that lists friends in the order the app thinks you'll want to chat with them. Because it combines direct messaging and stories into the same feed, it now means you need to be more discerning with where you tap on-screen. A tap on a name opens the option to direct message with another user; a tap on the far left, where there personalized Bitmoji avatar normally sits, will open their story. Users like ThatsJustHowItIs find this discrepency frustrating as they accidentally click on a story or that user's profile instead of their unread messages with them.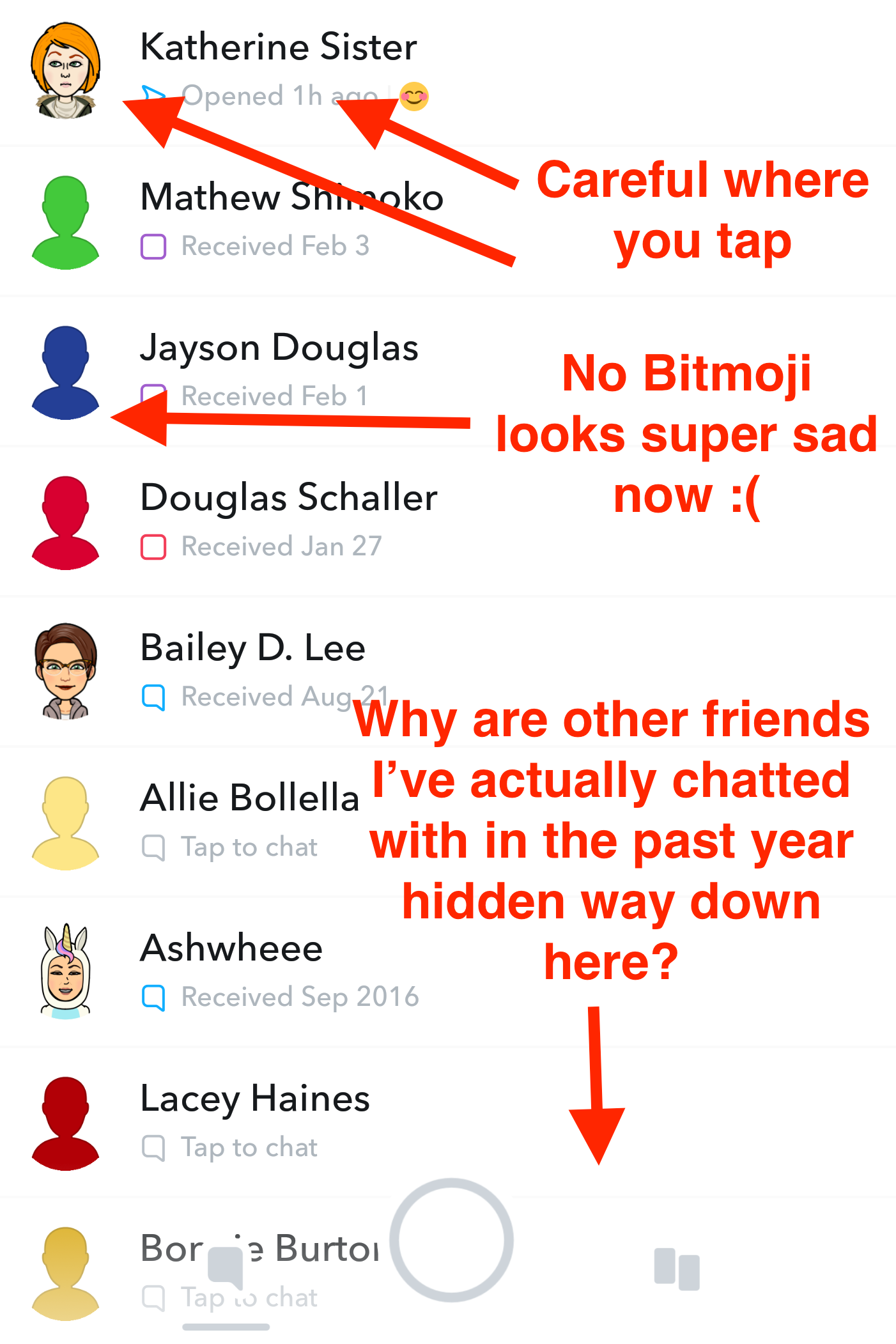 A better idea here might have been to go the Instagram route, separating stories at the top of this page, and direct-message chat threads—all those streaks—below that. Organizing both of these sections chronologically is also far less of a headache for most people: I can remember about how long it's been since I last messaged someone, but I have no idea where a friend may fall in Snapchat's friend-ranking algorithms.
And then there's the Discover page. It's true that it never really made sense for stories to sit atop the Discover section in the old app design, but it did give users an excuse to visit that page—and a reason to occasionally click on publications' stories when they caught your eye. Now, Snapchat is banking that users will turn to this section of the app as a source for news—with this redesign, it also uses machine learning to surface things that are most relevant to you. In my app, this included a National Geographic story "These Birds Have Less Sex in the Suburbs"; a Road & Track piece, "5 Amazing Sports Cars for Teens" (should I be flattered Snapchat doesn't know how old I am?); and an "Official Story" from the actor Ansel Elgort, of whom I had not heard of but now know is an irresponsible driver in inclement weather.
With its redesign, Snapchat is trying to simplify, grow up, and appeal to a broader variety of social media users. While it's made a few positive steps in the right direction, it has—not unexpectedly—apparently alienated its core userbase of snap-happy teens. And in trying to be less confusing, it's also managed to be slightly more confusing to those of us older, more occasional Snapchat denizens, too. What Snapchat does next will shape its future: Will it stay steadfast in its redesign, or capitulate to its vocal diehards and bring back some of the old Snapchat? Will it push forward into a vision of itself its executives hope will come to fruition—ignoring the pleas of its biggest users,Twitter-style—or rest on the limited success it's already known until it becomes the next Facebook (or a worse-case scenario: Myspace)? Pleasing the teens is hard. Pleasing everyone is harder.