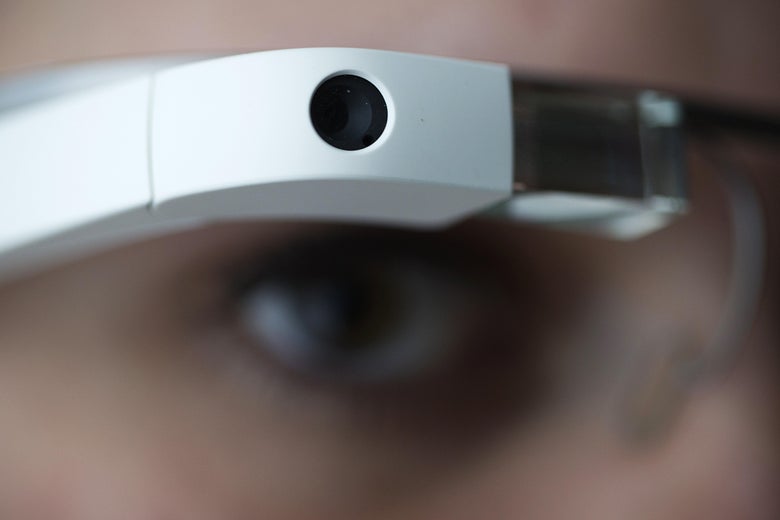 Intel sure does have a lot of brand recognition, but it's a reputation forged on components inside computers. That's why the company's latest foray is so curious. As reported extensively in the Verge on Monday, Intel is jumping into the smart-glasses space in what appears to be an earnest attempt to revive the concept after the ill-fated Google Glass launched in 2013, only to fall flat not long after.
The new smart spectacles, called Vault, are supposed to be attractive and non-geeky enough to wear all day, unlike Google Glass, which was considered the apogee in tech-bro bad fashion choices. (Remember when businesses put signs on their front windows banning "glassholes" from wearing their specs inside?)
The prototypes of Vault do look like normal chunky-framed glasses. But according to the Verge, the lenses can display nonintrusive notifications and could even allow the wearer to secretly play a video game midconversation. Intel says it plans to start an "early access program" later this year to coax developers into building apps and imagining use cases for the new platform. If this all sounds exciting to you, don't get your hopes up. The head of Intel's wearable device unit, Jerry Bautista, told the Verge:
"It is very unlikely that Intel will take it to market because we typically don't do that. Our core business [is] we work the partners, we work with others to do that. With these glasses, we're working with key ecosystem hardware providers — whether they're frames or lenses and things like that. Because we believe there's a whole channel to people who wear glasses that's already there."
In other words, Intel may be making attractive smart glasses now, but that doesn't mean it's going to make attractive smart glasses in the future. It seems that Intel is primarily using the Vault frames to show off ways that its tech can go inside other brands' glasses to make them "smart." The point here is to demonstrate that its inventive componentry support smart glasses that people won't feel categorically uncool wearing.
Intel doesn't have the best track record with wearables. After acquiring Basis Science in 2014, the company released its Peak smartwatch later that year. But in 2016, all units were recalled because the device had a tendency to overheat and burn people's skin. After getting heat for that, it makes sense that the company would try a new tack here.
Why bother with wearables at all, then? In short, Intel needs a win. The company never came to dominate the smartphone market like it did with home computers and laptops. And while home computer sales have been generally declining as smartphones have soared to ubiquity, the company has been on the hunt for new emerging industries it can dominate. Intel made a virtual reality headset, Project Alloy, in 2016, but reportedly nixed that project the next year. And in the past few years, it has been its own building drones, and partnering with the drone maker, Yuneec, to put its obstacle avoidance technology inside their flying robots.
Plus considering all the negative attention the company got for the massive security flaws in its chipsets that compromised nearly all computers on the planet, the company is probably hungry for some nice news about a cool new gadget. Still, if you were one of the few Google Glass fans hoping for a comeback, don't get your hopes up that Vault will be coming to a face near you any time soon. But it could very well signal that smart glasses aren't a total lost cause.
Support our journalism
Help us continue covering the news and issues important to you—and get ad-free podcasts and bonus segments, members-only content, and other great benefits.
Join Slate Plus
Join
---