If you're in the market for a magazine speed loader for a firearm like an AR-15 or AK-47, Etsy and Google Shopping have you covered. If you're an Amazon Prime member, you only have to wait two days if you order feeding components for pistols and semi-automatic weapons that have been used in mass shootings, like a magazine loader for a Glock 17 or a .45-caliber Glock.
The weapons themselves aren't available for sale, but the magazine loaders are used to rapidly queue rounds of bullets are and can be purchased without showing any proof of age or training on how to use the weapons. One Etsy page boasts that its magazine loaders "make it possible to load your 30 round AR-15 and mags in seconds with ease."
According to Google, the company doesn't allow merchants to sell guns or gun accessories through its shopping platform—its policy since at least the summer of 2012, when Google sent a letter to sellers alerting them of the change. That letter, which was shared in an online petition from the time, says that Google does not "allow the promotion or sale of weapons and any related products such as ammunitions or accessory kits on Google Shopping." I asked Google how speed loaders for assault weapons fit into this policy but did not receive a response.
Google itself doesn't sell the accessories but rather allows outside merchants to do so in exchange for compensation for listing the product as Google Shopping search results that include a photo with the listing, the store name, the price, and other details. Google calls each search result on the Shopping page an "ad," which is then displayed on Google and on websites that serve Google ads. One search for "AK-47 magazine" on Google Shopping returned seven results of AK-47 magazines on the first page, and a search for an "AK-47 magazine loader" returned 18 results on the first page, plus an ad at the bottom for other firearm accessories on Amazon.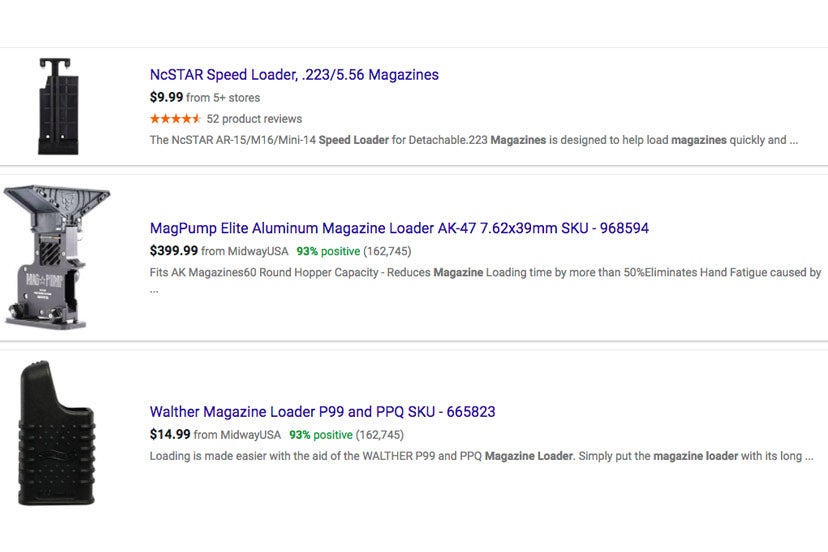 Nikolas Cruz used an AR-15-style semi-automatic weapon when he allegedly murdered 17 people at a high school in Parkland, Florida, earlier this month. Another variant of an AR-15 was used by Devin Patrick Kelley to murder 26 people in a rural Texas church in November, and the month before, when Stephen Paddock massacred 58 people and wounded more than 400 in Las Vegas, he too used AR-15-style rifles and at least one AK-47-style weapon. There's no reporting that any of these gunmen purchased any accessories from Google's shopping platform or Amazon or Etsy, but had the shooters wanted to, they could have easily used these destinations. While increasingly loud consumer campaigns have convinced numerous corporations to sever their ties with the National Rifle Association in the aftermath of the Florida shooting, that notice has so far overlooked the availability of accessories that can only be used with assault weapons and handguns, as well as major online shopping sites that offer them.
Although Amazon doesn't sell guns or accessories for assault weapons, the online retail giant does sell magazine loaders for Glocks and other kinds of pistols that have been used in mass shootings. A quick search on Amazon for a "magazine loader" provided a full page of options. There, I was able to find a magazine loader for a Glock 17, which was one of the guns used at a gay night club in Orlando, Florida, in 2016 when a gunman left 49 people dead and 58 wounded after opening fire. There were also magazine loaders that fit a Smith and Wesson 9mm handgun, like one of the weapons used by the shooters who murdered 14 people in San Bernardino, California, in 2015, as well as loaders that fit a .45-caliber Glock, which is the type of weapon that Dylann Roof used to murder nine people at a historic black church in Charleston, South Carolina, in 2015. (Again, there's no reason to think the shooters themselves used Amazon to buy magazine loaders.)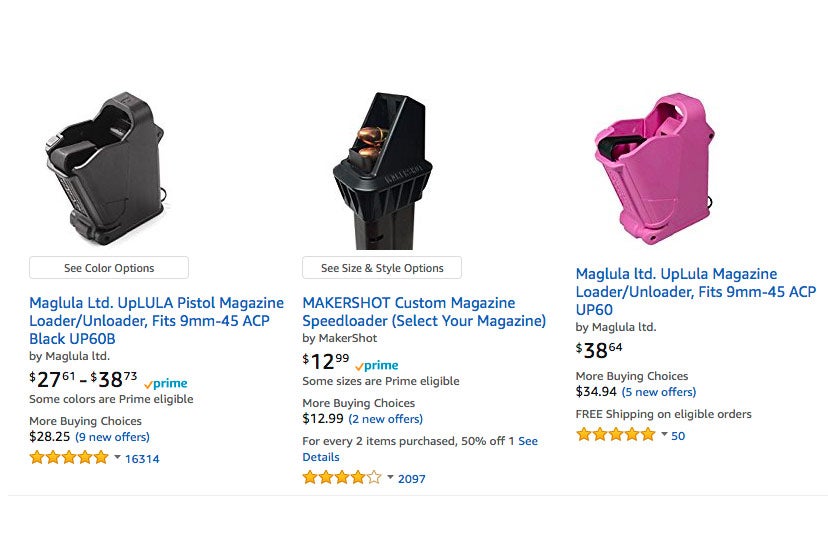 On Etsy, the shopping platform best known for selling homemade crafts and vintage items, gun owners can purchase (occasionally more decorative) magazine loaders for firearms like AK-47s and AR-15s as well as 3-D-printed speed loaders for Glocks. Many of these sellers have listings that appear on Google Shopping. I contacted Etsy to ask about its policy but did not hear back.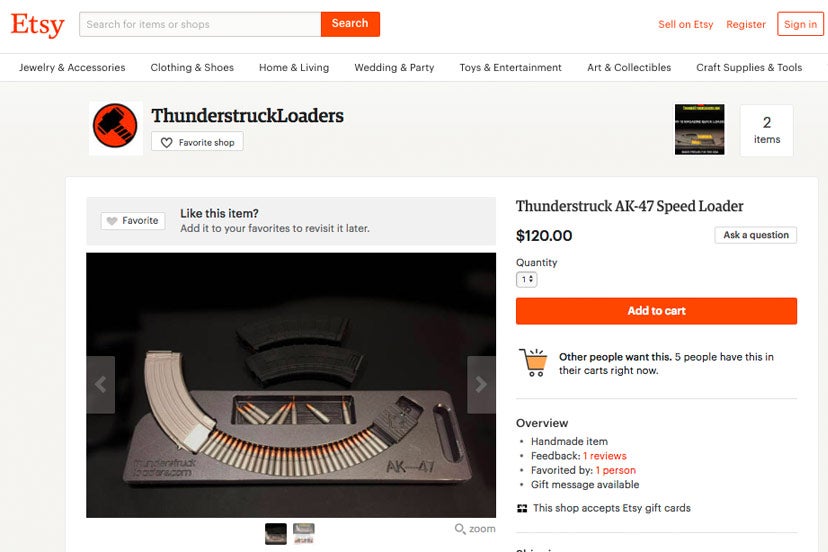 There are plenty of things for sale on Amazon, Google, and Etsy that could ostensibly kill a person, like knives or swords or toxic chemicals. And none of these sites carry firearms, only accessories. This is not like what happened when the U.K.'s Channel 4 reported in September that "potentially deadly bomb ingredients are 'frequently bought together' on Amazon," when in reality those items could also be used to legally make black powder for "fireworks, model rockets, antique firearms, or to blow up the occasional stump," as Maciej Ceglowski pointed out on his blog Idle Words. Magazines and magazine loaders are only used for guns. And in the case of most all handguns and rifles, they help shooters quickly fill the magazines of weapons with bullets to fire rapidly before reloading.
These websites aren't doing anything illegal by selling firearm accessories. They are, however, making them easily available for purchase. Sure, other websites that sell gun magazine loaders do the same thing. But Google isn't just a gun-supply website; it's where people go to learn just about anything, like what's happening on the news, the definition of words, directions to the airport, or even where they can buy firearms and accessories. And while it's one thing to maintain some level of neutrality about providing available information like the address of gun shops or websites or gun-safety instructions when someone searches on Google, it's another to list assault rifle magazine loaders on a loosely curated but still quality-controlled shopping website—it does make choices, and there's no reason that barring these accessories couldn't be one of them. The same goes for Amazon and Etsy, even though they aren't information portals in the same way Google is.
In the weeks since the Parkland shooting, gun-control activists have been making tremendous strides as corporations like Dick Sporting Goods, one of the largest gun sellers in the country, announced (to be fair, not for the first time) that it would no longer sell assault-style rifles and would limit all of its gun sales to customers 21 or older. A growing number of businesses are also breaking their ties with the NRA, such as the car rental companies Alamo, Enterprise, Hertz, Avis, and National, which all said they would end discounts for the NRA's 5 million members, as did Delta Air Lines and United Airlines. As activists continue to pressure Amazon, Roku, and Apple to stop airing NRATV, the rifle lobby's channel for gun enthusiasts, adding a call for tech companies to stop selling rifle accessories might be in order, too.