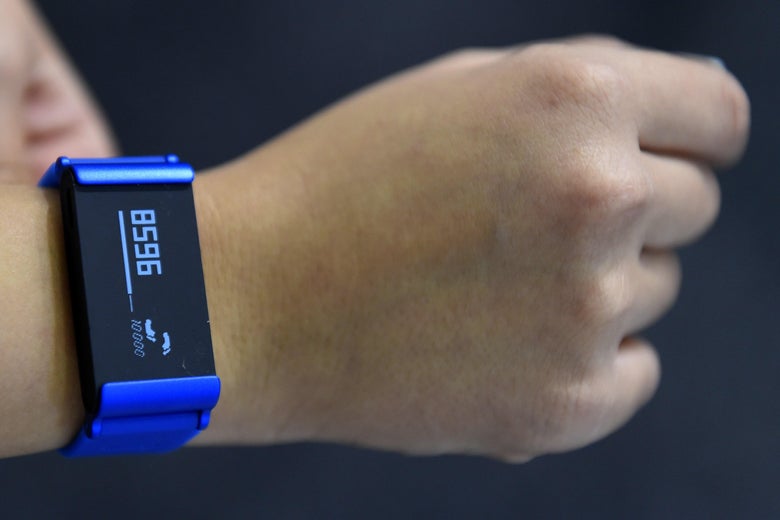 Nokia only fairly recently entered the digital health business in earnest, but it may already be giving up. On Tuesday, the Verge published a story based on a leaked memo in which Nokia's chief strategy officer wrote that its digital health business "has struggled to scale and meet its growth expectations" and that Nokia doesn't "see a path for [the digital health division] to become a meaningful part of a company as large as Nokia." (Nokia did not comment for the Verge's story.) This is a huge bummer, because for a long time, under a different name, Nokia's digital health business was one of the most exciting and best-reviewed hardware-makers on the planet. Perhaps the most surprising thing about this: The two companies have only been fully merged for about six months.
Nokia's health tech business is actually a French startup, Withings, acquired in mid-2016. Withings was founded in 2008 and gained recognition for its suite of connected health products that looked sleek and modern and worked well, too. While many wearable and smart health products have a tendency to look gadgety, Withings shunned that aesthetic (or lack thereof). Its products—like its Activite Pop fitness tracker, which masqueraded as a minimalist wristwatch—featured bold color accents and refined yet fun details. Besides fitness trackers, the company also made connected scales, health monitors, and smart home products.
Since being acquired by Nokia in a $191 million deal in April 2016,Withings has come out with a handful of new devices, which landed with critical but not commercial acclaim. In a review of the Steel HR, a smartwatch that came out in early 2017, TechCrunch wrote that the company "does the hybrid smartwatch right." The reviewer also said after testing it out over the course of CES 2017, he wouldn't "be ready to take it off any time soon." That is high praise for a new product, particularly one in such an oversaturated category. Later in 2017, when the Withings–Nokia transition was complete, Nokia Health debuted two new products, a connected scale and a premium connected blood pressure monitor. Other previously Withings products were simply rebranded under the Nokia name. Since then, there's been little fanfare about the product line, and no notable new launches.
In 2016, however, Nokia was gung-ho about its new foray into the connected health space. "Withings shares our vision for the future of digital health and their products are smart, well designed and already helping people live healthier lives," Ramzi Haidamus, president of Nokia Technologies, said in a press release at the time. "Combining their award-winning products and talented people with the world-class expertise and innovation of Nokia Technologies uniquely positions us to lead the next wave of innovation in digital health." Nokia wasn't alone in seeing huge potential profit in digital health. According to a projection made in 2014 by the Consumer Electronics Association, the connected health space was on target to become an $8 billion business by the end of 2018.
You might be tempted to think that this is an example of a big company squelching the potential of the promising startup it acquired. But it's unclear how successful Withings was before Nokia scooped it up. While Withings was a darling of the health tech trend, its products—like its $100 infrared thermometer—may never have been as popular with consumers as they were with the press. If the startup was open to an acquisition, it's likely Withings was in need of a cash infusion that wasn't coming from sales of its products. Alternatively, Withings could have seen the acquisition as an opportunity to get the financial and technical resources to develop more ambitious products. Whatever the case, Nokia had big goals for its Withings-fueled Health division, and Withings didn't deliver. But it's almost certainly not Withings' fault. There was plenty of criticism of Nokia's update and redesign of Withings' Health Mate app, which removed several popular app features and was "full of bugs". The company called the issue "regrettable," which should have been our first sign that things were amiss.
Nokia may not completely shutter its health business—technically, it's been placed under "strategic review," the Verge reported. But considering Nokia Chief Strategy Officer Kathrin Buvac closed the leaked memo with the phrase "Failing fast isn't failure, it is accelerated learning," it's evident that Nokia considers its short venture into the connected health space a failure, and that's certainly not good news for the teams working on those products. It's also bad news for consumers who own Withings or Nokia health products—what does this mean for app support in the future?—and for the connected health space in general. Withings raised the bar both for design and functionality. If it had been acquired by almost anyone else in the industry, it probably would have succeeded—even if not by Nokia standards.
---