Fourteen-year-old YouTube stars known for oversize hair bows make for unlikely avatars of generational moral impoverishment, but something about JoJo Siwa's appearance on the cover of the March 2018 issue of Teen Boss magazine has struck an anxious chord. When the issue—cover line: "How to Build Your Brand by Being You! JoJo Reveals How She Went From Tween to Tycoon–& You Can Too!"—made the rounds recently, grown-up Twitter users looked with mouths agape. While the publication is pitched at "Gen Z entrepreneurs," as Women's Wear Daily put it when the title launched last summer, it looks a whole lot like a how-to guide for that most 2018 of professions for people not old enough to vote: social media influencer. The horror! Is this periodical really inserting dollar signs into the eyes of America's youth, and if so, what are they doing with their newfound knowledge once they close an issue of Teen Boss and presumably never read anything on paper ever again? Or is it roughly as shallow and innocuous as the Jonathan Taylor Thomas–saturated Bops and Teen Beats of yore? I paged through the issue with Siwa on the cover, the magazine's third, in order to find out. In case you're too busy being a boss to read the magazine yourself, here's an executive summary.
You don't have to be a teen to be a teen boss. You can be 11. Or middle-aged Netflix CEO Reed Hastings. The magazine is just as likely to feature established well-watched YouTubers like Zoella as it is up-and-coming tween DJs Amira and Kayla (11-year-old twin sisters from Brooklyn) or a (relatively) elder statesman like Hastings. A true teen boss will take inspiration from whosoever has the coin to provide it. Teen Boss puts Sallie Krawcheck (CEO of Ellevest, advising readers to diversify their teen portfolios) side by side with a couple of New York City kids who created a fidget-spinner empire. All that matters is that paper.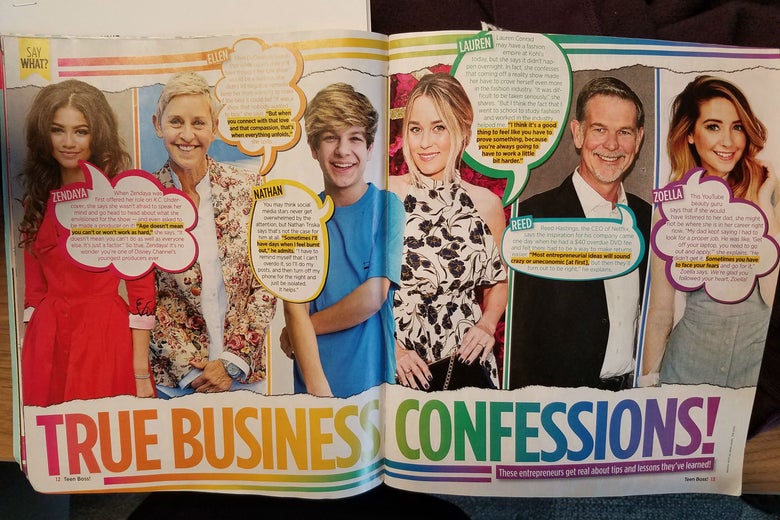 Ageism is one of the great injustices teen bosses are up against. Siwa, for one, frequently walks into business meetings where she's the youngest person in the room and people try to tell her what kinds of things to post. It's pretty messed up how much society judges 14-year-old girls in giant bows.
What people don't understand about capitalism is that it's empowering. Some of the social media reactions to Teen Boss criticized the magazine's relentlessly materialistic attitude. Should we really be teaching the young girls at whom the magazine is aimed that making money is the highest goal? That becoming a social media influencer is a commendable aspiration? And to these points, Teen Boss says yes, because when you get rich, you also become strong and confident, probably because you have a lot of money, and the more of it that accrues in your bank account, the more empowered you grow, and that's all that counts.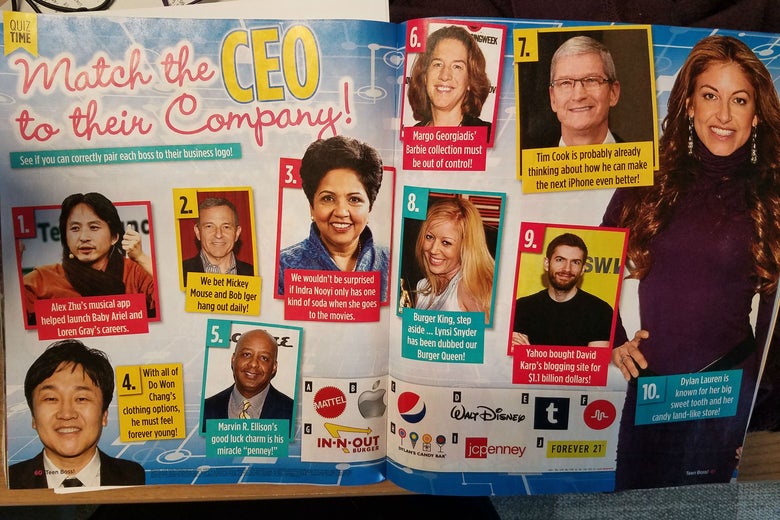 Teen bosses crave hard-hitting business journalism and data. Which is why Teen Boss magazine gets down to the financial nitty-gritty in its articles. Dance Moms alumna Ari Lopez started a line with her mother called Kandi Kouture, and according to Teen Boss, the company triples every year. There's nothing that gets teens more jazzed than year-over-year financial earnings. Another thing teen bosses love? Reading about the old-people CEOs of Fortune 500 companies, as in a spread that starts on page 60, "Match the CEO to Their Company!" Disney's Bob Iger, Apple's Tim Cook, Pepsi's Indra Nooyi—teens can't get enough of 'em!
Creating content is the most grueling possible work. (Don't I know it!) "Put in the hours and create unique content," YouTube star Jessie Paege advises in the magazine. "I edit for 12+ hours total and my videos can take anywhere from an hour to 12 hours to film." Similarly, it takes Karina Garcia, YouTube's slime queen, about 24 hours to make one of her videos. Elsewhere in the magazine, Chelsea Crockett says that the hardest part of being a successful YouTuber is "having to keep up with the content. There are some days when shooting or posting videos can seem so difficult, because there's so many things going on in my real life or I just want to focus on being present in everyday life!" Hear that, kids? Content comes before being present in your daily life, get used to it.
If you're not sure what your dream job is, there's a quiz for that. Teen Boss has a quiz to help you decide whether your destiny is to be a lifestyle coach, Musical.ly star, app creator, beauty influencer, or something else equally boss-y. (Because if you're not the boss, why bother?) It also has one to help you decide whether you have the teen-preneur gene—possible results include yes, yes, or, also, yes!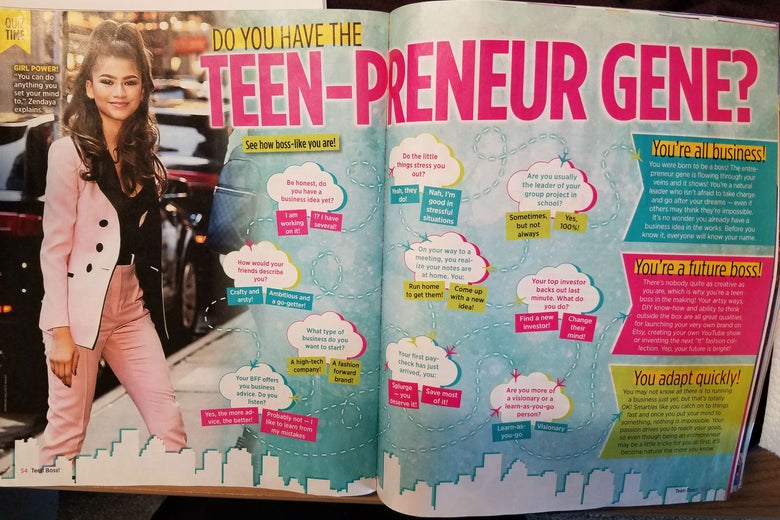 In the end, all you really have to do is believe in yourself. And … open a mutual fund? Karina Garcia used to have a lot of people telling her slime was lame. "But I didn't let the haters get to me, and two years later my channel's got almost 6.7 million subscribers." So there. It did take her a while to start earning money, though. "The best advice I can give is to not to get discouraged if you're not making money right away. If a paycheck is all you think about, you're not going to be excited about the videos you make and you're going to feel less motivated to post." Once you have that money, two pages later, Sallie Krawcheck recommends having your parents help you find a mutual fund broker. "If you set aside $1 every day and it gets a typical rate of interest (like 4.67%), after 10 years you'll have $4,578.59," she advises. Armed with that kind of cash and the thriving YouTube channel anyone can create as long as they 1) believe in themselves, 2) brush off the haters, and 3) never give up, what could go wrong?