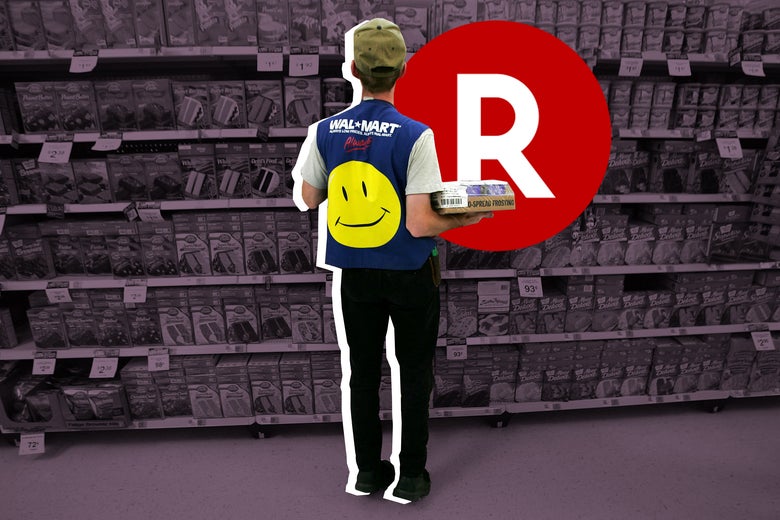 As retail has shifted from brick and mortar to online sales, quintessential American megachain Walmart has found itself displaced. Amazon, with its booming e-commerce conglomerate and successful hardware business, overtook Walmart in online sales, finally eating into its revenue in recent years. But Walmart turned things around in 2017, increasing its online sales 50 percent and expanding its own grocery delivery business. Its latest move is another step in that direction.
On Thursday, the Arkansas-based retail giant announced a new partnership with the Japanese company Rakuten. In the deal, Walmart will help launch a new online grocery service in Japan while in the U.S. the company will promote the sales of Kobo e-readers, e-books, and audiobooks—a brand owned by Rakuten.
Rakuten isn't a household name stateside, but it is an e-commerce giant overseas, particularly in Japan, where 80 percent of its revenue came from last year. It's also been called the "Amazon of Japan" (despite Amazon also having a strong presence in the country). While Rakuten is still one of the largest global e-commerce players, with more than $4 billion in acquisitions to its name (including Buy.com, Ebates.com, and the messaging app Viber), it's been overshadowed by Chinese competitor Alibaba, a company that has gained notoriety for its success on "Single's Day." Rakuten's financials are significantly smaller than either Alibaba or Amazon: It netted $6.2 billion in revenue in the first nine months of 2017 while Amazon's revenue in the third quarter of 2017 alone topped $43.7 billion. (Walmart raked in total revenue of $485.9 billion last year.)
But Rakuten still provides Walmart with ammunition to fight its digitally native competitor. Rakuten has more experience in big data and artificial intelligence, and with that in mind, it'll be in charge of crafting the website for Rakuten Seiyu Netsuper, the companies' upcoming grocery home delivery service in Japan. According to a recent patent filing, Walmart is also exploring the idea of a Tinder-style app for grocery shopping. Perhaps Rakuten will be a part of that effort. Regardless, the new service strengthens Walmart's presence overseas, particularly in a market not entirely dominated by Amazon products and services. In June, Amazon bought Whole Foods, a huge move that gave the company a physical retail presence across the U.S. On top of that, it's been working to make last-minute shopping easier with Prime Now, a service that lets Amazon Prime members order items and have them delivered to their doorstep within two hours. Both developments present a threat on Walmart's home soil that it's not quite ready to tackle. However, it can still chip away at other aspects of Amazon's business.
The two companies' hardware partnership is also a move—albeit a belated one—to unsettle Amazon's dominance in the e-reader space. Kobo e-readers, while not currently very popular in the U.S., have gotten excellent reviews over the years. According to Digital Trends, the Kobo Aura One was "objectively a better reader" than the reigning e-reader champ the Kindle Oasis when the former debuted in late 2016, with "several killer features" that Amazon's e-reader didn't have at the time—and a cheaper price, too. With Kobo e-readers both in its stores and on its website, Walmart could feasibly make a dent in Amazon's bottom line. In its brick-and-mortar stores alone, Walmart sees 140 million customers walk through its doors each week. Furthering their e-reader efforts, the duo plan to release a co-branded e-reading mobile app for Android and iOS as well as a desktop app—an alternative to the Kindle app. (There is currently a Kobo app for Kobo e-reader users that this app will eventually replace.)
This deal won't unseat Amazon, but it might give Walmart a revenue boost and curtail some of Amazon's seemingly unstoppable momentum. Walmart has one notable factor going for it: A growing distrust of Silicon Valley and "Big Tech." Among consumers who view the left coast with disdain, the option to get Silicon Valley–style amenities—groceries delivered to your door, digital copies of favorite book titles on a high quality reader—without a Big Tech name tag could be attractive. Amazon is continuing to encroach on Walmart's turf little by little, but if Walmart is ever to have a chance to best the internet giant, it would be now.
Support our journalism
Help us continue covering the news and issues important to you—and get ad-free podcasts and bonus segments, members-only content, and other great benefits.
Join Slate Plus
Join
---