If you've never seen a snap before, chances are you will soon.
Snap on Tuesday is launching a new feature that allows users to share public Snapchat Stories outside the app for the first time.* It's a big shift for a social media platform that was originally conceived as a private, safe haven for unfiltered communication between friends. And it means that links to Snapchat Stories will start cropping up in texts and emails from your friends, in your Twitter feed, and even on Facebook.
The update will come first to the relatively small group of users who already have the redesigned version of the Snapchat app, the company said in a press release. It will gradually be extended, along with the redesign, to everyone else, starting with iOS and Android users. The announcement substantiates a story that was leaked to the online business news channel Cheddar in December.
You'll be able to share stories from the Discover tab by tapping and holding in the center of the tile, then selecting "share" from the list of options. You can then copy or share the link via text, email, social media, or other options. The link will direct to a new Story player on Snapchat.com.
For Snapchat, this is a big move symbolically, because it means that the app is no longer a self-contained world. Evan Spiegel and company started Snapchat as a sort of refuge from the likes of Facebook and Twitter, which tend to encourage public performance rather than private candor.
Even today, he prefers to define Snapchat as a camera app or a way to text with friends, rather than a social media platform.
On a practical level, however, it's a pretty modest step down a road that several of Snap's rivals, including YouTube and Twitter, paved long ago. There's no indication at this point that you'll be able to embed a Snapchat Story on a website, though that functionality could come in the future. On Facebook, you'll only be able to share links to Stories, the way you share links to YouTube videos. The tightest integration seems to be with Twitter, where you'll be able to view stories that people have shared right in your feed.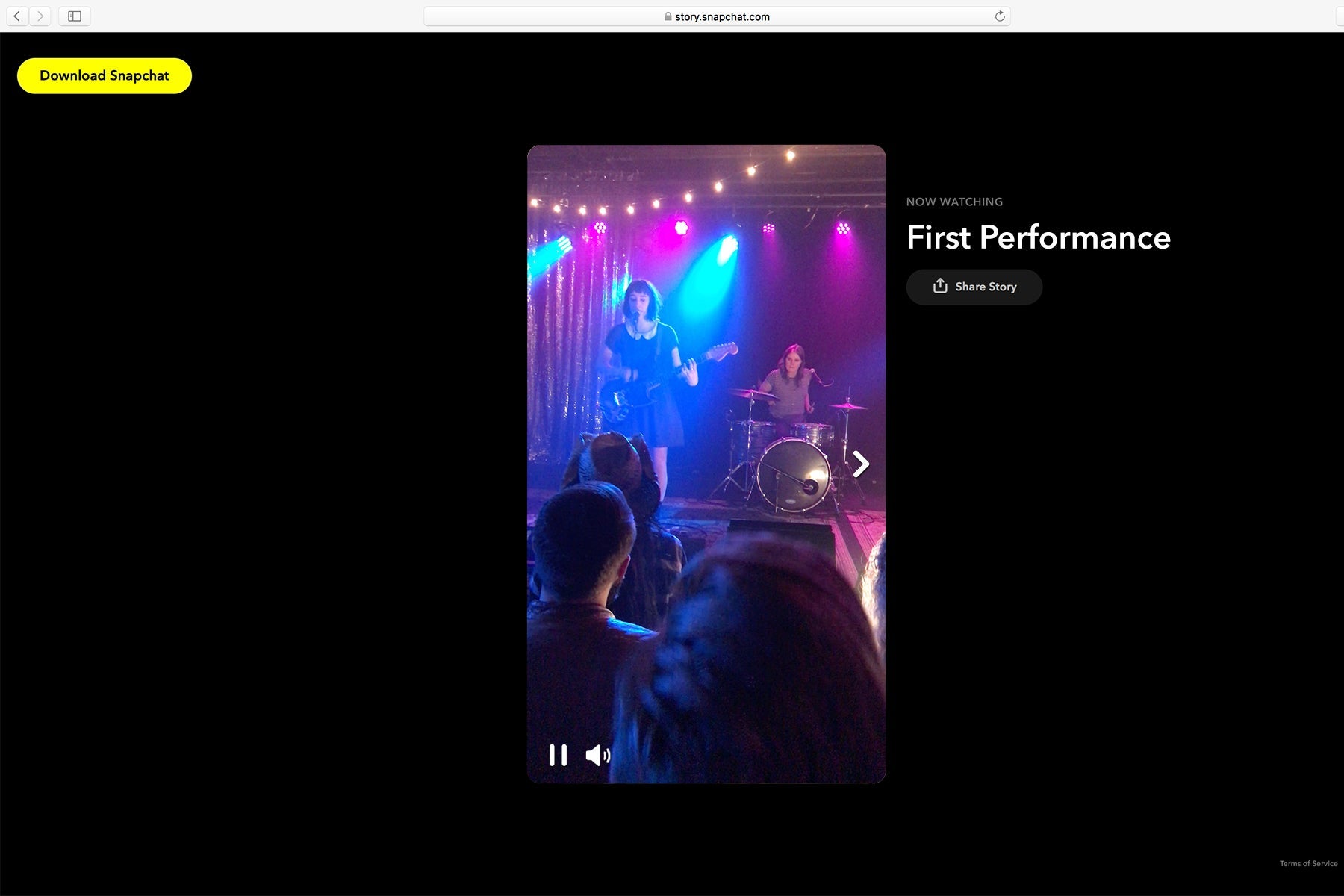 Viewed in that light, the new sharing feature makes Snapchat less distinctive and more similar to its rivals. With Snapchat struggling to grow and under pressure from investors, this could be read as a reluctant step toward becoming just another platform. The upside is that it could expose Snapchat to a lot of people who've either never tried the app or didn't find it compelling.
It could also help to establish Snapchat as more of a news hub, at a time when Facebook is rethinking its relationship to news. Some observers noted that the most compelling early images of the recent Southern California fires were found within Snapchat. Now those could be viewed outside the app as well, making Snapchat a significant primary source in major world events. And, of course, it makes the platform more viable for celebrity announcements and viral videos.
When Facebook talks about removing the news from your feed, it's seen as a step back from the media business.
But for Snapchat, separating "social" from "media" is a step toward becoming more of a media company—a way of expanding into media without sacrificing the privacy and playfulness of its social features. Its growth as a social app appears to have plateaued.
Maybe adding more of a public-facing dimension will get it going again. Then again, it hasn't seemed to work quite that way for Twitter.
*Correction, Jan. 23, 2018: This post originally referred to Snapchat's new sharing feature as "Stories Everywhere," which was the name that was reported when the project leaked in December. The feature was not given an official name at launch.