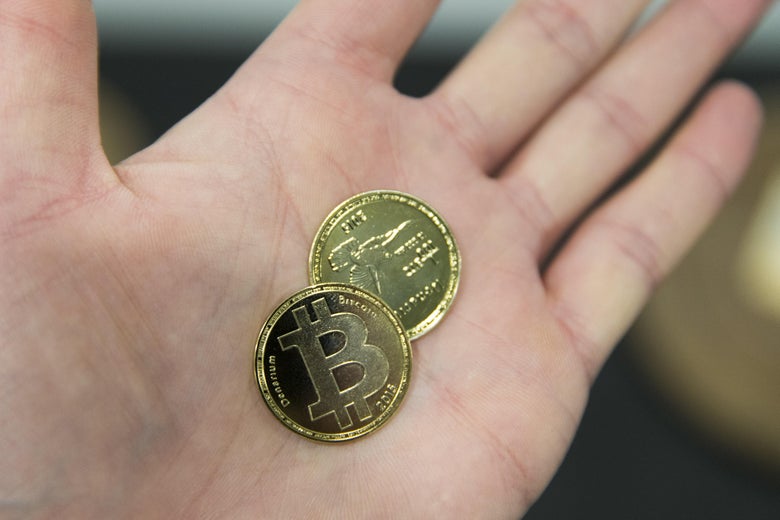 The shadiest parts of the cryptocurrency world have been drawing more attention in recent weeks. A flurry of regulatory activity on Tuesday may be start of another mass crackdown.
In South Korea, one of the biggest cryptocurrency markets, new laws went into effect aimed at stamping out anonymous trading and money laundering. Other countries, including China and Japan, have also intensified regulatory pressure on cryptocurrency exchanges. Facebook further announced Tuesday that it will ban all cryptocurrency ads, even those for legitimate businesses, to prevent scams. And Bloomberg reported that the U.S. Commodity Futures Trading Commission last month subpoenaed Bitfinex and Tether, interrelated companies that facilitate a cryptocurrency supposedly backed by the U.S. dollar.
Yet perhaps the most aggressive regulatory move on Tuesday came from the Security and Exchange Commission. The SEC announced that it had filed a federal district court complaint against AriseBank, a cryptocurrency company that sold itself as the world's first decentralized bank, for allegedly being "an outright scam." The complaint accuses the company of using materially false statements to induce investment. The SEC obtained a court order to freeze the assets of AriseBank and its founders and to stop the company's initial coin offering (ICO), a trendy way to raise money in which companies distribute cryptocurrency tokens to investors in exchange for cash. (Slate reached out to AriseBank for comment but had not received a response at the time of publication.)
According to the SEC's allegations, AriseBank was tremendously successful at soliciting investments. The press release accompanying the complaint states that the company "used social media, a celebrity endorsement, and other wide dissemination tactics to raise what it claims to be $600 million of its $1 billion goal in just two months." And the company had the backing of notable figures, both inside and outside of the cryptocurrency sector, as it raised those funds. CNBC notes that AriseBank had "what is likely the largest initial coin offering ever."
The SEC's complaint alleges AriseBank misled layman investors in a number of ways. Among the accusations: The company falsely claimed that it had purchased a bank insured by the Federal Deposit Insurance Corporation (FDIC), a government corporation that provides depositors insurance in the event of bank failures. (Last week, AriseBank issued a correction to its original press release, claiming, in part, that it was "wholly unnecessary" to be FDIC regulated.) The SEC also alleges that AriseBank failed to disclose to its investors that several of its key executives, including its cofounder and its president, had criminal backgrounds.
The company was backed by a number of known figures within the cryptocurrency world. It received an endorsement from Stan Larimer, well known among Bitcoin enthusiasts as a founder of the cryptocurrency exchange Bitshares, which announced a partnership with AriseBank. (Slate reached out to Bitshares but did not receive a response.)
A spokesperson from the PR firm representing the boxer told Slate, "[Holyfield] supports transparent banking. As far as we know there are no laws being broken."
AriseBank also enjoyed what looked to be flattering media coverage. The financial blog ZeroHedge ran a post from a contributor on the company with the headline, "Cryptocurrency Bank AriseBank To Acquire 100 Year Old FDIC Bank; Partner With BitShares."
There were also a number of posts praising AriseBank on HuffPost's contributor platform. The contributor network, which isn't run by HuffPost's editorial team, was recently shut down in part to minimize the number of unvetted stories published on the site. The author of the HuffPost articles, Michael Taggart, is one of the original investors in Bitshares and had been helping AriseBank use Bitshare's technology. One article touted the company as "setting the stage for major change in the banking and finance sectors that many never saw as a possibility." It even predicted the high-profile ICO would be "sure to turn heads [and] bring out government agencies like the SEC."
Reached Tuesday, Taggart denied wrongdoing and told Slate, "I 100 percent stand behind the vision of AriseBank. … I don't think [the SEC] understands the technology." Taggart further accused the SEC of trying the company in the court of public opinion.
He added: "I'm not monetarily motivated by money. I only care about getting this technology out. … We're doing this all for altruistic gain."
Support our independent journalism
Readers like you make our work possible. Help us continue to provide the reporting, commentary, and criticism you won't find anywhere else.
Join Slate Plus
Join
---