A couple weeks ago, Apple CEO Tim Cook tweeted a staged photo of himself with Nevada Gov. Brian Sandoval and Reno Mayor Hillary Schieve in which they pretend to break ground at a new Apple data center. Holding shovels artfully loaded with dirt, the trio smiles telegenically. The two politicians bare their teeth like models in a whitening-strip ad, while Cook's pursed lips angle grudgingly upward, as if to echo the businesslike sweep of his neatly combed hair.
Those grins are as calculated as everything else in this peculiar artifact: The image arrived amid an Apple charm offensive seemingly designed to flatter our tempestuous president. As I studied it, though, I found myself focusing less on the dubious message (Jobs! Investment!) than on Cook himself. Most of all, I focused in on his arms, limbs that seem to be stretching the confines of his tailored suit jacket.
It was hard to tell what I was seeing here, of course: A well-cut men's suit should always flatter the body, hewing to its actual angles, while adding the illusion of heft and strength. Still, I couldn't escape the impression that Cook really was built for the labor he was pretending to do—ready to strip down like a male model in a Fifth Harmony video, jam his shovel in the ground, and go to work on the whole site if necessary.
Is Tim Cook jacked? Reader, I have done the research: I. Think. He. Is.
Cook certainly wouldn't be the first CEO packing twin cannons. Last year, Amazon's Jeff Bezos ascended to the meme heavens after a picture of him wearing aviators, a technical vest, and a comically tight polo went viral. With his swollen arms and bald pate, he looked, as Christina Cauterucci joked in Slate, like J.K. Simmons beefing up for an action movie. The photograph came to us like an image from some grim possible future, one in which former titans of industry emerge from their New Zealand bunkers to spar for control of a scorched earth.
But where Bezos flaunted his guns with pride, Cook seems to be more of a concealed-carry guy. Though he can fill out a tuxedo, he typically eschews formalwear in public, opting instead for the not-quite-sloppy tech zillionaire look (zippered sweaters, baggy jeans, unfussy sneakers) that suggests there's a Banana Republic near Cupertino that hasn't updated its inventory since 1998. No matter what he's wearing, he almost always opts for long sleeves—here in an Apple Store uniform (just one of the team!), there in a plain sport shirt. While you sometimes spot the outline of triceps bulging beneath, his outfits often feel like almost deliberate acts of obfuscation. Why so sly? Pythons may be cold-blooded creatures, but these coiled snakes deserve to see the sunlight now and then.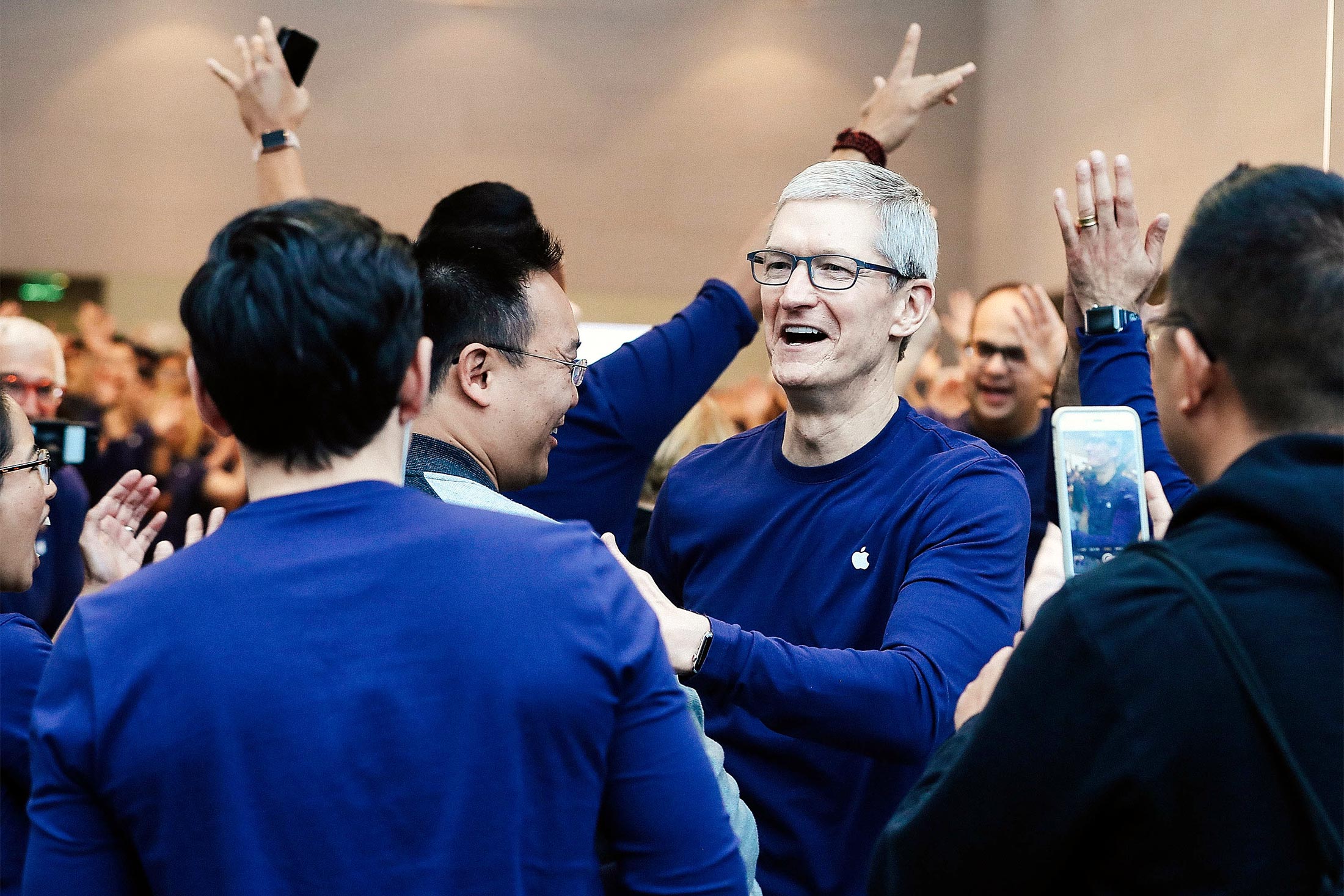 Cook's modesty is hardly surprising. When he came out as gay in 2014, he began by writing, "Throughout my professional life, I've tried to maintain a basic level of privacy." At times, he has aggressively hidden himself from the public eye. In her book Haunted Empire, Yukari Iwatani Kane writes that Cook's hometown paper scored an impromptu interview with the soon-to-be CEO's parents in 2008. Their comments were, by all accounts, innocuous, but Apple unsuccessfully attempted to kill the story. "At [Cook's] request, his parents soon stopped speaking to journalists," Kane writes. "When their son was named CEO, they referred all interviews to the family's pastor."
It's a strange anecdote, but it's also a telling one for our purposes here. Cook is, his parents said in that interview, a "workaholic," but who wouldn't have guessed that? What else did they say, then? What could they have revealed that would have upset Cook and his handlers? Perhaps it was this: According to Kane, "They talked affectionately about how he stopped at the gym every morning to work out." And not just any gym! Elsewhere in Kane's book, we learn that he uses a facility separate from the Apple campus, effectively shielding his workouts from the company's workforce. Details about his actual regimen are scarce, but Kane also reports that his hobbies include cycling and rock climbing, and that his culinary preferences are rather Spartan—inclining toward unadorned fish or chicken with sauce on the side.
Look closely enough—and believe me, I did—and you'll notice the results of that abstemious discipline on the 57-year-old Cook's 6-foot-3 frame. You can sometimes see it when he rolls his shirtsleeves up—as he did when announcing the Apple Watch in 2014—in the tightly corded bands that run down his forearms. Here, I suspect, we have evidence of grip strength built up by hauling himself up rock walls. Then there are the rare pictures of him in short sleeves, snapped at tech conferences or Apple Store openings, revealing formidable biceps. There's even one image that finds him firmly shaking hands with Apple's Eddy Cue. With his mostly bare arm crooked into a masculine V, he resembles nothing so much as Arnold Schwarzenegger greeting Carl Weathers in Predator.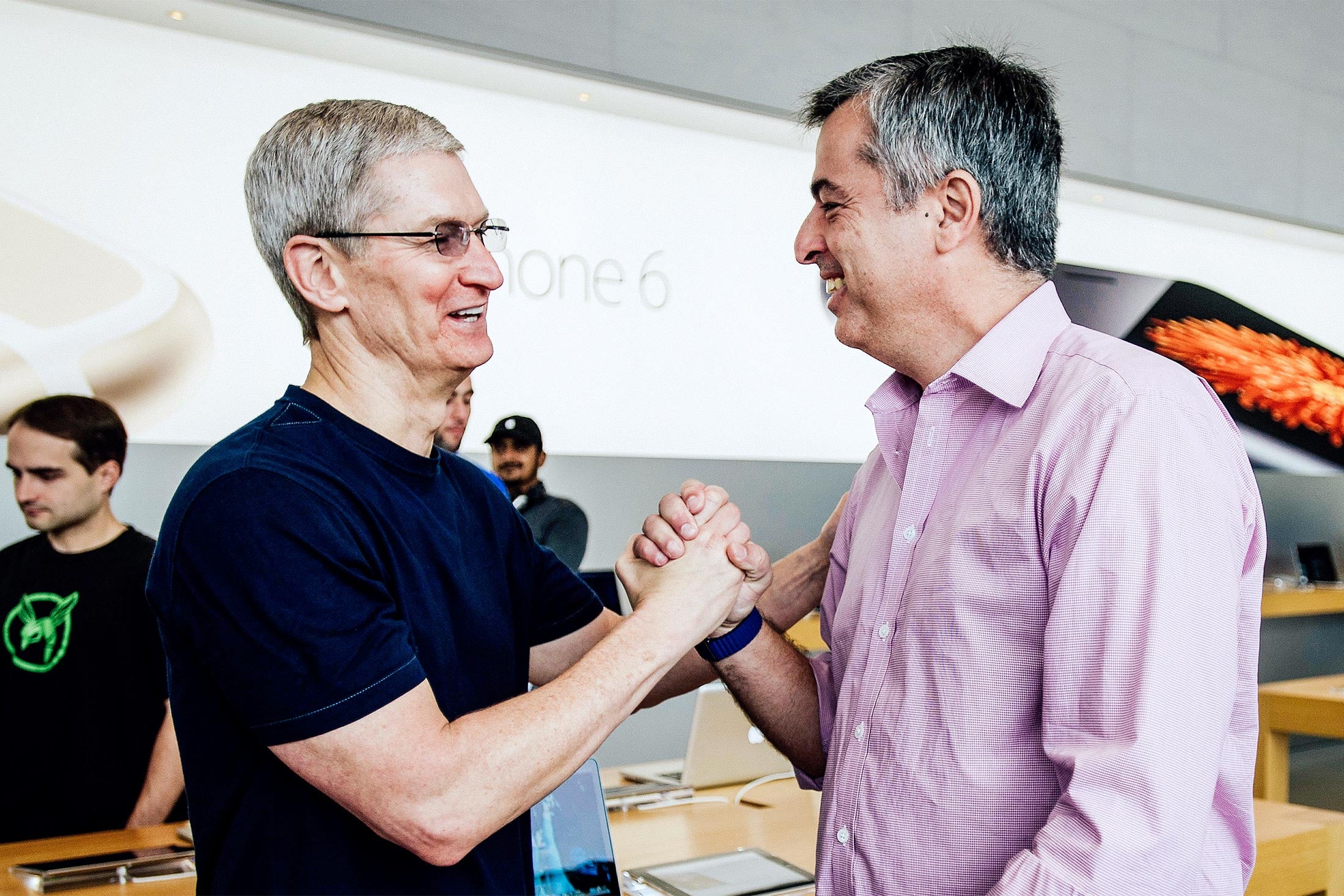 OK, sure, no one's going to confuse the man for a T-800 model Terminator, but those muscles look practical enough that he could probably beat Swole Bezos in a pushup contest. And yet, despite occasional reports—which often arrive in the service of hawking the gadgets his company sells—that he wakes at 3:45 a.m. and hits the gym by 5, no one seems to have noticed that Apple's CEO is a bit of a beefcake. Consider the replies to this Quora question, which asked users to consider which tech C-suiter would win in a fight. Several of the replies dismissed Cook out of hand, with one arguing that his age alone would take him down fast.
I suspect, though, that it's neither ageism nor respect for Cook's privacy that keeps us from caring about his physique. Instead, it may come down to the way Cook tries to disappear into the company he runs. Opening up Apple's September keynote event, Cook spoke in front of a massive black-and-white picture of Steve Jobs. From certain angles, the CEO literally stood within the steeple of Jobs' templed hands, and the sacerdotal tones of his introduction befitted the religious connotations of the staging. "Steve's spirit and timeless philosophy on life will always be the DNA of Apple," he told the audience.
That doubling of immaterial "spirit" with biological "DNA" encapsulates the way that Cook has worked to position the company over the past decade and change. An acknowledged master of supply lines and the economies of production, he never runs from the fact that Apple wants to sell us material products—objects that will inform the way we live and move through the world. Simultaneously, he suggests, those gadgets promise something greater, a kind of reverse transubstantiation that will put us in touch with the immaterial "philosophy" of Apple's co-founder. Perfected by the signals that come through our watches and phones, flesh becomes word.
If Cook is jacked—and he is—it is because he longs to show us that the body is only a bridge. Swole as he is, he will always insist that technology makes his soul stronger.