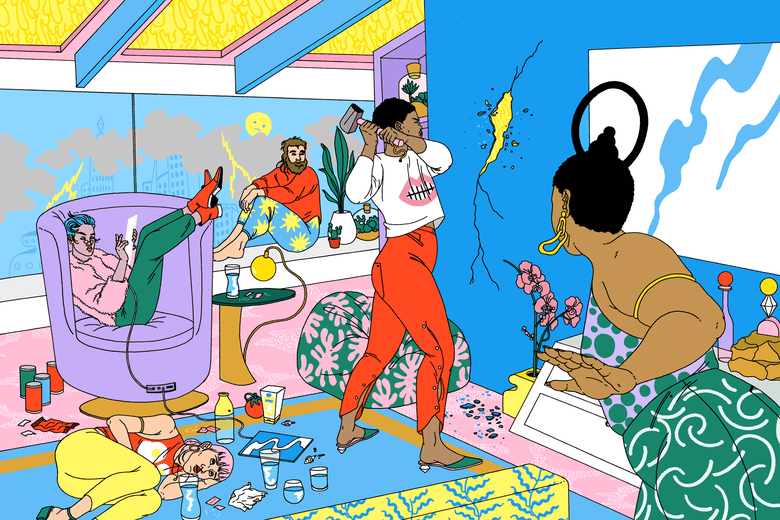 Greetings, Future Tensers,
We're sure you've been hungry for some new Future Tense Fiction. So each month in 2018, we'll be publishing a short story about science and technology. We're kicking the new series off with "The Minnesota Diet," a new story by Charlie Jane Anders about a food shortage in a high-tech city. Follow it up with this commentary by sustainability expert Christopher Wharton on the frailties of food systems.
Based on the offerings at CES, it seems like the future of virtual assistants might literally be in the toilet. But it's the robots of tomorrow we should consider when deciding whether robots deserve free speech. John Frank Weaver argues that protecting First Amendment rights for robots is an important step toward protecting ourselves—and ensuring our ability to benefit from new voices in society.
While our readers might already know that "drinking and droning" is a bad idea, New Jersey outlawed the practice this week. As drones become more commonplace, thanks to efforts from Amazon and others, we'll need a better air traffic control system. April Glaser digs deep into the regulatory efforts we need to keep our future skies safe.
Other things we read this week while trying to make our selfies art:
• Less news is good news: Facebook is once again changing its algorithm, this time to preference content from family and friends. Will Oremus explains why he's optimistic about the new change. But will the change help stop fake news?
• Can you govern via Skype? The leader of Catalan, who risks arrest if he steps foot in the region, is attempting just that.
• Huawei so serious? The U.S. government has been trying to throttle the Chinese phone company's attempt to break into the American market, but it hasn't released much information about the decision, which has made Josephine Wolff suspicious about its motivations.
• Even YouTube stars need managers. Inkoo Kang sat down with one to talk shop in light of the recent Logan Paul scandal.
Events:
Join Future Tense and Charles "Chick" Macal, distinguished fellow and senior systems engineer at Argonne National Laboratory, on Tuesday, Jan. 23, in Washington, D.C., for a screening of the 2013 movie World War Z. The screening is the latest installment of "My Favorite Movie" and will be followed by a discussion and audience Q-and-A. You can RSVP for yourself and up to one friend here.
Join Future Tense and Slate's April Glaser at lunchtime on Jan. 30 in Washington, D.C., as we assess current fears about online speech ranging from harassment to fake news and the promise and perils of fixing it. You can RSVP for free here.
Your Personal Meme Librarian,
Tonya Riley
For Future Tense
Future Tense is a partnership of Slate, New America, and Arizona State University.
One more thing
You depend on Slate for sharp, distinctive coverage of the latest developments in politics and culture. Now we need to ask for your support.
Our work is more urgent than ever and is reaching more readers—but online advertising revenues don't fully cover our costs, and we don't have print subscribers to help keep us afloat. So we need your help. If you think Slate's work matters, become a Slate Plus member. You'll get exclusive members-only content and a suite of great benefits—and you'll help secure Slate's future.
Join Slate Plus
Join
---