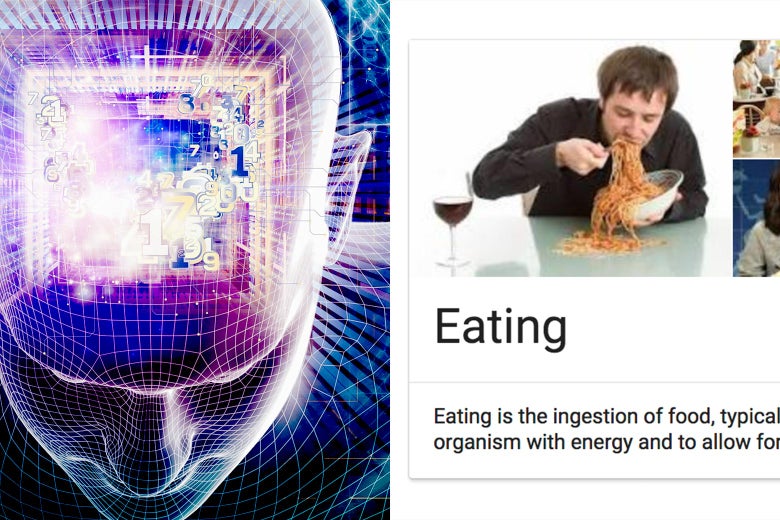 Greetings, Future Tensers,
Robots aren't just infiltrating our economy—they're becoming an omnipresent force in our culture. Just take a look at the definitions Google provides for basic tasks, like breathing and eating, and you'll see how robots are already distorting collective knowledge, argues Jacob Brogan. According to Benjamin Frisch, the way we think about robots today owes a big debt to a 1999 music video from Bjork.
Twitter is trying to crack down on hate speech, but its new approach blurs the lines between words and action, argues Thomas Kadri. Will Oremus writes about Facebook's own struggle with online speech and what could go wrong with its new system for combating fake news.
Want to learn more about the perils of navigating free speech online? Join us in person in Washington, D.C., or on our livestream Jan. 30, for "Who's Afraid of Online Speech?" a symposium on the subject with speakers including Slate's own April Glaser. You can RSVP for free here.
More things we read while marveling over the science of why babies are so chubby:
VR-smart: Want to avoid a Black Mirror–style death and stay safe in virtual reality? Jeremy Bailenson of the Stanford Virtual Human Interaction Lab designed eight rules to follow when using VR. For one thing: Be careful around tables with sharp corners.
Amazon No: Amazon's new self-service Amazon Go store is great—unless you use food stamps. April Glaser broke the news that the company currently doesn't accept EBT benefits at its physical stores.
Science of the undead: Emily Zarka explains what the modern zombie movie tells us about our current attitudes toward science.
Yes, another pivot: Facebook wants publishers to give its revamped video platform a shot, but did the change crush publishers' video dreams for good?
Driverless ed: A few senators are blocking a bill that could increase the number of driverless cars on the road, leading Christina Bonnington to investigate whether they actually know anything about driverless cars.
Could Black Mirror have a happy ending? Redditors brainstormed a few ideas.
Still an Elon Musk skeptic,
Tonya Riley
For Future Tense
Future Tense is a partnership of Slate, New America, and Arizona State University.
One more thing
You depend on Slate for sharp, distinctive coverage of the latest developments in politics and culture. Now we need to ask for your support.
Our work is more urgent than ever and is reaching more readers—but online advertising revenues don't fully cover our costs, and we don't have print subscribers to help keep us afloat. So we need your help. If you think Slate's work matters, become a Slate Plus member. You'll get exclusive members-only content and a suite of great benefits—and you'll help secure Slate's future.
Join Slate Plus
Join
---