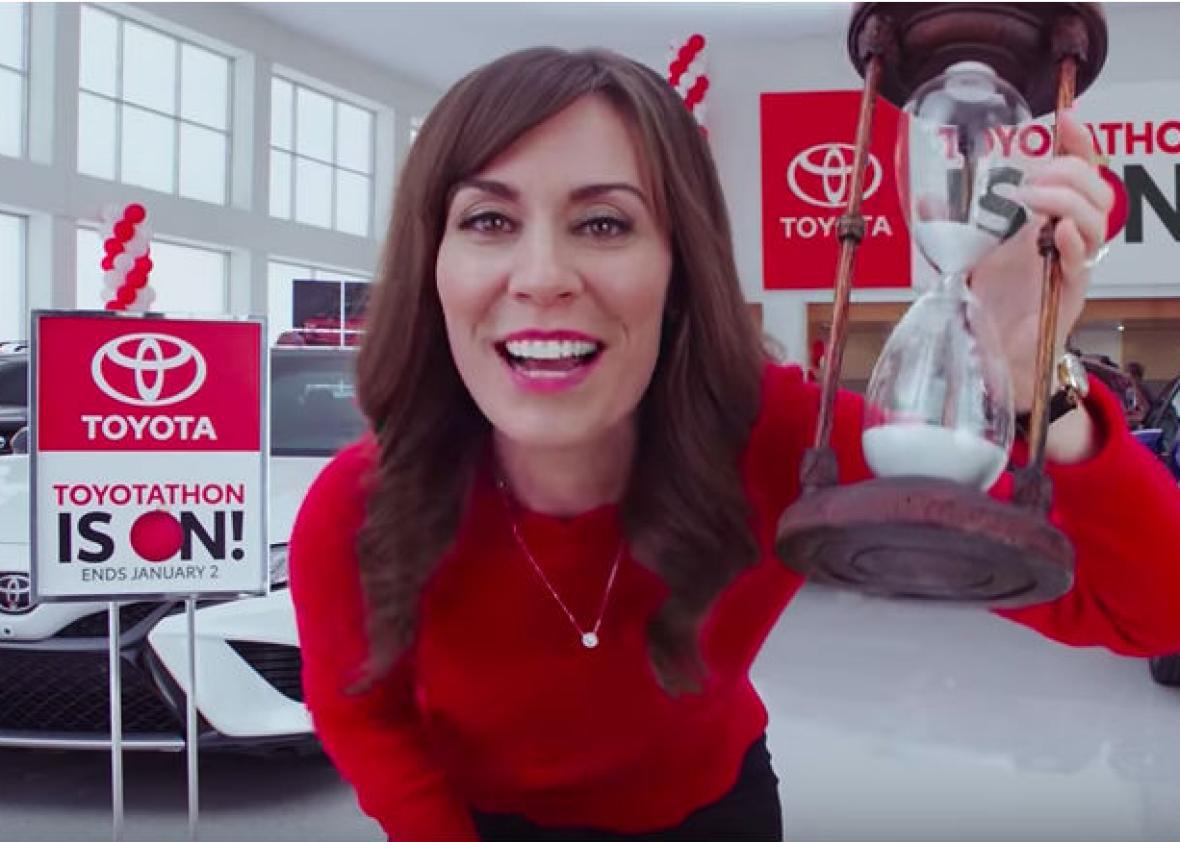 It's that special time of year. The calendar's reached its last page, there's a chill in the air, not to mention a certain magical feeling that can mean only one thing: great year-end savings on a huge selection of our most popular models!
Oh, did you think I was talking about Christmas? Or the "holiday season" in general? No, no, nothing so mundane. I'm referring, of course, to Toyotathon, that annual new car smell–saturated bacchanalia of Camrys, Corollas, RAV4s, and Priuses and the only fourth-quarter holiday that really counts on the internet.
In reality, Toyotathon is a promotion for new cars at dealerships nationwide every holiday season, from about the beginning of December to a few days into January. On the internet, though, Toyotathon has become a cosmic joke and annual bonding ritual that allows social media users to bust the jingle balls of this most cheery and consumerist of seasons. Go ahead and search "Toyota" on Twitter: In between earnest calls to check out the deals at local dealers like Central Florida Toyota ("The end of the year is worth the wait!") and Toyota Knoxville ("0% APR for 60 months!"), you'll find deeply facetious missives wherein Weird Twitter denizens revel in the holiness of Toyotathon and lament that some are forgetting the reason for the season. And just as Hanukkah is the also-ran to Christmas, in this arrangement, Honda Days stands in as an alternate belief system. If social media chatter isn't enough to convince you of Toyotathon's meme status, know that HQ Trivia host Scott Rogowsky made a Toyotathon reference in a recent game, which is either completely meaningless or late 2017's most significant cultural marker.
So why Toyotathon? Christmas, it's clear, has become far too commercialized, just a glorified excuse to spend money and acquire stuff that will eventually wind up filling landfills. This particular pushback doesn't shun Christmas' capitalist trim—hey, we've all got to eat and/or get a Nintendo Switch—but to jab it in the antlers. Toyotathon devotees have forsaken Christianity and other religions to worship at the altar of their true god, and that god is a Japanese car brand. Nestled somewhere in this joke is an acknowledgement that we're way past the point of being too cozy with the roles brands play in our lives, now that we've got people seriously celebrating things like Prime Day and the release of the latest iPhone.
It's no secret that memes are the fuel that powers social media. But less commented upon are the very different life cycles of our holiday-related seasonal memes, some of which now return year after year, like reruns of A Christmas Story. Some notable examples of this phenomenon are the yearly conversation about whether "Baby, It's Cold Outside" is problematic or the annual relitigation of whether Die Hard is in fact a Christmas movie. Both topics were once deemed thought-provoking but have long since calcified into tired memes. Which may have left an opening in the culture for a new subversive Christmas meme, and Toyotathon has cruised into that void with its sporty design and stylish interior. The joke may only be funny for a couple more Decembers until it becomes old hat (or Toyota decides to ham-fistedly incorporate it), but for now, why not embrace Toyotathon and see where it takes you? As Toyota's slogan goes, "Let's go places." Toyotathon comes but once a year.
---